This article will compare 4 popular portable projectors, and you can see which one is better for you. XGIMI Halo vs. XGIMI Elfin vs. Samsung The Freestyle vs. Emotn H1 projectors.
1. Appearance

​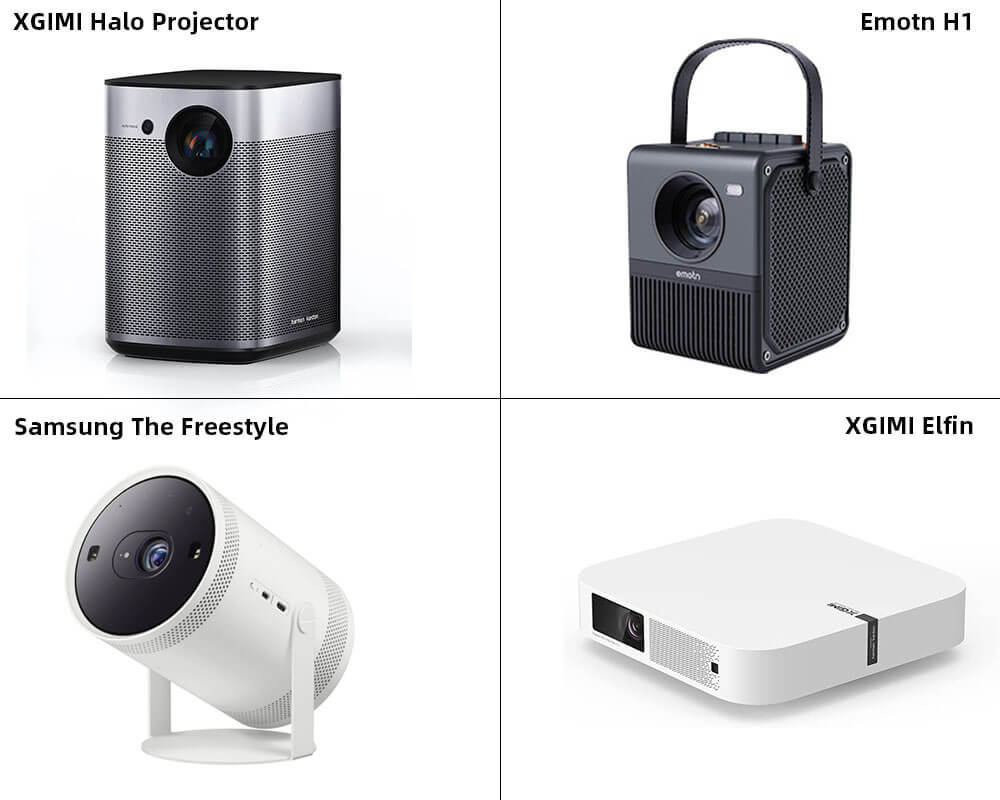 As a portable projector, small and convenient to take out is certainly necessary, these four projectors meet this, although they are different shapes. Both XGIMI Halo and Elfin have a mid-range shape, with Halo resembling a rectangular box and Elfin being a bit flatter. On the other hand, Samsung The Freestyle and Emotn H1 are a little more creative in terms of design. The Freestyle has a small spotlight shape with a bottom bracket that can rotate 360 degrees, and Emotn H1 adopts the design of retro speakers, in line with the aesthetics of contemporary youth, and the leather carrying handle is convenient to carry on the go. In addition, the Emotn H1's top keys use the blue shift of the mechanical keyboard, which is very pleasing to the Z-generation.
2. Configuration

​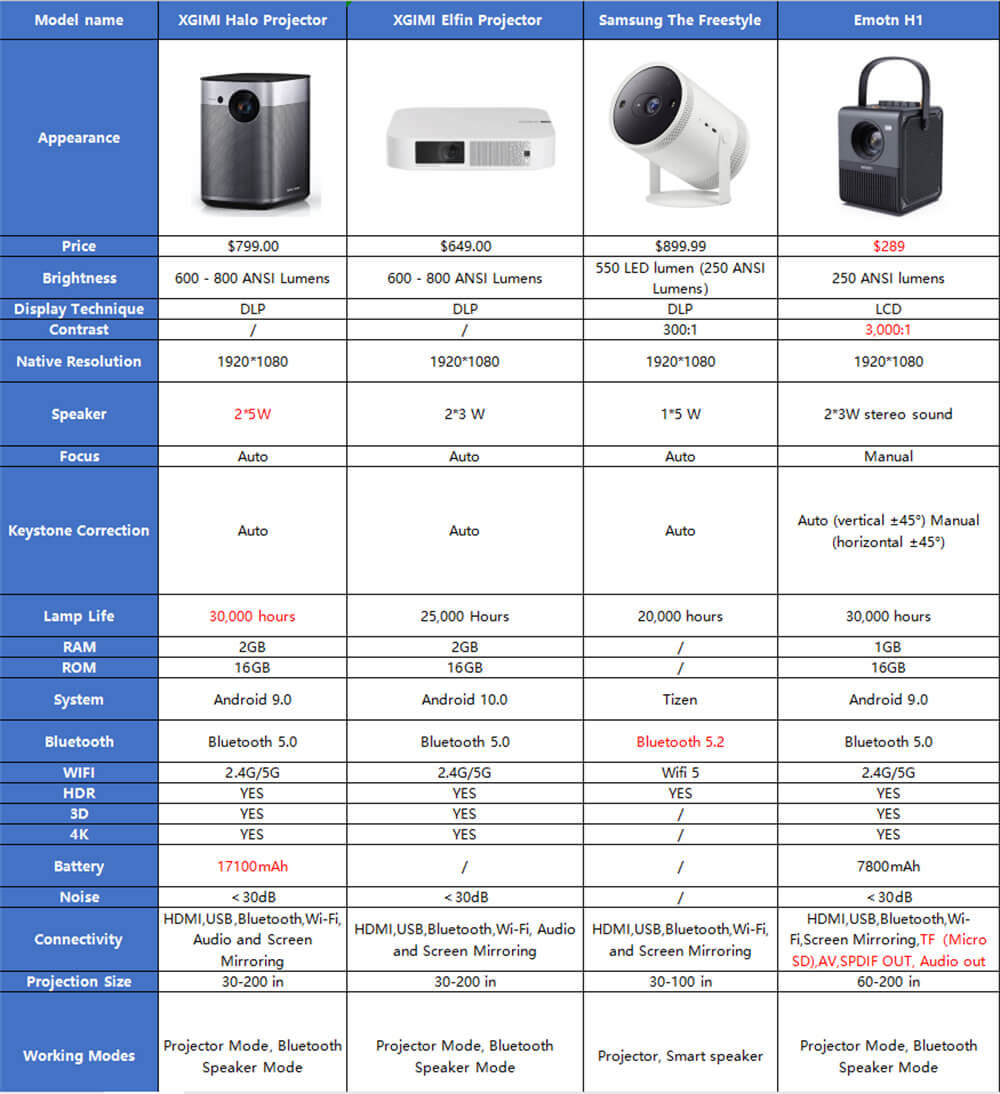 3. Image and Sound

​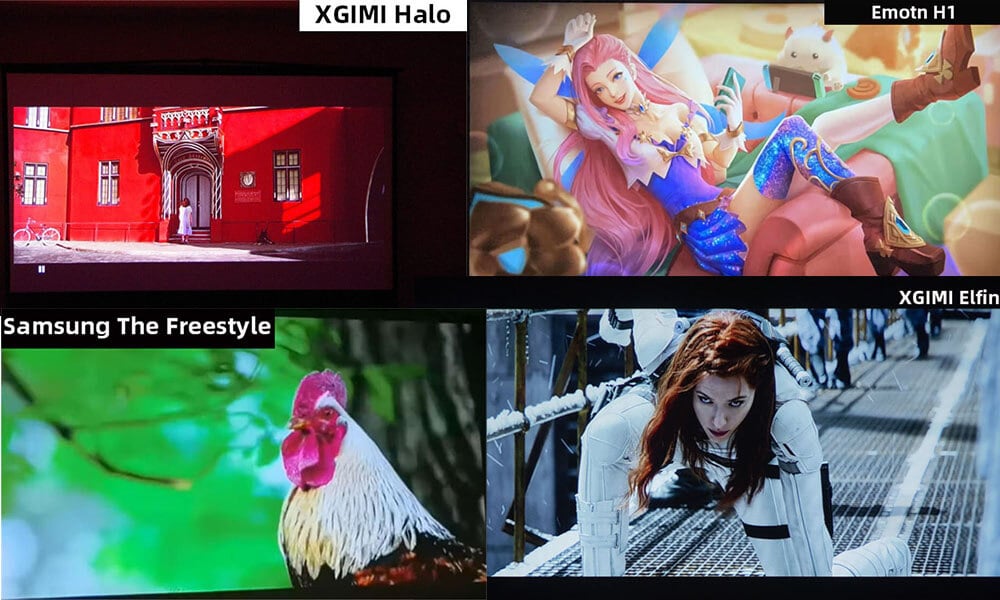 Of the four projectors, the XGIMI Halo and Eflin have a higher brightness of 600-800 ANSI, The Freestyle and Emotn H1 have a brightness of 250 ANSI lumens (The Freestyle brightness is labeled as 550 LED lumen, which is about 250 ANSI lumen). With 1080P resolution, these four projectors can show a good image effect at night. They may not be very suitable for daytime movie time.
XGIMI Halo and Eflin and Emotn H1 are built-in dual-channel speakers, The Freestyle is configured with a 5W speaker. Note, however, that the XGIMI Elfin and Samsung Freestyle do not have built-in batteries, so if you're outdoors without power, you won't be able to use either of these projectors. The XGIMI Halo and Emotn H1, on the other hand, can provide you with a movie's worth of time without being plugged in.
4. System and Connectivity

​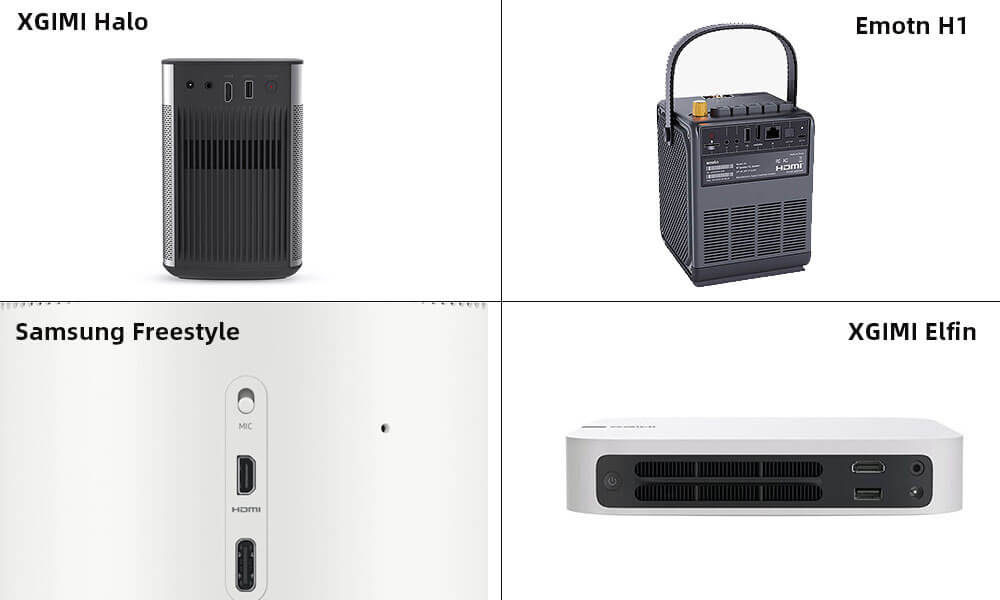 Emotn H1, XGIMI Halo and Elfin are all equipped with Android. Among them, Emotn H1 is built with self-developed Emotn OS, built-in Emotn Store and Emotn UI, which can easily install all the apps users need and make the system smooth. Samsung uses Tizen OS, which is based on Linux. (See the difference among the three systems here:
WebOS vs. Android TV vs. Tizen OS
)
In the interface, we can see that Emotn H1 interface is the most abundant, in addition to HDMI, USB interface, but also provides, TF (Micro SD), AV, SPDIF OUT, Audio out port, to meet the connection needs of various devices.
5. Summary

​

Overall, all four projectors can meet everyone's needs for watching movies at night. In terms of innovation, the Emotn H1 and Samsung The freestyle are better, while the XGIMI Halo and Elfin are brighter. But considering the price and performance, The Freestyle may be slightly more expensive and the Emotn H1 is very cost-effective. You can choose according to your budget and needs.