May 5, 2020 is the 20th anniversary of the release of "Gladiator"
. Oscar Award in 2001, Russell Crowe won the best actor awardwith "Gladiator" , Joaquin Phoenix was excited to sit down, clapped his hands, and smiled Little tiger teeth. That year, the 26-year-old Joaquin Phoenixwon the Oscar nomination for best male match for the first time with the corner of the little emperor Commodus in Gladiator .
Nearly 20 years later, Joaquin Phoenix has also won the Oscar winner with the wonderful performance in "The Clown" . At that time, the young boy was already a kind-faced and bearded uncle.
Time flies, the epic classic "Gladiator" has been released for the 20th anniversary.
In this 20th anniversary, in addition to the people of that year, there is also the type of epic film itself. After "Gladiator" succeeded, it gave birth to
"Troy", "Arthur", "Alexander the Great", "Spartan 300 Warriors",
"Robin Hood: Origins" and other historical epic films, directed by Ridley Scott also filmed two- "Robin Hood" in 2010 with Russell Crowe , and "Kingdom of the Heavens" that was destroyed by the screening edition .
However, on the whole, none of these works can surpass "Gladiator"
, and there is a tendency that the more they shoot, the worse. The epic genre of costumes has gradually declined in Hollywood, and its narrative motifs, feelings, and grand spectacles have been absorbed and replaced by the most popular superhero movies today.
"Gladiator" is a highly unified commercial and artistic work, and has achieved great success in both aspects.
Commercial perspective
"Gladiator" won the box office at US $ 460 million at a cost of US $ 103 million. In the subsequent epic costume costumes, even if inflation is not counted, only Troy surpassed it at the box office of $ 497 million worldwide. However, the cost of "Troy" is as high as 185 million US dollars, and the return on investment is far less than that of "Gladiator . "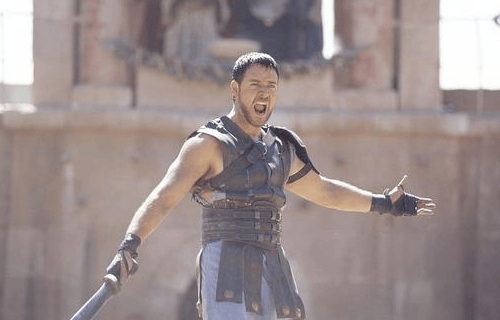 Gladiator
​
Artistic perspective
"Gladiator" was the biggest winner of the Oscar that year, with a total of 12 nominations, and finally took back 5 of them, including the best film and best actor award. In the other movies mentioned above, except for the Trojan nominated Oscar for best costume design, they are basically not related to the award season.
Directed by Ridley Scott, supervised by Steven Spielberg , starring Russell Crowe and Joaquin Phoenix; $ 460 million box office worldwide, Oscar best film- "Gladiator" can be called The last peak of Hollywood epic movies.
Now, the sequel to "Gladiator" is also under development. The screenplay is written by Peter Clegg, the writer of "The Hunger Games 3" , and Ridley Scott is likely to return to directing.