Trolls World Tour
was supposed to hit movie theaters this weekend. In the absence of movie theaters due to social distancing measures,
Trolls World Tour
is now being inflicted directly on homes. The sequel to 2016's
Trolls
is now available to rent on VOD (via Prime, Apple, FandangoNOW, or your service of choice) for $19.99. So yes, that means if you're willing to spend about $20, you too can drown in overstimulating technicolor felt. It's perfect for parents with kids that need to be plopped in front of a TV for 90 minutes or a group of 20-something roommates who want something to watch after getting super high.
Trolls World Tour
was the first major blockbuster to massively change its release strategy as the country shut down. Universal Studios' announcement that it would be going direct to video sent panic throughout the entertainment industry, as its members started to grapple with the notion that this global crisis might forever change the way we watch movies. And thus ,
Trolls World Tour
, a movie otherwise probably wouldn't have made huge waves in the grand scheme of cinematic history, gained a certain level of historical import.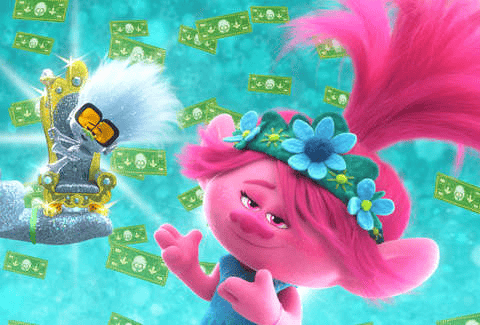 Send Foodz: LA Gems
But let's get to the fun stuff. What the hell is the deal with
Trolls World Tour
even? Well, the plot -- lol, "plot" -- of
Trolls
revolves around an evil plan to take over the trolls universe by Barb, a "rock troll" played by
Crazy Ex-Girlfriend
's Rachel Bloom.
You see, the trolls live in factions divided by what kind of music they like. The "pop trolls" are Poppy and Branch, introduced in the first movie and voiced by Anna Kendrick and Justin Timberlake. But then there are other trolls who "can't even begin to grasp the concept of Hammertime." (At the delivery of this line, a number of pop trolls bust into "Can't Touch This" by MC Hammer.) These other goofy creations are the country trolls (among them Kelly Clarkson), funk trolls (George Clinton, Mary J. Blige), and classical trolls, who are led by Trollzart (famous conductor Gustavo Dudamel). Each group of trolls has a "string," as in a guitar string, representing their music. If Barb, whose father is voiced by Ozzy Osbourne, steals all the strings, she can effectively obliterate all other forms of music. As Poppy and Branch set out to stop her, they learn how all music is good and vaguely about cultural appropriation. They also sing a lot.
Trolls World Tour
is basically a series of music videos starring trolls.
Trolls World Tour
is also a movie wherein Chaz, a "smooth jazz troll" voiced by
Fifty Shades of Grey
star Jamie Dornan, hypnotizes our heroes with his saxophone and they have an extended hallucination in which they imagine each other as sushi, which they proceed to eat. Also, did you know that male trolls can give birth via their hair? Now you do.
Last edited: