The film "Ternet Ninja"
was co-directed by Danish national treasure-level animation directors Anders Matterson and Sobjon Christopherson. This animated film won the Danish animated film box office championship in 2019 and won Nominated for the long-term animation unit feature film crystal award at the 29th Anxi International Animation Festival, nominated for the best film and best actor in the Danish Film Critics Award, nominated for the best sound effect in the Danish Film Award, best child / teenage film, best adapted script , The best movie songs and many other film festivals are sure.
The Ternet Ninja IMDB score has reached 7.5 points.
The film "Ternet Ninja" tells the joy, worry, bravery, and sense of justice from the perspective of a teenager. Through a childlike way to show us the fairy tale world.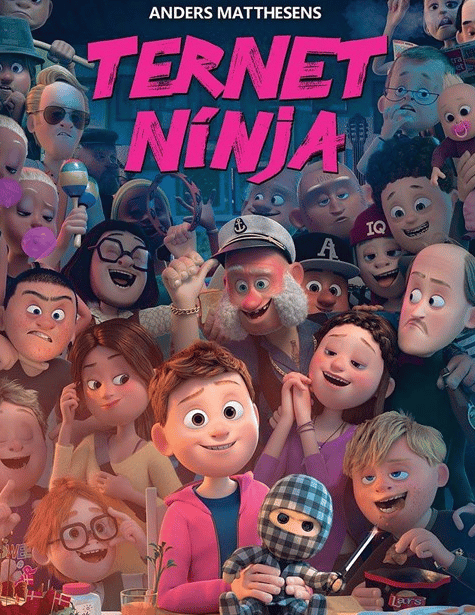 Movie "Ternet Ninja" poster
​
The movie "Ternet Ninja" tells us that Asker was an ordinary seventh-grade boy, but he only wanted to live a quiet life, but he was troubled by daily accidents. On his 13th birthday, he received a gift from Uncle Stewart-a ninja doll with the soul of the warrior named Nakamura Taiko. After learning that the samurai performed some kind of ritual in order to save humanity from evil, Asker was greatly touched and decided to embark on a journey of rescue with Taiko Nakamura. The first goal is the abominable Danish businessman The movie "Ternet Ninja" shows a imaginative animation world through a powerful brain hole creation and colorful adventure stories.
The audience is also very positive about the movie "Ternet Ninja", "You can see how much effort Anders has put into this movie. Obviously he studied the general behavior and slang of young people, so the children in the movie The dialogue between them is not only interesting but also very realistic. In addition to creating excellent scripts, Anders also wrote some very good and interesting songs, imitating modern rap, and the voice acting is also very good and interesting.
Movie "
Ternet Ninja"
The production level of the movie "Ternet Ninja" is comparable to the level of Hollywood animation production.
Denmark is a country of fairy tales, and the story of animation stories is more world-class
. The movie screens are colorful, and the characters portrayed are rich and full, which brings an exciting, adventurous, and interesting adventure to friends who like animation. The movie "Ternet Ninja" is one of the best animated movies in Denmark this year, and has been well received and expected by domestic and foreign audiences. This film is expected to exceed Denmark's highest box office record overseas.