The projector is becoming more and more popular now since it is a great choice if you want to make your own family theater. If you require a brilliant image and perfect experience, you definitely need the best projector which normally costs over $1000. However, if you have a limited budget or it's your first time buying a projector, projectors under $200 may be a good choice to give it a start.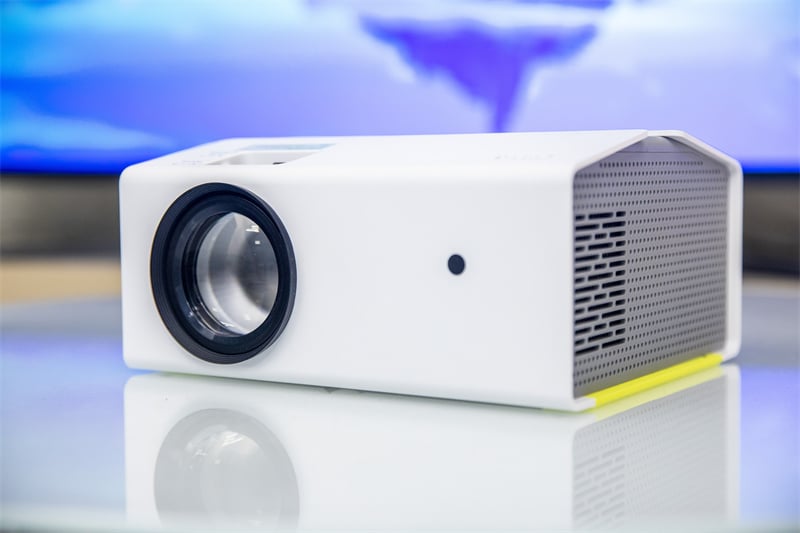 Actually, there're thousands of projectors under $200 on the E-commerce platforms. The market for projectors at this price is very confusing, with a variety of false advertising parameters, serious after-sales problems, etc., and the image is a disaster. Although it is an entry-level projector, no one wants to spend $200 to get a useless junk home.
1. Best choice of projectors under $200

​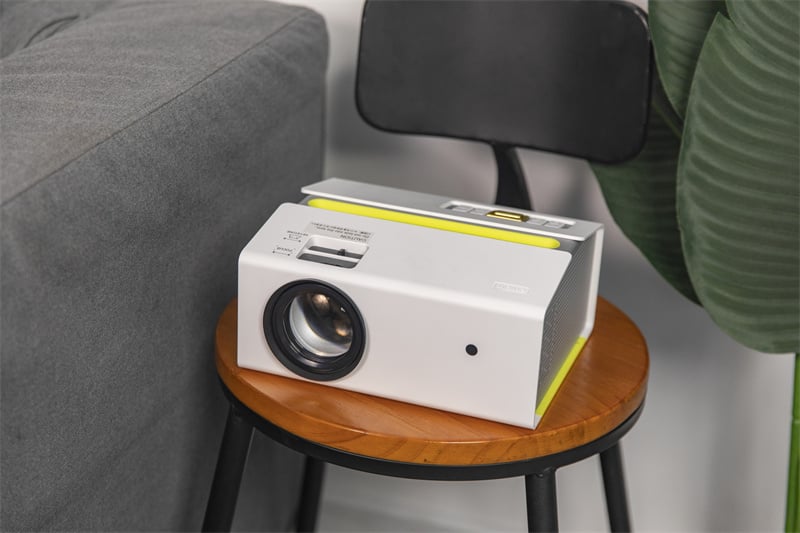 Recently, I've received a new product, Emotn C1 projector which really gave me a surprise. It costs under $200, and to be honest, I didn't expect much from a projector at this price from my experience. But when this one really impressed me for its outstanding image quality. This projector is a mid-to-high-end product in the LCD projector, so although the price is cheap, but is very cost-effective.
Emotn C1 is a single-chip LCD projector with a
4.3-inch LCD display
, open optical path, and a physical resolution of
1280*720
. The brightness is
8500 lumens
, not many projectors dare to use ANSI as a brightness unit at this price. And it supports both wireless and wired connections.
2. Appearance

​

This Emotn C1 has a very stylish design, which suits the taste of young people. And I was surprised by its texture after I opened it, the premium material is not at all like a $200 projector. The body is mainly gray and white, classic and not lose the elegance; and add a touch of fluorescent yellow to increase its fashionable style. This appearance is really very innovative. And the yellow part is made of silicone, the use of silicone again increases the cost and is more advanced than the cheap plastic shells of other projectors in the same price range.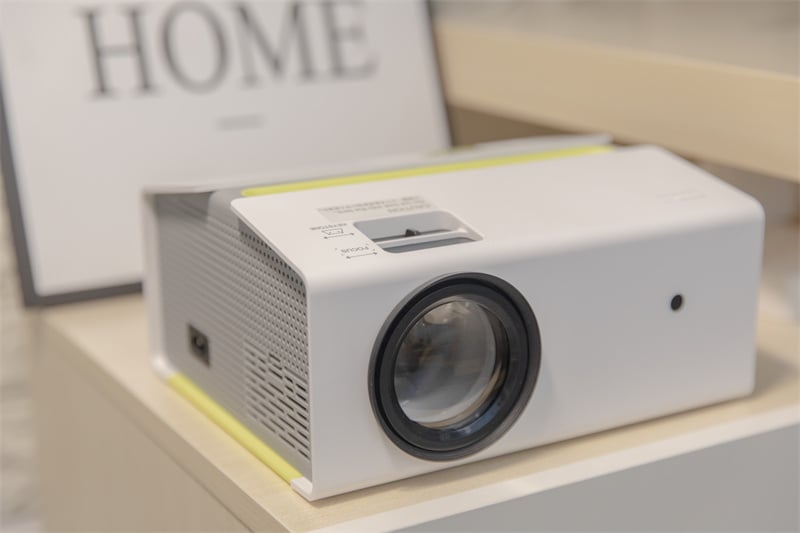 There is a large lens on the front, complete with a lens cover, which is convenient for you to protect the projector lens from falling dust when not in use.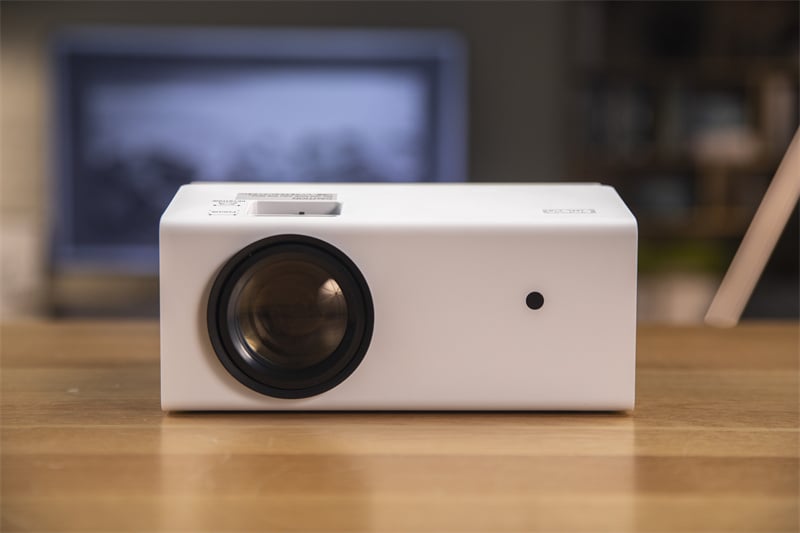 The projector has a beautiful fluorescent yellow groove on top, you can put the remote control or put the phone when you cast the screen, the perfect support.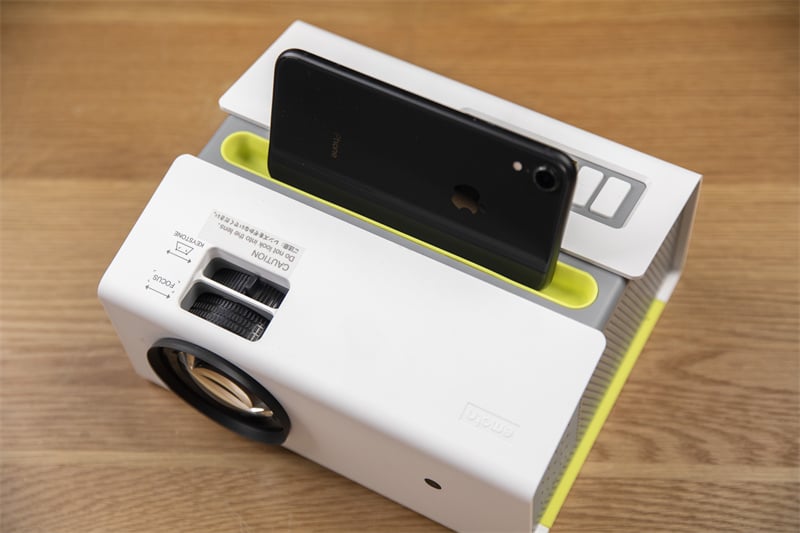 The side of the projector is the air inlet and outlet and power input.
3. Interfaces

​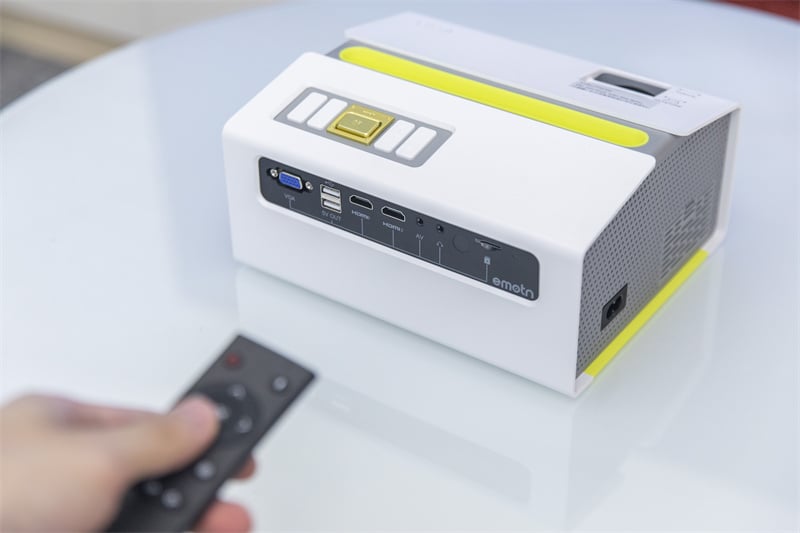 Emotn C1 projector has rich interfaces which can meet all your needs. The back of the interface is black and white in color, simple and classic. From the left to the right is VGA, 2 USB, 2 HDMI, AV, Audio and TF or Micro SD port. So you can connect the projector to your computer, TV stick, mobile phone, TV box, etc.​
​
4. Effect of the image and sound

​
Now I am gonna tell you what impressed me most, the image quality of Emotn C1 is way beyond its price. The brightness of C1 is 8500 lumens which is higher than other LCD projectors under $200.

I choose some 4k pictures to show the effect of Emotn C1. As you can see it is very good for image color and detail reproduction, even if you zoom in on the screen, you can still see a clear image.
​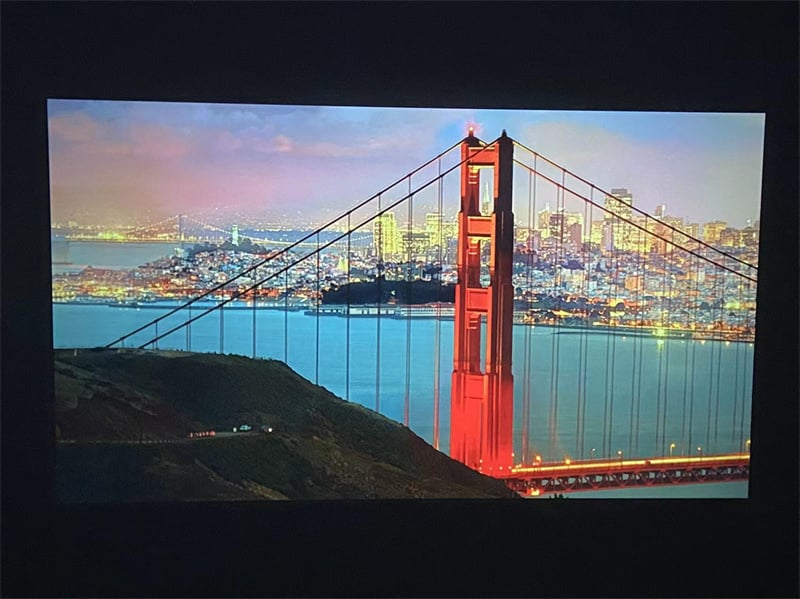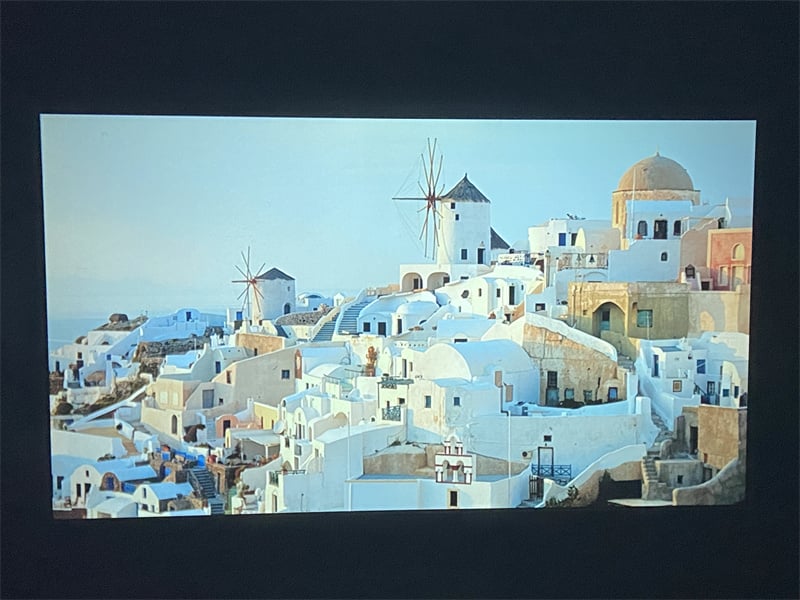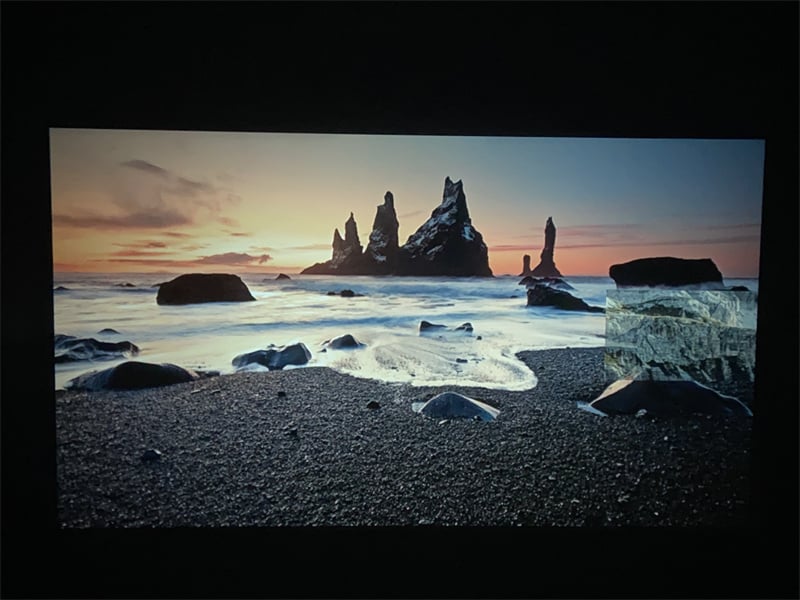 It supports H264, H265 compression format apart from the usual image and video formats.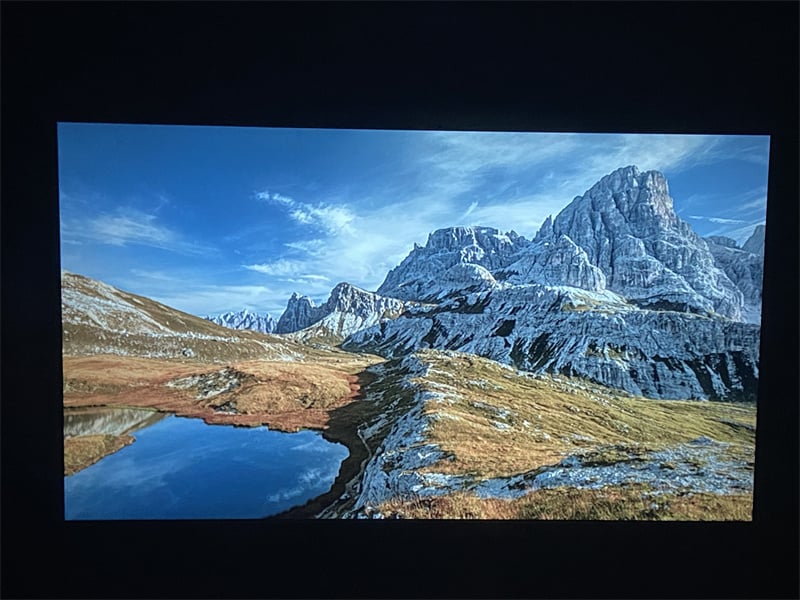 In terms of the sound, Emotn C1 comes with 2 speakers built-in, so you don't need to buy an extra speaker. Of course, if you want to connect your own speaker, C1 provides the interface to meet your need. And you can press the Bluetooth button to switch your projector into a Bluetooth speaker when you don't use to project.
The sound effect will make you feel it's totally great value for money.
5. Usage Experience

​

Emotn C1 made a trapezoidal design in the adjustment knob part, so that it is not easy to cut hands when you focus and correction, which I think is very thoughtful.

This projector is manual focus and manual keystone correction, so I pay attention to the speed of adjustment. Because I used some manual projectors before, and let me tell you, it's like torture. But Emotn C1 has a good response, everyone in my family can adjust the screen to the perfect mode by themselves in a few seconds.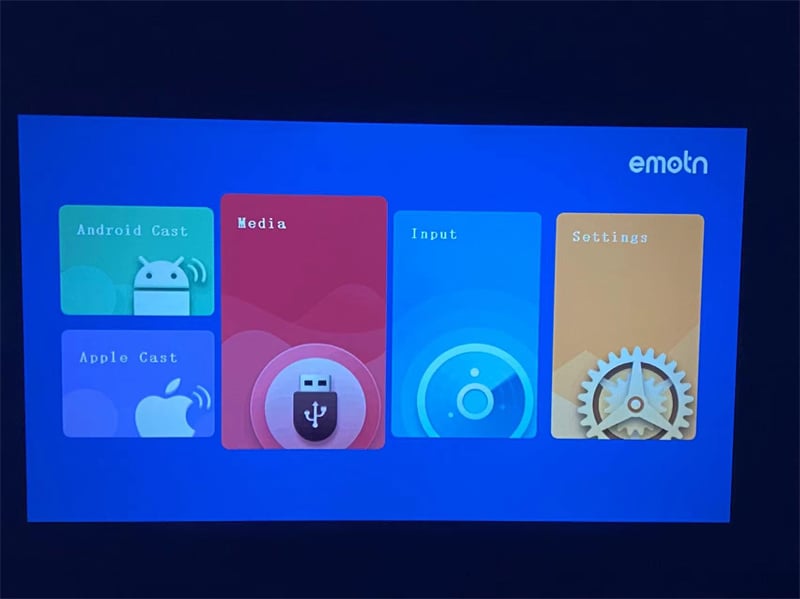 It uses a Rockchip chip for the same screen module, so Bluetooth audio can be a stable pairing connection.
Both Apple and Android phones can be easily screen mirrored. You can use a wired or wireless connection to turn the content in your phone into a big screen anytime and anywhere.
6. Summary

​
Overall, the biggest feeling I got from this projector was that it was good value for money. I showed my friends this image and they all thought it was a projector with 10000 lumens or more, and after I told them the truth they all asked me if this brand was not profitable.
Therefore, if you are on a budget and want to buy a cheap projector but don't want to compromise on image quality and experience, choose Emotn C1, you won't regret it.
Last edited: