Hisense, the renowned electronics manufacturer, is gearing up for a significant product launch this September 19th. While the company has remained tight-lipped about the specifics, they have teased the imminent arrival of a laser TV with a screen size exceeding 100 inches. This announcement has sparked excitement among tech enthusiasts and home entertainment aficionados. Although the official details are yet to be unveiled, Hisense has been making waves in the industry by showcasing innovative products at events like IFA 2023.
The IFA 2023 Showcase​
At the IFA 2023, held in Berlin, Hisense demonstrated its commitment to cutting-edge technology. The company revealed a range of groundbreaking products, including the world's first 8K laser TV, the ULED X series featuring top-tier image quality (including 8K), the 4K tri-color laser projection C1pro, artistic televisions, and smart window concepts. It's important to note that some of these products have already been launched in the domestic market.
A Year of Remarkable Achievements​
During his keynote address at the opening ceremony of the Berlin International Consumer Electronics Exhibition (IFA 2023), Mr. Yuzhita Yu, President of Hisense Group, reflected on the company's exceptional performance. He proudly declared that Hisense achieved the second-highest global shipment volume of televisions in 2022. Furthermore, Mr. Yu projected an ambitious goal for 2023, with plans to manufacture approximately 28 million terminal display devices.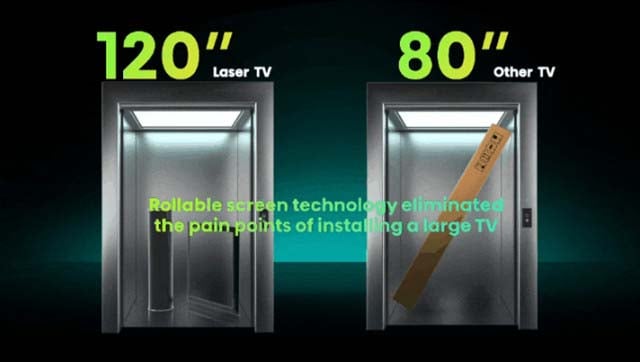 The Innovative Foldable Laser TV​
One of the highlights of Mr. Yu's address was the introduction of Hisense's latest creation – the foldable laser TV. This state-of-the-art television boasts a flexible and foldable screen frame, allowing it to be easily transported and fitted into exceptionally narrow spaces. This innovative design resolves the challenges faced by consumers when purchasing oversized TVs, such as difficulties in transportation and installation. The foldable laser TV can even reach an impressive 120 inches in size.
Conclusion​
While the exact specifications of the upcoming 100-inch+ laser TV remain shrouded in secrecy, Hisense's track record of innovation and their recent IFA 2023 showcase signal that something remarkable is on the horizon. Tech enthusiasts and consumers alike eagerly await September 19th, when Hisense will reveal the details of this highly anticipated addition to their impressive lineup of cutting-edge products.