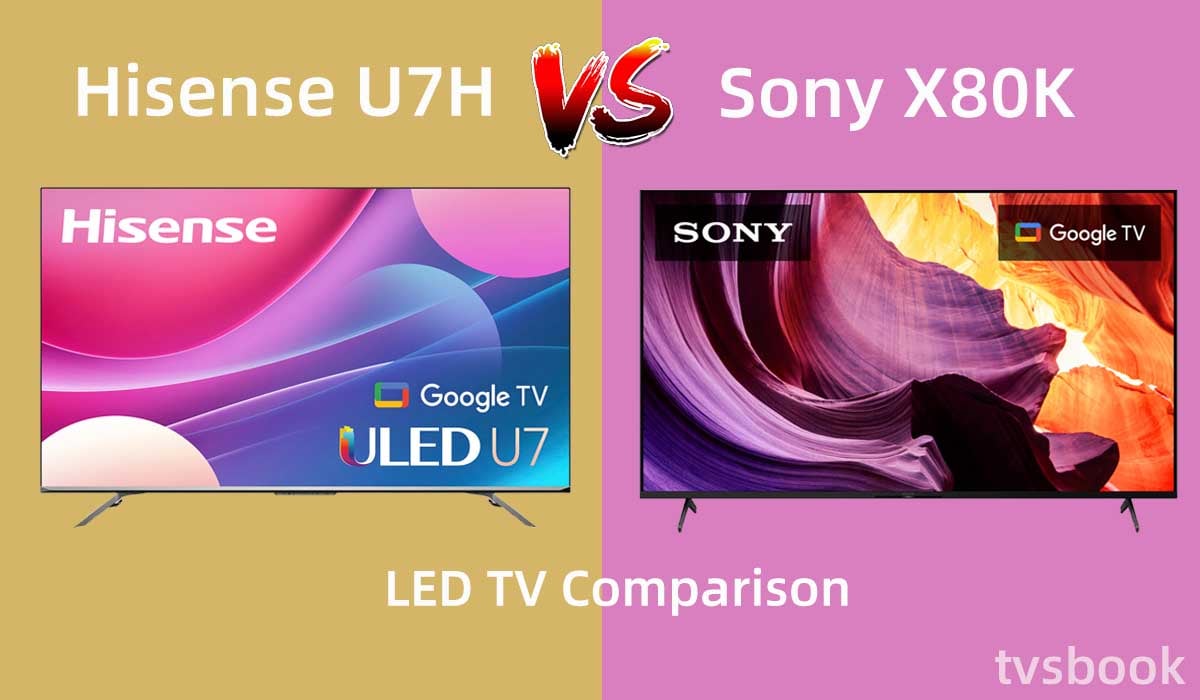 In this article, I will compare Hisense U7H vs Sony X80K.
The Hisense U7H and Sony X80K are low-cost options for LCD TVs in 2022, and despite their low prices, they still have a lot going for them. Sony is known for making expensive, high-quality screens, and the X80K is one of Sony's most affordable offerings for 2022, making it attractive to many consumers. Hisense U7H, on the other hand, sits between the U8H and U6H, and despite its unassuming nature, its quality performance makes it one of the top choices for low-priced TVs.
You can choose the most suitable TV model based on the comparison review in this article.
Hisense U7H vs Sony X80K: Overall Comparison​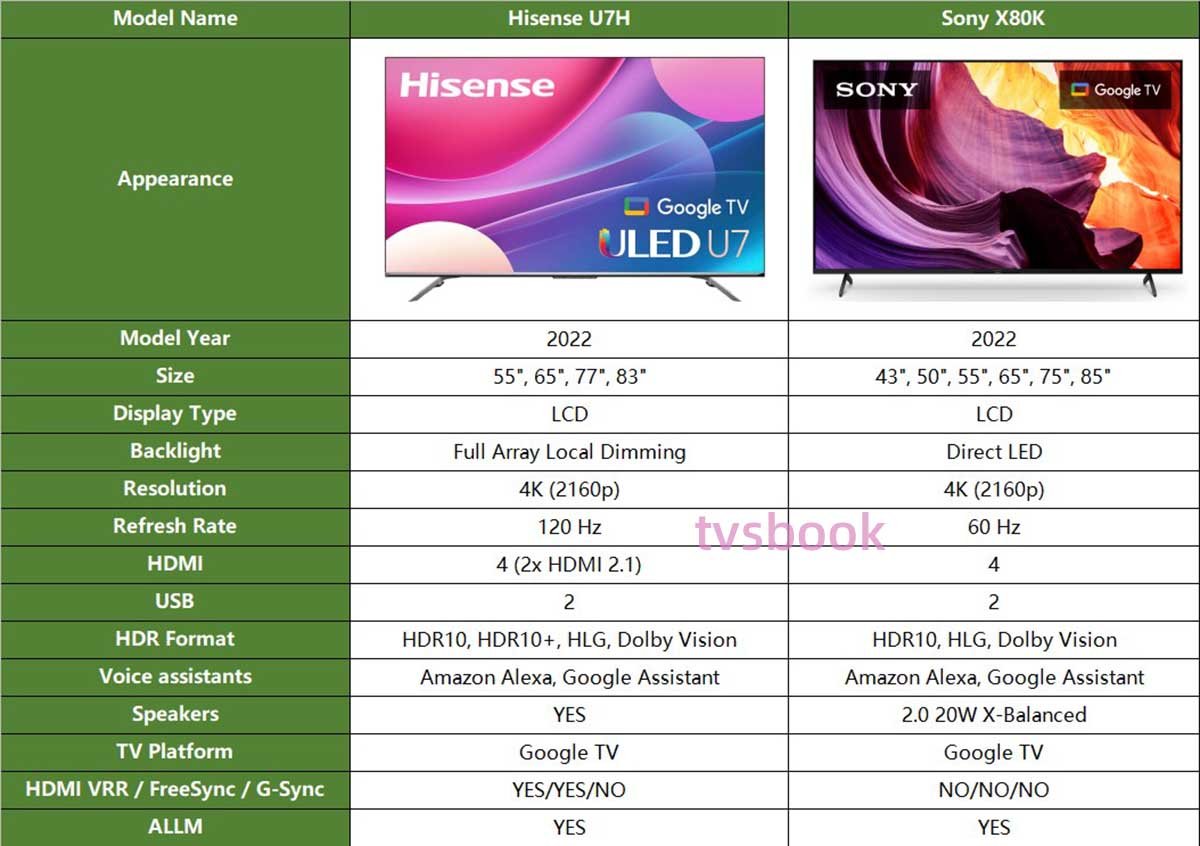 Hisense U7H TV Review​
Hisense U7H is the mid-range model in Hisense's 2022 4K TVs, and its price and configuration are located between U6H and U8H. As such, it may not be as compelling, but that doesn't stop it from being one of the top choices in its price range. the U7H's excellent contrast and local dimming capabilities, as well as its good anti-glare capabilities, make it well-suited for dark or bright environments. At the same time, it also offers better gaming features.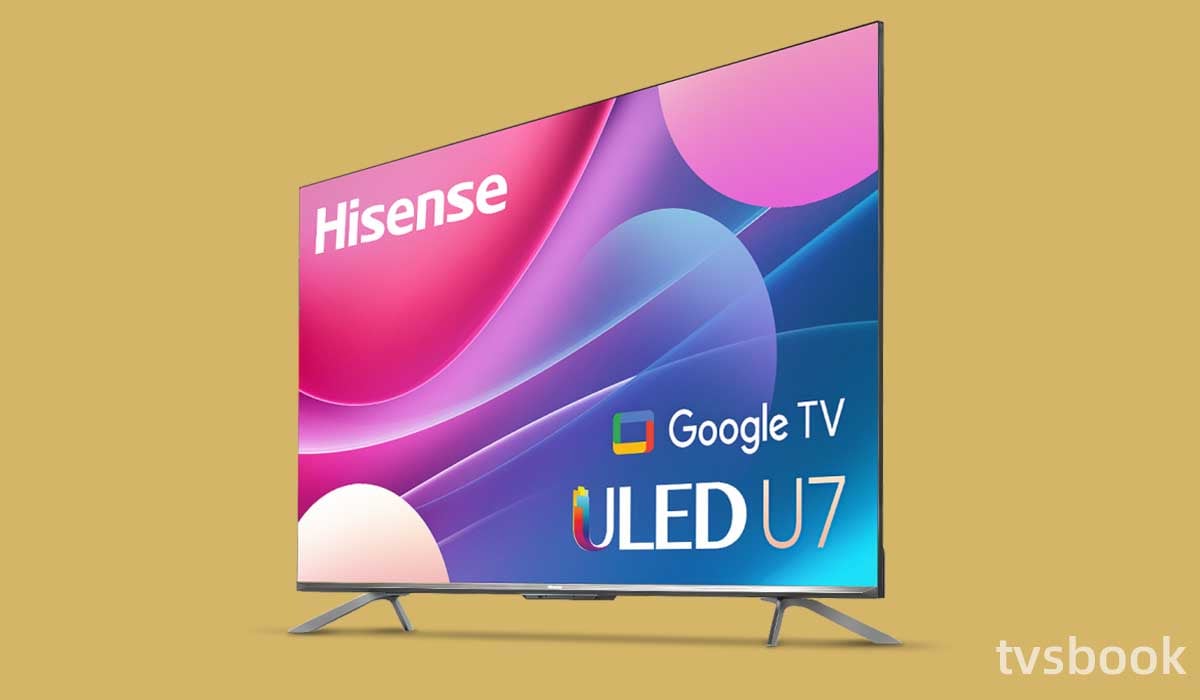 Pros
Excellent contrast and local dimming.
Anti-glare capability.
Color accuracy.
Affordable price.
Good gaming features.
Cons
Motion blur.
Different configurations of the same model in the international market than the North American variant.
Narrow viewing angle.
Sony X80K TV Review​
As another mid-range LED TV in 2022, the Sony X80K TV attracts a large number of Sony lovers with its low price. It's OK as an entry option, offering a wide viewing angle and decent brightness. However, it has a relatively low contrast ratio and low HDR brightness. Therefore, it may not be a good choice if you wish to watch movies or play games in a dark room.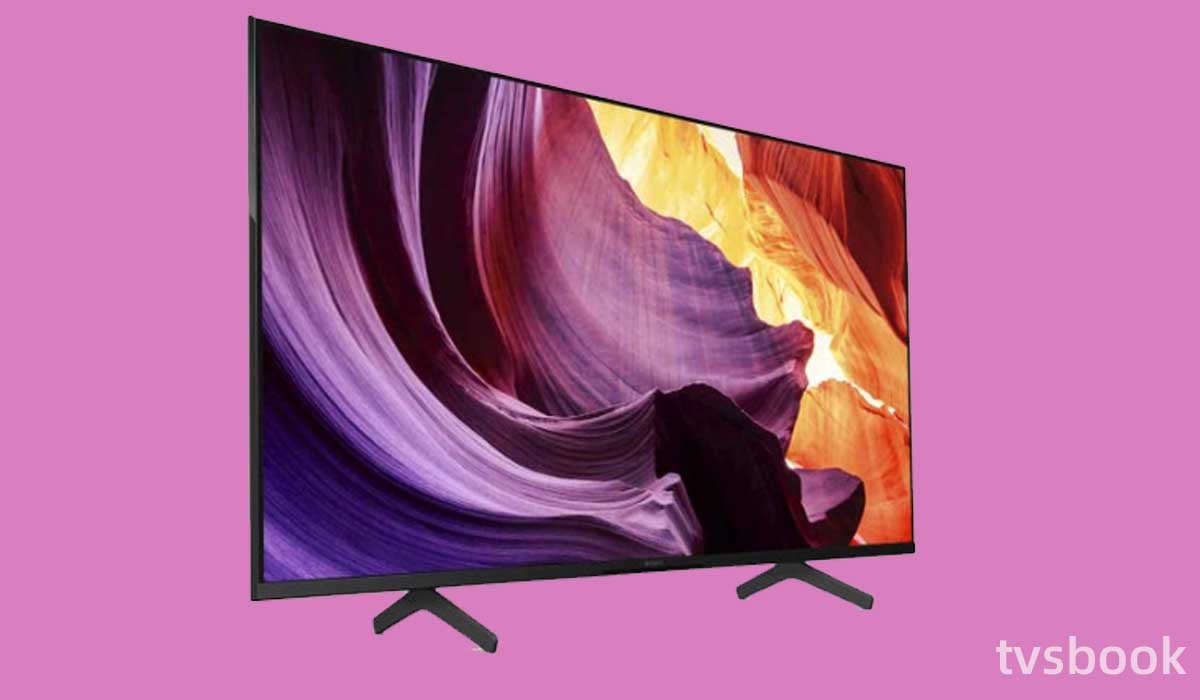 Pros
Wide viewing angle.
Accurate image color.
Cons
Low contrast ratio and lack of local dimming.
Low HDR brightness.
Lack of gaming features.
Hisense U7H vs Sony X80K: Design​
Hisense U7H has a simple and stylish design with extremely thin bezels on three sides of the screen, which can be almost ignored when viewed from the front. The silver bezel at the bottom is a bit thicker, but not so prominent that it interferes with viewing the TV.
The U7H comes with a silver metal V-shaped stand to hold the TV firmly in place. The stand can be mounted in as wide or narrow a position as needed and is capable of being too high for the TV. You can place most of the soundbar in front of the TV without blocking the TV screen.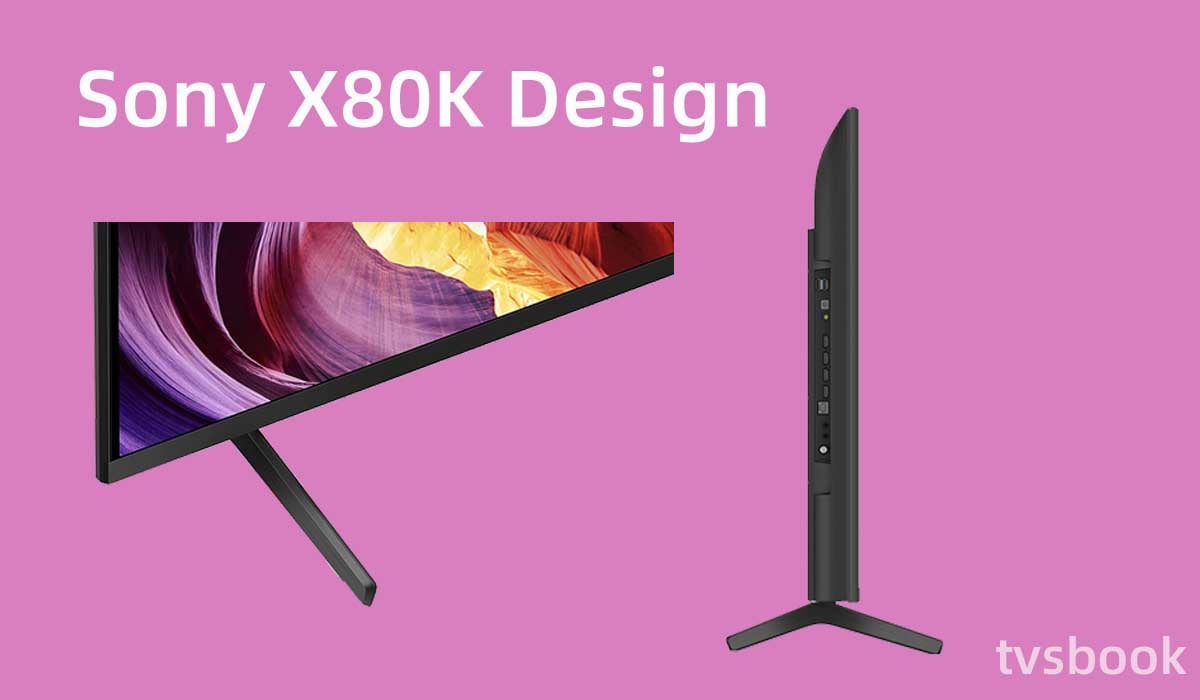 The Sony X80K has three black bezels and the bottom one is a dark gray that blends in with the stand. The overall design is simple, with Sony's classic wide metal stand. It supports the TV very securely and raises the TV to hold the soundbar.
The two TVs feature a different checkerboard grid design on the back, adding some cosmetic flair. The inputs are located on the side of the TV and both support VESA wall mounting.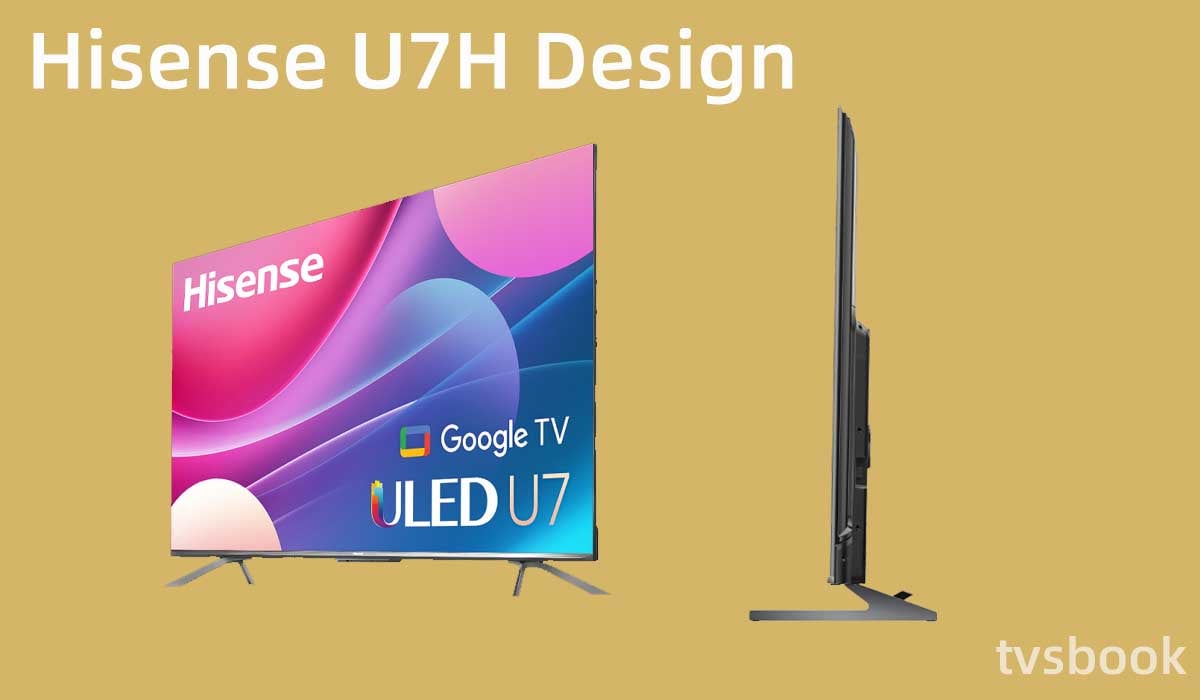 Both the U7H and X80K have clips on the back of the TV for easy cable management. The overall thickness of the set is thinner on the Sony X80K than on the U7H.
Hisense U7H vs Sony X80K: Picture Quality​
Despite its low price, the Hisense U7H's picture quality will impress. It has an excellent contrast ratio, which is further improved by its local dimming function, thus enabling excellent bright spots and deep blacks in dark fields.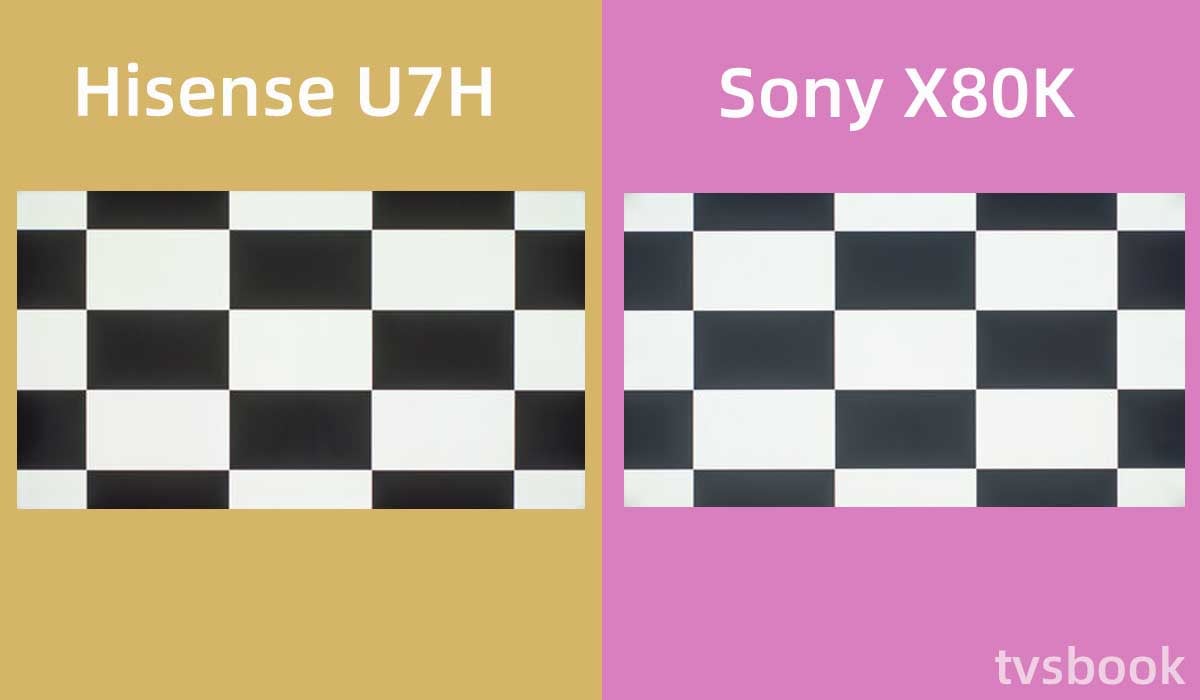 The U7H offers excellent peak brightness with strong reflection handling to overcome glare in bright rooms. HDR brightness performs well in both theater mode and game mode. Whether you're watching a movie or playing a game in a dark or bright room you'll have a great experience.
However, if you are watching TV with your family or friends, the U7H is not the best choice. It has a narrow viewing angle, and when you are off-center, the image quality degrades and fades.
The Sony X80K's SDR peak brightness performance is good, but its HDR brightness is low and some brighter scenes may not give you a satisfactory experience.
The X80K has a poor native contrast ratio and lacks local dimming. As a result, blacks will appear gray when watching movies in a dark room.
However, the viewing angle of the Sony X80K is good and you can still get an accurate image even when viewing off the center of the screen. Therefore, it is more suitable for wide seating arrangements than the U7H.
Hisense U7H vs Sony X80K: Sound Quality​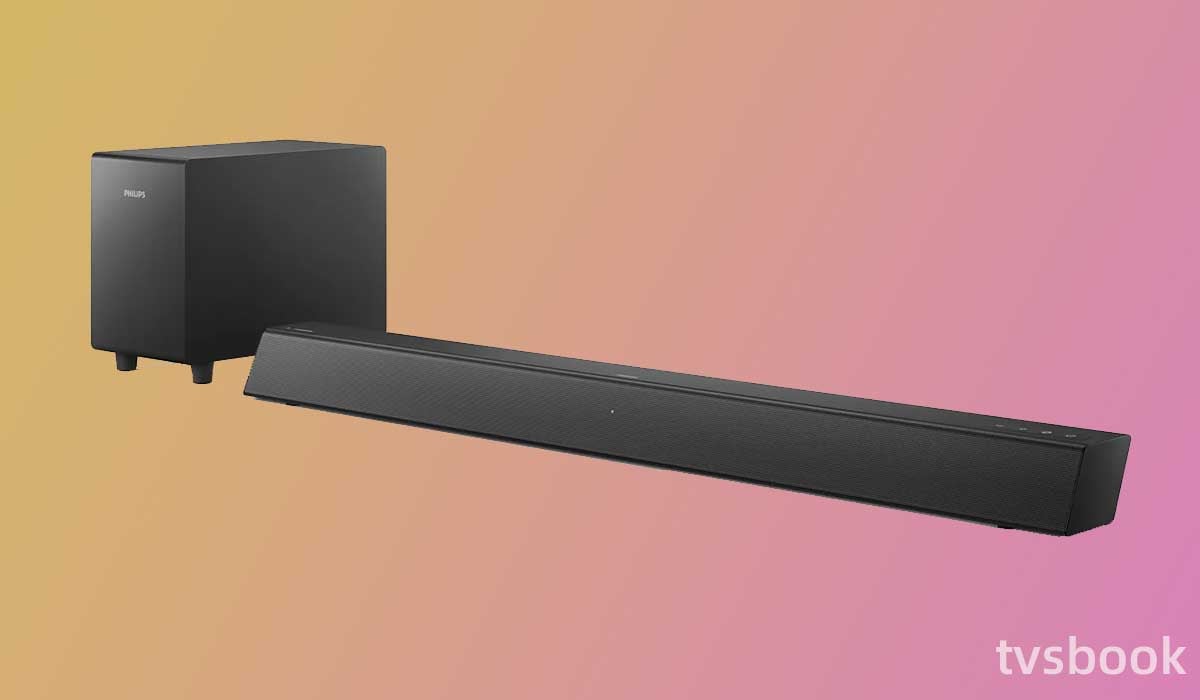 The U7H's built-in speakers perform well, providing some bass and a little treble distortion.
The Sony X80K has a balanced sound, with some treble distortion at high volumes, and overall performance is as expected from a low-cost TV.
Of course, if you're looking for a better sound experience, I'd recommend buying a soundbar.
Hisense U7H vs Sony X80K: System & Smart Features​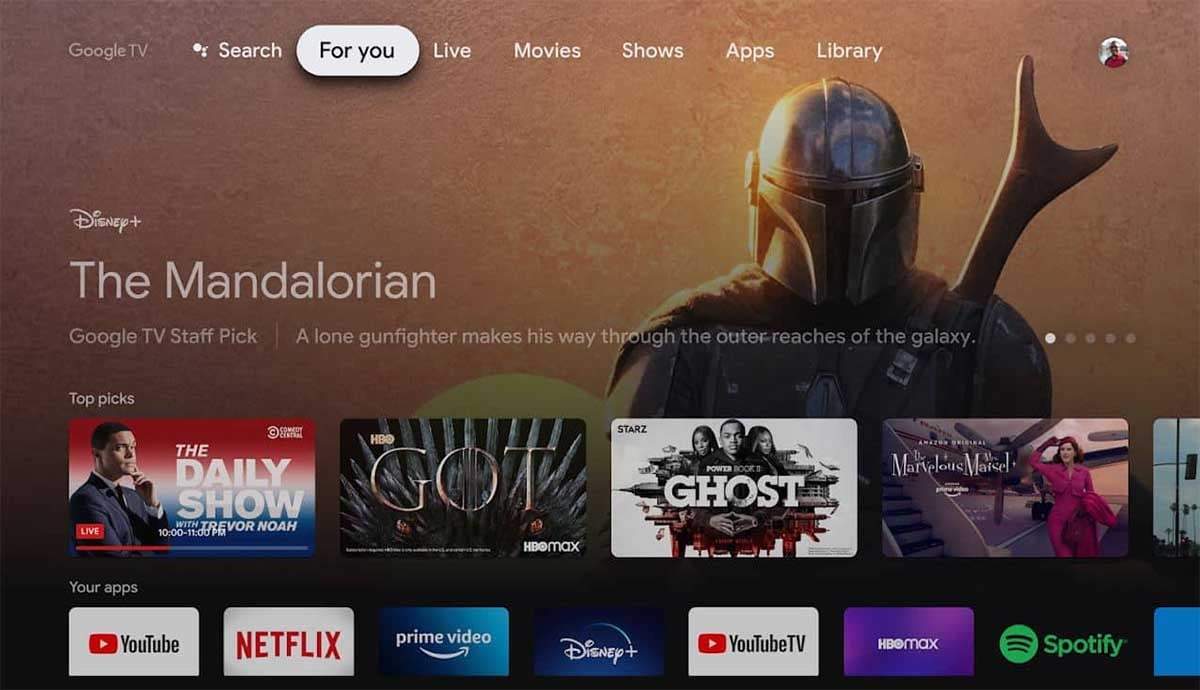 Sony X80K and Hisense U7H are both equipped with Google TV, and the system runs smoothly with almost no lag. Google TV interface is modern and offers personalized recommendations and other auxiliary features. You can download almost any app or streaming service you need through the Google Play Store.
The Sony X80K also has a BRAVIA CAM (sold separately) option, through which you can use the TV for video calls.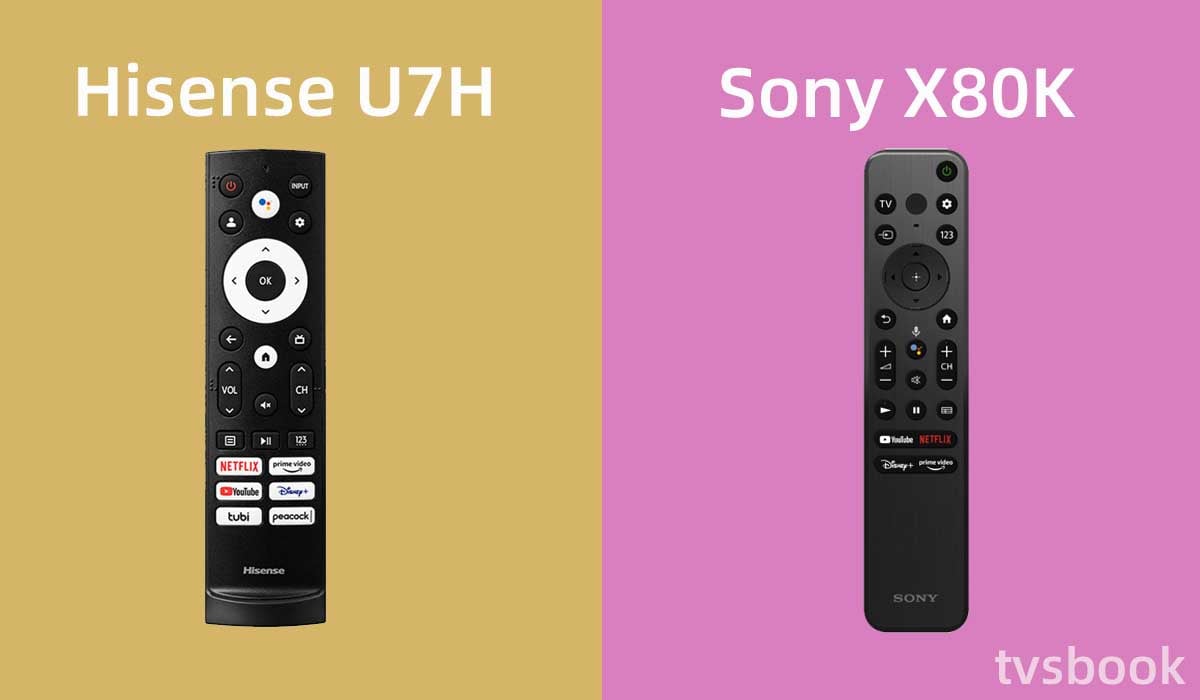 The remote control for the Hisense U7H has been redesigned from the 2021 model. The microphone on the remote allows you to access the U7H's Google Assistant and Alexa. you can open apps or change inputs via the voice assistant. The remote control provides quick access to streaming services.
The Sony X80K's remote control is also sleeker and more aesthetically pleasing than the 2021 model. You can access popular streaming services through the shortcut access button. It also features voice control.
Hisense U7H vs Sony X80K: Inputs​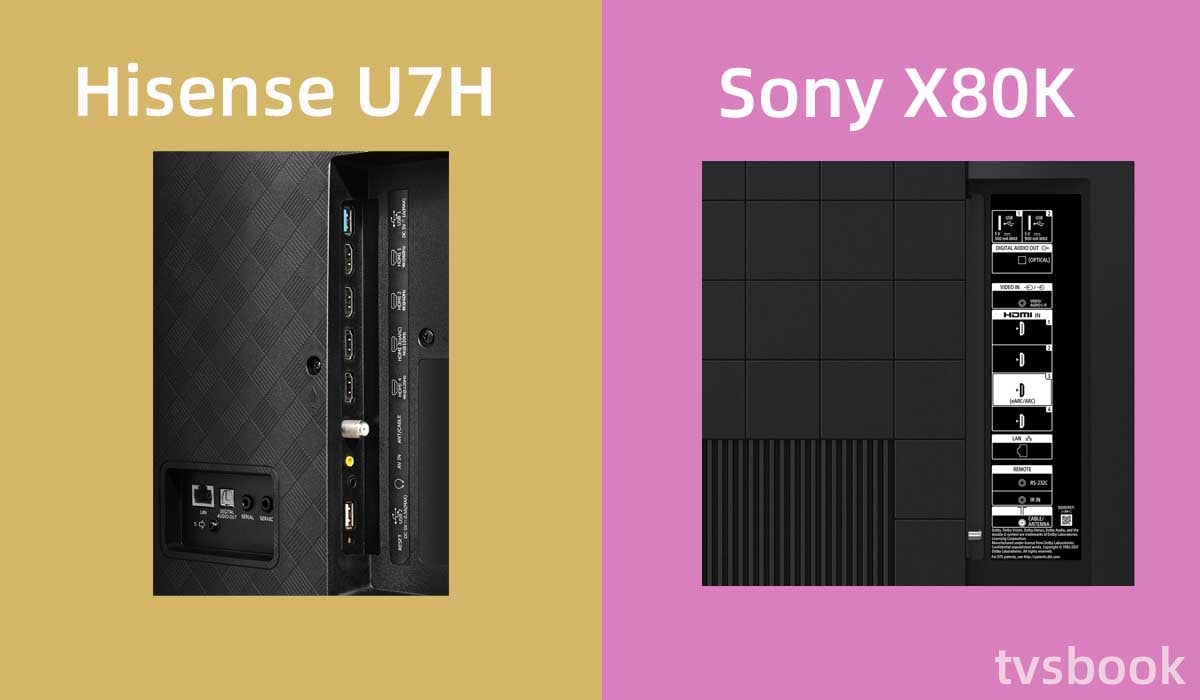 Hisense U7H supports the most common resolutions including 4K 120 Hz and displays properly in most cases. He supports VRR, and FreeSync functions, and is compatible with next-generation gaming consoles. Hisense U7H has very low input latency, so you can get a very smooth and fast experience.
Two of the TV's four HDMI ports support HDMI 2.1, and one of them is also an eARC port. If you want to connect an eARC device, the TV can only connect up to one more HDMI 2.1 device.
The Sony X80K is limited to HDMI 2.0 bandwidth and does not support HDR 10+, so there are some limitations on HDR content formats. It only supports up to 4k @ 60Hz and does not have some gaming features. It only supports Auto Low Latency mode to reduce screen tearing. So if you are looking to play games on your TV, the X80K is not a good choice for you.
Hisense U7H vs Sony X80K: Summary​
Overall, Hisense U7H and Sony X80K TVs have their own advantages.
If you want to watch movies or HDR content in the dark and need to play games on your TV, the Hisense U7H will provide a satisfying experience. Its high contrast ratio, good anti-glare capability, excellent gaming features and low input latency make the TV suitable for dark, bright, or gaming scenes. the U7H is perfect for users with multi-scene needs. The downside, however, is the very narrow viewing angle and a noticeable degradation in image quality when off-center.
The Sony X80K, on the other hand, is better suited for families who need to watch TV with multiple people, and its wide viewing angle makes the image quality still good when off-center. Its reflection processing and SDR brightness performance are good for use in rooms with ambient light. But if you need to watch HDR movies or play games in dark scenes, this TV will not deliver a satisfying experience.
You may be interested in
Hisense U8G vs U7H
comparison.