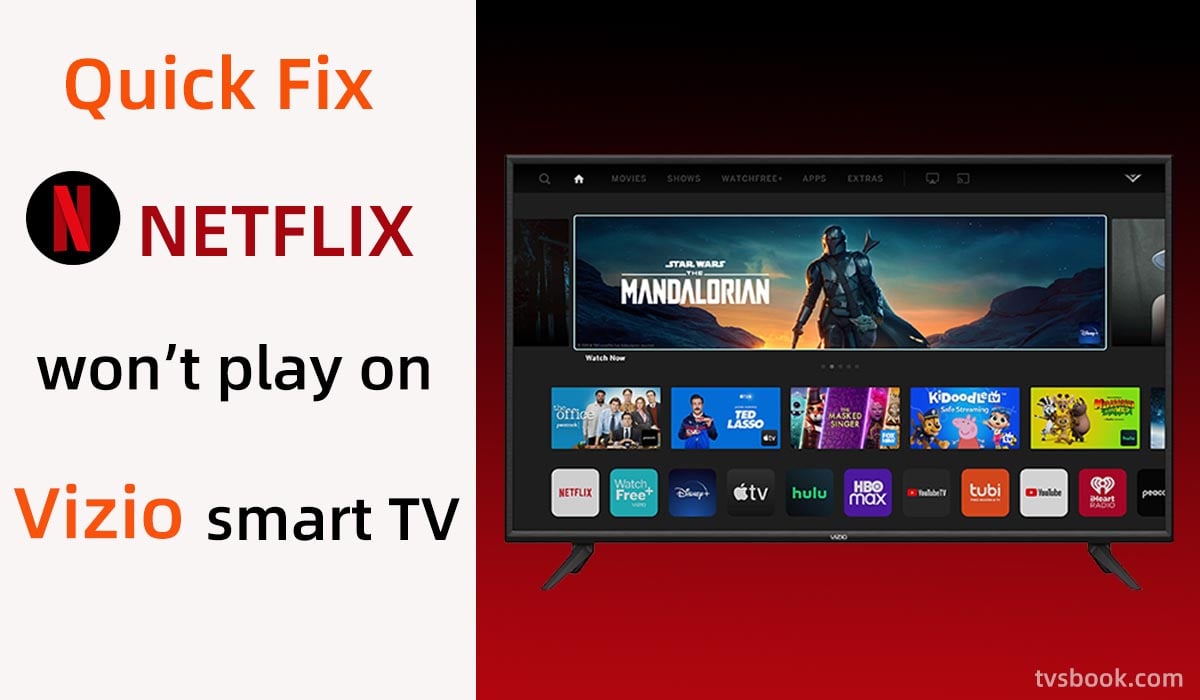 This guide will show you how to fix Netflix won't play on Vizio smart TV.
As one of the most popular streaming platforms, Netflix continues to receive positive reviews from its subscribers and continues to grow its subscription numbers. Netflix offers a large number of movies, TV series, documentaries, anime, and more, gaining more and more subscribers with its high-quality homemade dramas. However, many Vizio TV users feedback that Netflix not working on Vizio Smart TV. They may encounter problems such as not loading, black screen, lag, and application crashes while using Netflix on Vizio smart tv, which is very frustrating, but luckily this article can help you fix all the problems.
Why is Netflix not working on my Vizio TV?​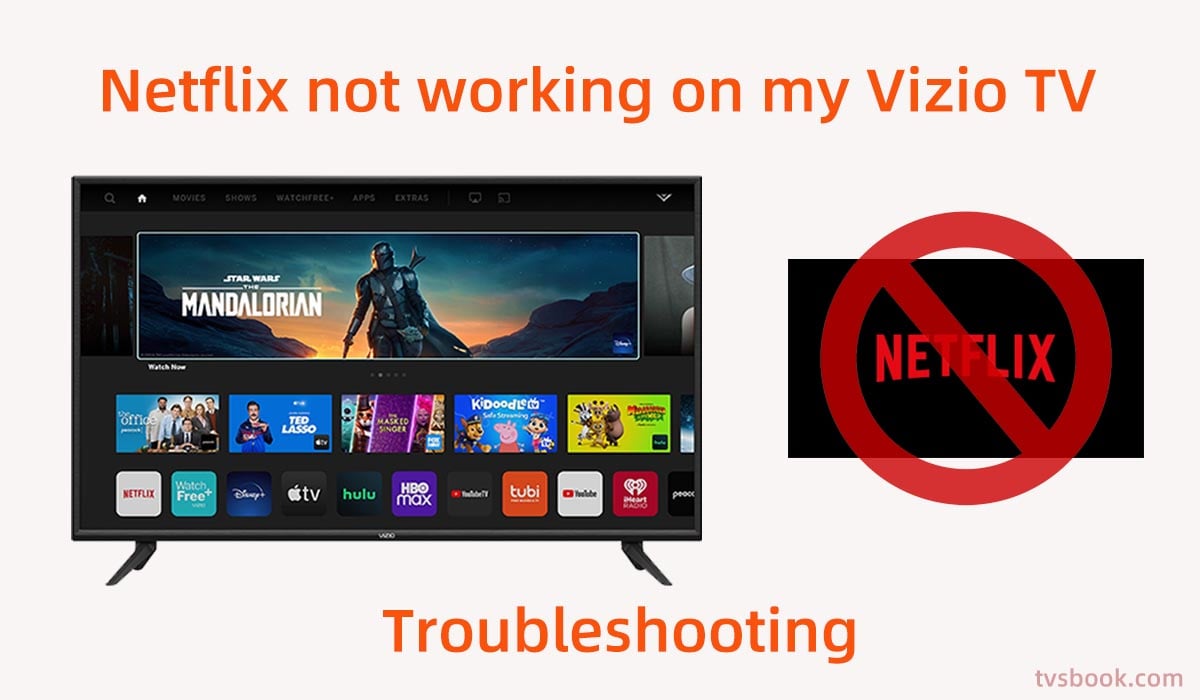 When Netflix does not work on Vizio Smart TV, it may be due to several reasons.
1. Network connection problems
2. Excessive Vizio TV cache
3. Vizio TV system firmware is outdated
4. Outdated Netflix application
5. Netflix error code
6. Temporary errors
7. Regional restrictions
How to fix Netflix won't play on Vizio smart TV?​
You can follow the instructions below to fix Netflix not working on your Vizio TV.
Restart Vizio Smart TVs (Soft Power Cycle)​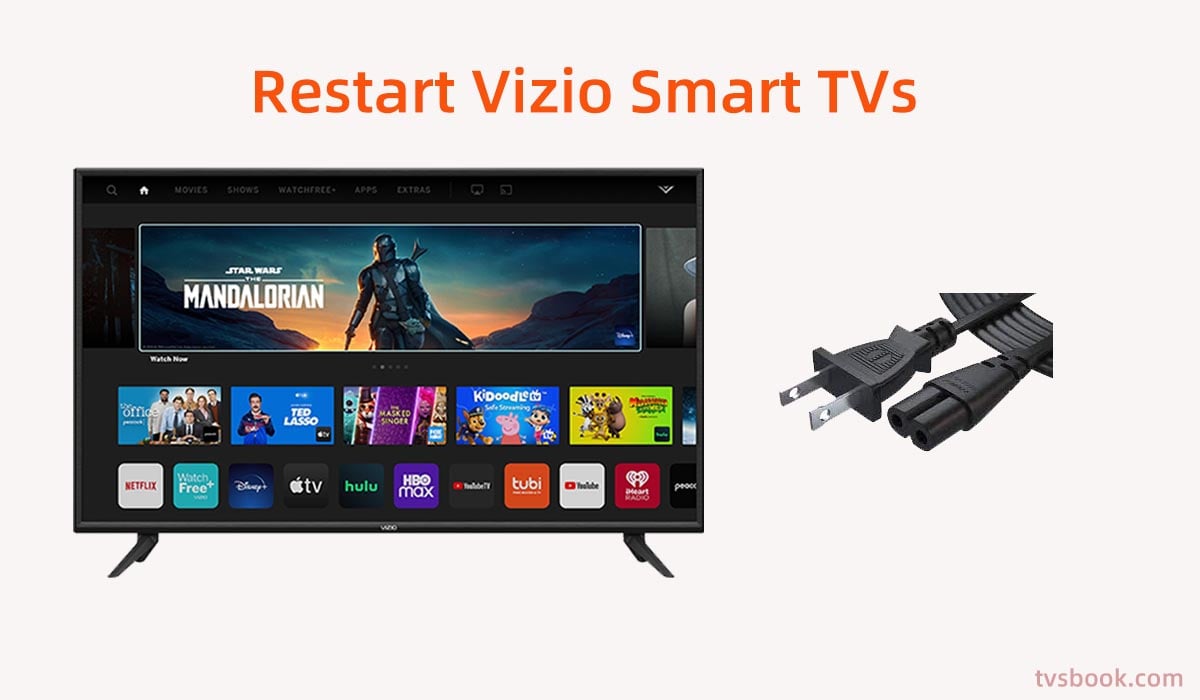 Usually restarting your
Vizio TV
is the easiest and probably most effective way to fix the problem, and I'm using this method as a first troubleshooting suggestion because it won't cause a loss of your personal information.
1. Press the power button on the remote control to turn off the TV.
2. Unplug the TV's power cord from the outlet.
3. Press and hold the power button on the TV for 3 to 5 seconds, then release it.
4. Plug the power cord back in.
For some Vizio models, you will need to use the menu button on the remote control.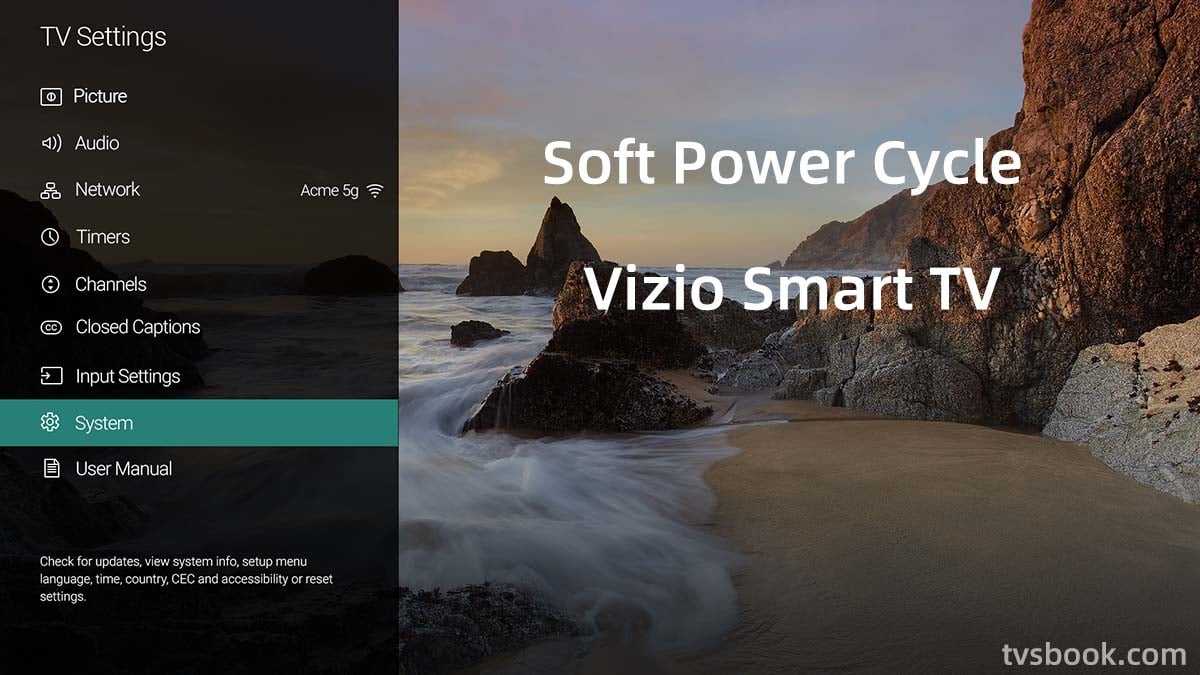 1. Press the menu button on the remote control.
2. Select System > Reset & Admin.
3. Select Soft Power Cycle.
Your Vizio TV will shut down and restart. With a soft reset, your Vizio Smart TV will clear your custom settings.
Update Netflix on Vizio Smart TVs​
Usually, the latest Vizio Smart TVs update the app automatically, but if your Netflix isn't working properly, you can try updating the app manually.
1. Find the Netflix APP, you can press Vizio Internet Apps on the remote control and then find Netflix.
2. Press the yellow button on the remote control.
3. If there is an update button, click Update.
Check your Internet connection​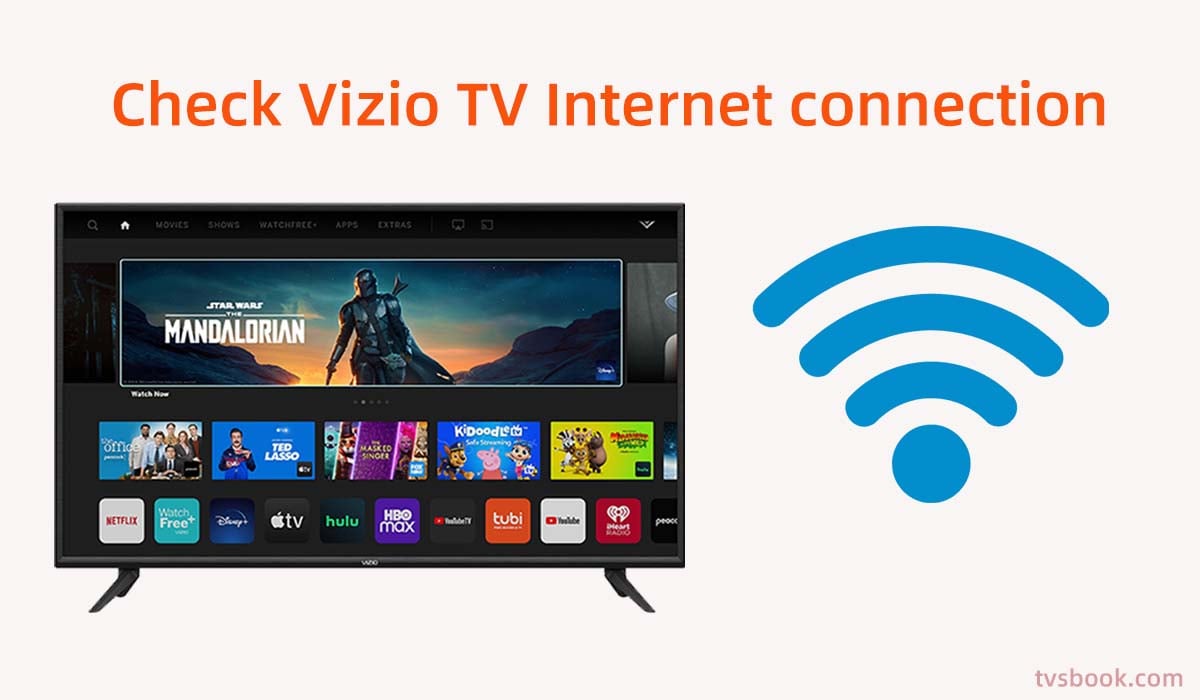 This is a point that is often overlooked, but many times the application failures we encounter are actually due to Internet connection problems. Streaming video applications need a stable network to transfer data in order to play video programs properly. You can take a few minutes to check your Internet connection to make sure it is working properly.
1. You can use
speedtest.net
to test the upload and download speed of your network on the Internet.
2. Make sure your Vizio Smart TV is successfully connected to Wifi. Press the menu button on the VIZIO remote control. Select "Network". Then select "Network Test" or "Test Connection".
3. Check if other devices under the same Wifi are connected properly.
4. Reduce the number of devices connected under the same router. The router will slow down the network speed when too many devices are connected at the same time.
5. Position the router close to your Vizio Smart TV.
6. Reboot the Wi-Fi router.
7. Try to use Ethernet wired connection to the Internet, usually wired connection is more stable than a wireless connection.
How to reboot the Wi-Fi router?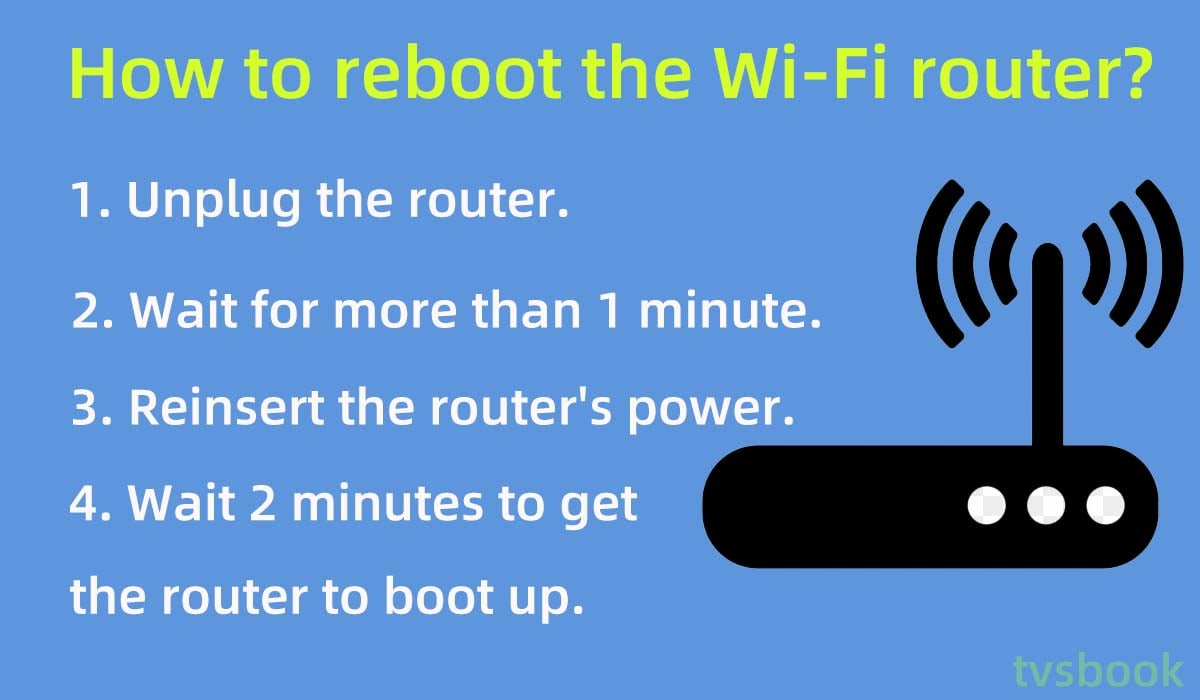 1. Unplug the router.
2. Wait for more than 1 minute.
3. Reinsert the router's power.
4. Wait 2 minutes to get the router to boot up.
5. Check if the Vizio TV reconnects to WiFi and if the problem goes away.
Clear cache on Vizio Smart TVs​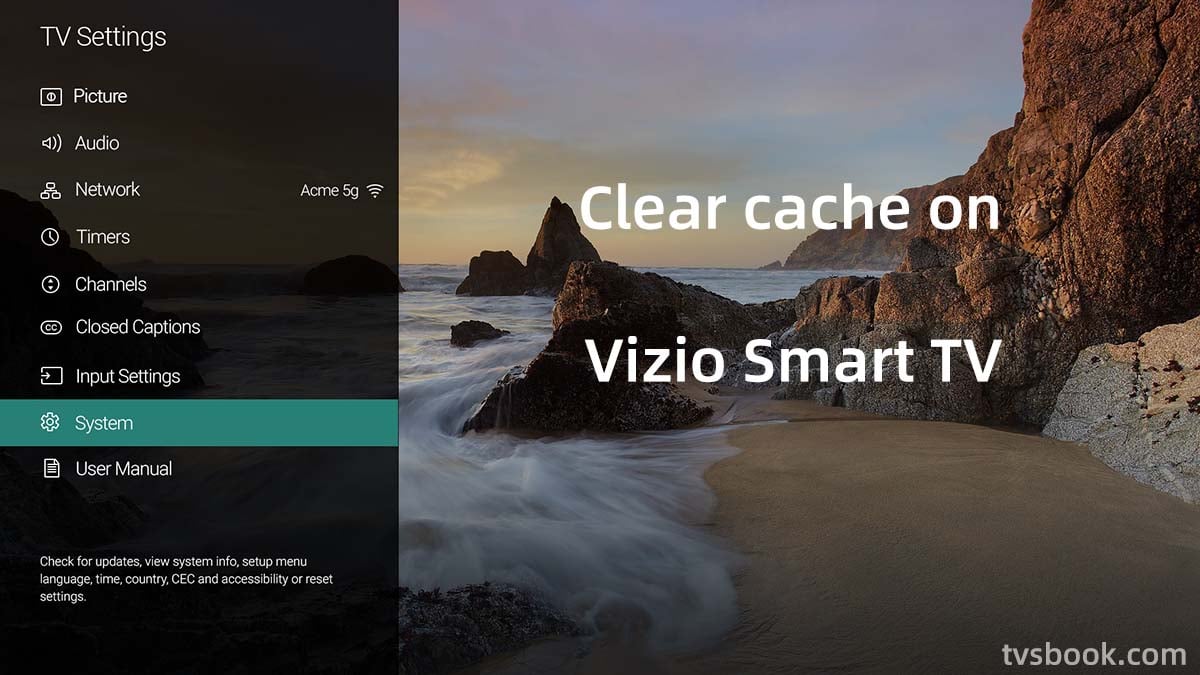 As your usage time gets longer, your Vizio TV will leave behind temporary cache files of various applications that will take up the RAM of your Vizio Smart TV. Therefore, we can periodically clear the cache files to leave space for apps like Netflix to run.
1. Press the
Menu
button of the remote control to activate the menu bar.
2. Go to the
Settings
.
3. Select
System
.
4. Select
Reset & Admin
.
5. Then select
Reboot TV
.
This will clear your Vizio TV's cache and your applications will stop crashing.
Update your Vizio TV firmware​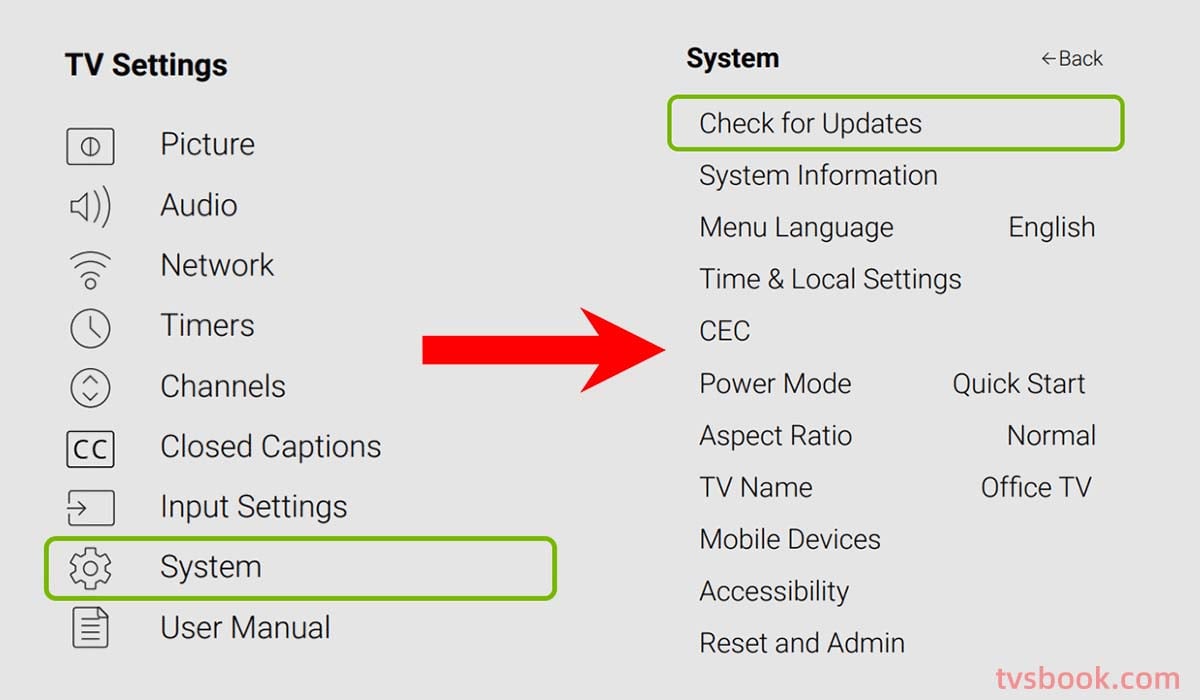 Vizio SmartCast TV will update your TV automatically, but if for some reason you miss these updates, it will affect the normal working of your TV and the use of new features. You can update the firmware of your Vizio SmartCast TV yourself to restore the TV system and Netflix to work properly.
1. Make sure the Vizio TV is connected to the Internet.
2. Check to see if you are prompted to install the update and if so, follow the on-screen instructions to complete the update. If you are not prompted, follow the next steps.
3. Press the Menu button on the remote control to go to Settings.
4. Swipe down and select System.
5. Select
Check for updates
.
6. Select Yes on the on-screen prompt.
7. After confirming, Vizio will start downloading the latest version of the firmware. When finished, your TV will reboot and start installing.
After the TV restart, you will get the latest new features for your Vizio Smart TV and the TV will fix known issues. You can open Netflix to see if it works well.
Sign back into your Netflix account​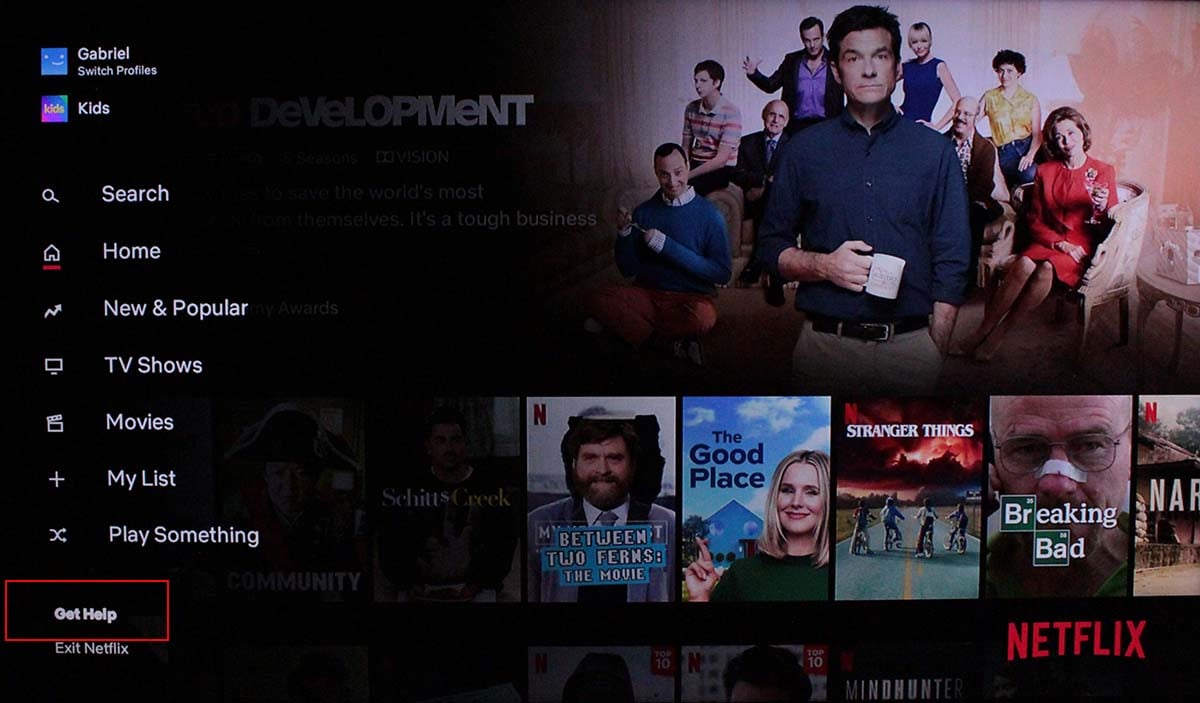 You can also try logging out of your Netflix account and then logging back in on your Vizio Smart TV.
1. Open Netflix on your Vizio TV.
2. Go to your profile.
3. Press the
left
button on your remote and scroll down to select
Get Help
.
4. Select Sign out and confirm.
5. Sign in to your Netflix account again.
Check Netflix error codes​
Sometimes some temporary errors in Netflix can generate error codes. If you find an error code when running Netflix on your Vizio TV, you can search for that error code on the official Netflix website and follow the specific instructions to fix it.
Reset Vizio Smart TV to Factory Settings​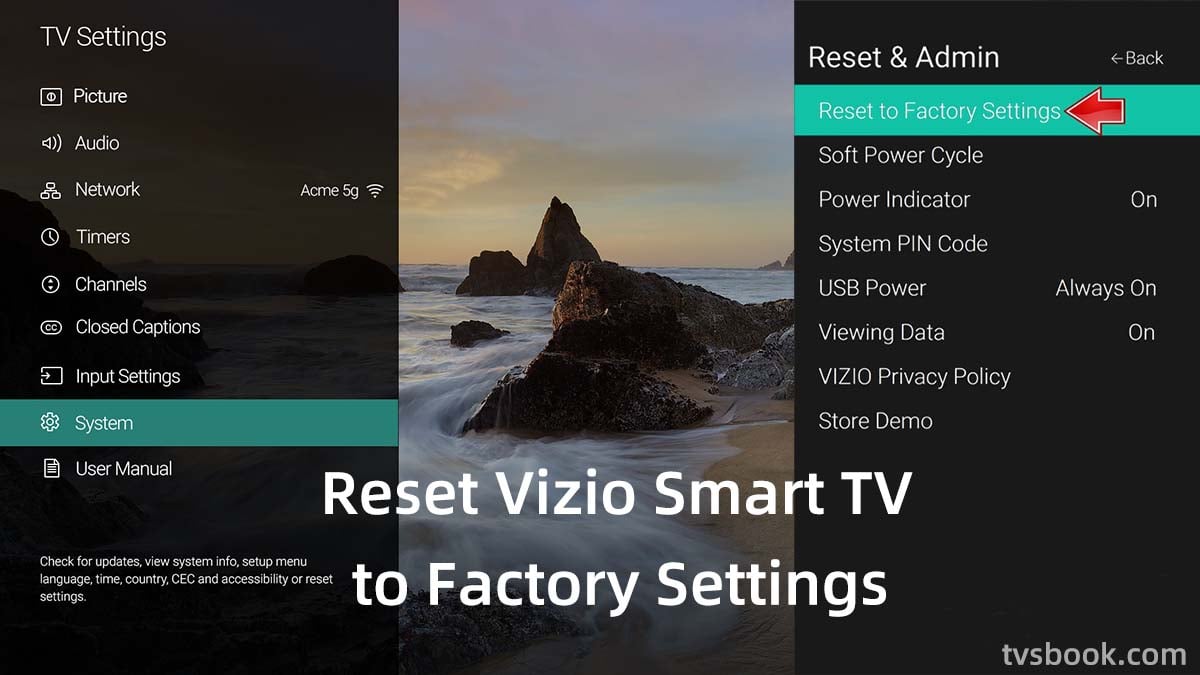 If none of the above methods solve your problem, you can choose to reset your Vizio Smart TV. This is the last method to take because resetting your TV will delete all your settings and data and your Vizio TV will revert to the factory default settings. This method will solve the problem with almost all apps, if you have important data please remember to backup it in advance.
1. Press the menu button of the remote control to enter the settings.
2. Select the system.
3. Select Reset & Admin.
4. Select Reset to Factory Settings.
After restarting the TV, follow the prompts to complete the TV setup. Then turn on Netflix and it should now work well on your Vizio smart tv.
FAQs​
How to get Netflix on older Vizio TV?​
There are hundreds of apps built into Vizio Smart Cast, including Netflix, that you can open and use without downloading. If your Vizio TV is a 2018 and newer model, you can find Netflix in Smart Cast.
You can also stream Netflix from your mobile device to your TV via Chromecast and Apple AirPlay 2. However, if your older Vizio Smart TV does not support Smart Cast, then you will not be able to use streaming Netflix.
Why is Netflix black screen on Vizio smart TV?​
Sometimes Netflix goes black or crashes on your Vizio TV, you can try Power cycle your TV to fix the problem.
Summary​
There are multiple reasons why Netflix won't play on Vizio smart tv, you can troubleshoot the problems and fix them one by one with this article. If you have tried all the troubleshooting in the article and Netflix still does not work on your TV, please contact the Vizio after-sales team to help you solve the problem.
Related Readings
How to get HBO Max on Vizio smart TV?
How to Get Discovery Plus on Vizio Smart TV?
How to Connect TV to WiFi Without Remote?
Why is my Vizio TV Sound Delayed? Solutions