Is the new Samsung BU8000 worth buying? How does it compare to the old Samsung AU8000? Samsung's Crystal UHD series is a popular entry-level 4K TV. It launched the AU8000 series in 2021, followed by the new BU8000 series in 2022. Let's see what's the difference between 2022 Samsung BU8000 VS AU8000.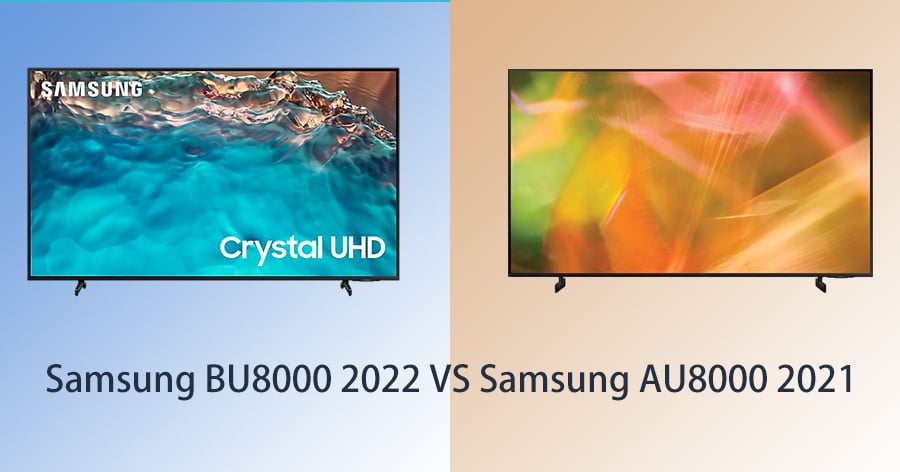 Appearance​
Samsung Crystal UHD TVs have not been changed a lot in appearance, BU8000 and AU8000 are both minimalist in style, featuring a black exterior as well as a sturdy stand, with an extremely thin footprint taking up minimal space.
Size​
Both the Samsung BU8000 and AU8000 offer a wide range of sizes from 43'' to 85''. Additionally, the 2022 BU8000 has a more 60 inch model than the 2021 AU8000.
System​
Samsung BU8000 and AU8000 are both powered by Tizen and have Crystal Processor 4K with HDR10+. However, the Samsung BU8000 runs on an updated system to Tizen 6.5, while the AU8000 is Tizen 6.0. Therefore, the BU8000 has stronger processing ability.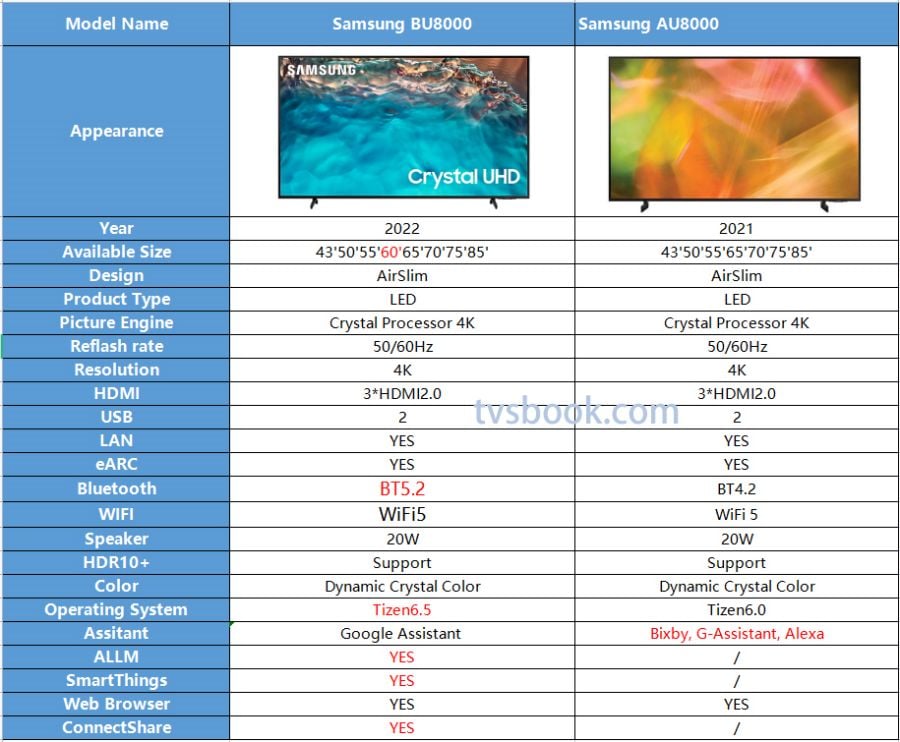 Connectivity​
Both the Samsung BU8000 and AU8000 support Bluetooth connectivity, but the Samsung BU8000 is upgraded to Bluetooth 5.2 while the AU8000 is Bluetooth 4.2, which means that the BU8000 offers faster and more stable Bluetooth transmission. The Samsung BU8000 and AU8000 have no upgraded ports, they both have three HDMI 2.0 inputs, two USB 2.0 ports, a LAN port and other ports.
Smart features​
In addition, Samsung BU8000 added some smart features, such as ALLM function, which can make it smoother when gamming. BU8000 also supports SmartThings and ConnectShare while AU8000 does not. But 2021 AU8000 supports Bixby, G-Assistant, Alexa assistant, BU8000 only has Google Assistant.

Last edited: