Over the past few years, Samsung's 8 Series has become a great choice for users to balance performance and price. Samsung BU8000 and TU8000 TVs are both based on LCD display technology with 4K resolution. The former one was the 2022 new model (see
Samsung BU8000 review
) while the latter one was launched in 2020. Is the new one always better than the old one? Here we will compare Samsung BU8000 vs TU8000, let's peek into what's different between them.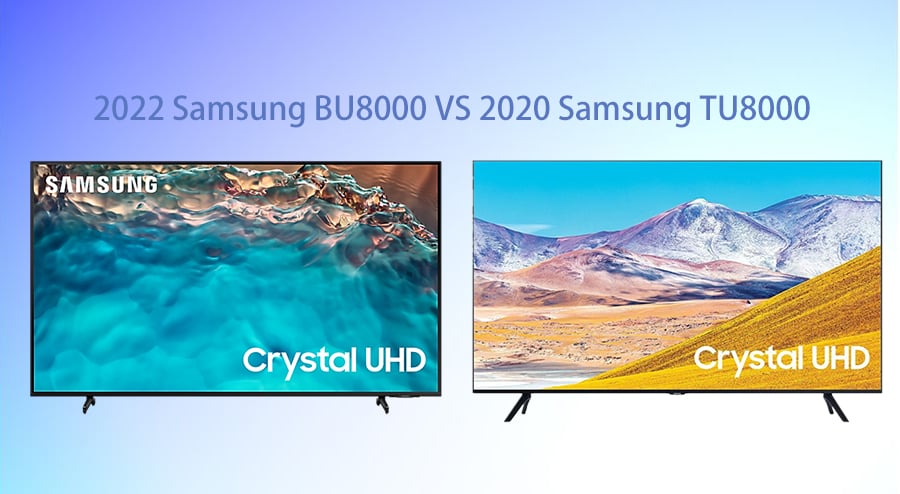 Samsung BU8000 VS TU8000: What's in common?​
Both the Samsung BU8000 and TU8000 TVs feature Samsung's Crystal LCD UHD panel technology and feature an easy-to-use, minimalist design, a choice of built-in voice assistants and a best-in-class smart TV system.
What's more, Samsung BU8000 and TU8000 TVs have only three HDMI ports, two USB, a composite video input, an RF antenna input for terrestrial TV, CI slots and an Ethernet port for when wi-fi can't cut it. There's also an optical output for pushing audio to the bar. Of course, both TVs have pretty much every on-demand service you could want present, including Netflix, Amazon Prime, Apple TV, NowTV, YouTube, and Disney Plus.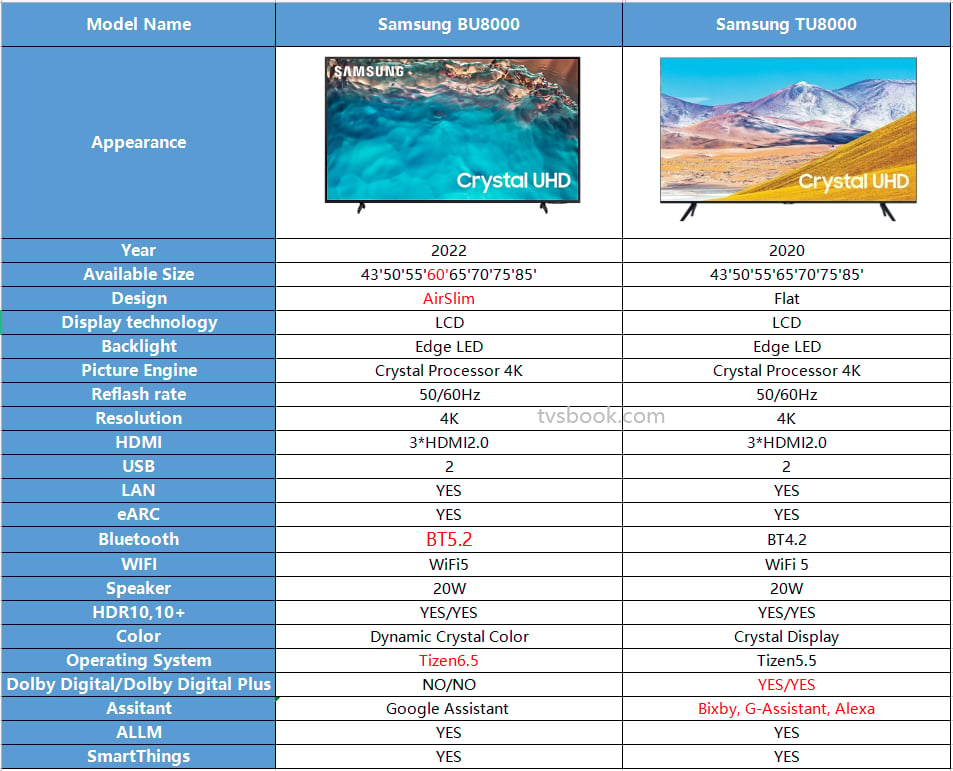 ​
Samsung BU8000 VS TU8000: What's different?​
1. Appearance​
Although the frames of the Samsung BU8000 and TU8000 TVs are made mostly of plastic, they are still well-made. The difference is that Samsung uses a wide leg stand on the TU8000, which seems to take up more space. The Samsung BU8000, on the other hand, has a somewhat smaller triangular stand. Also, Samsung has made some changes in the thickness of the TV. The new Samsung BU8000 is an AirSlim design, which is very thin, while the TU8000 is also flat, but has a thicker body volume. This can be clearly seen from their side view.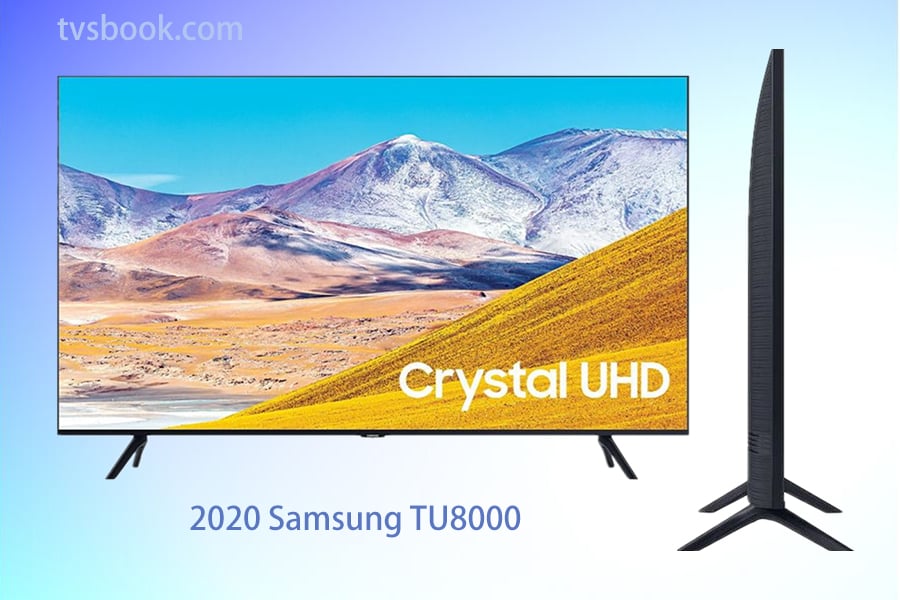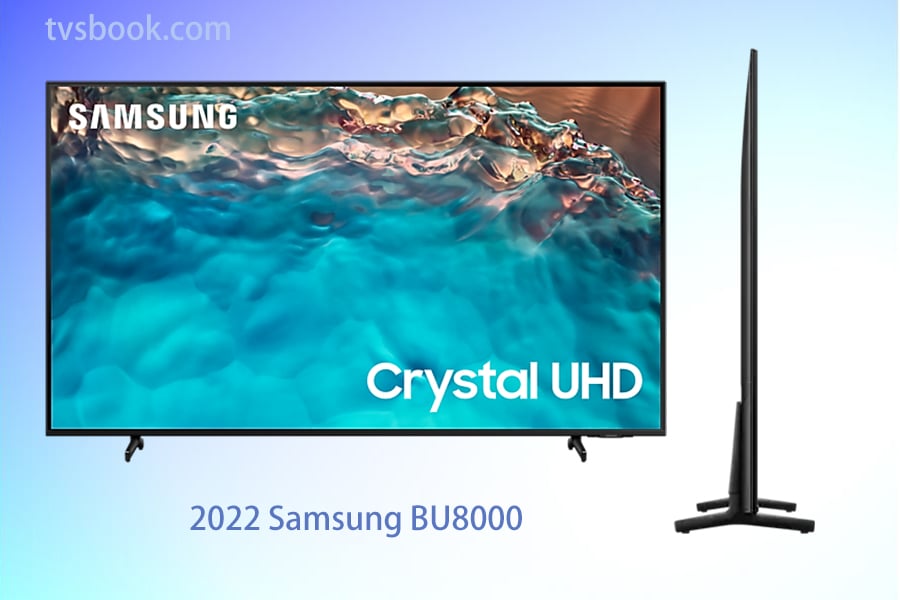 ​
2. Sizes​
Both the Samsung BU8000 and TU8000 TVs are available in a huge range of screen sizes, from 43" to 85", so you can choose from a selection of these sizes to really fit your space. The difference is that the BU8000 adds a 60-inch model, which is missing from the 2020 range. If that's what you want, then you're very lucky to have it.
3. Processor​
Samsung BU8000 and TU8000 TVs both use Samsung's Tizen processor(see
WebOS vs. Android TV vs. Tizen OS
), which is a Linux-based mobile operating system that is mainly developed and used by Samsung. TU8000 uses So, by choosing the new model you get the latest TV processor, which means getting the latest processing speed and performance in the series. But Samsung's products are reliable enough that even with slightly older processors, they still offer performance that offers value.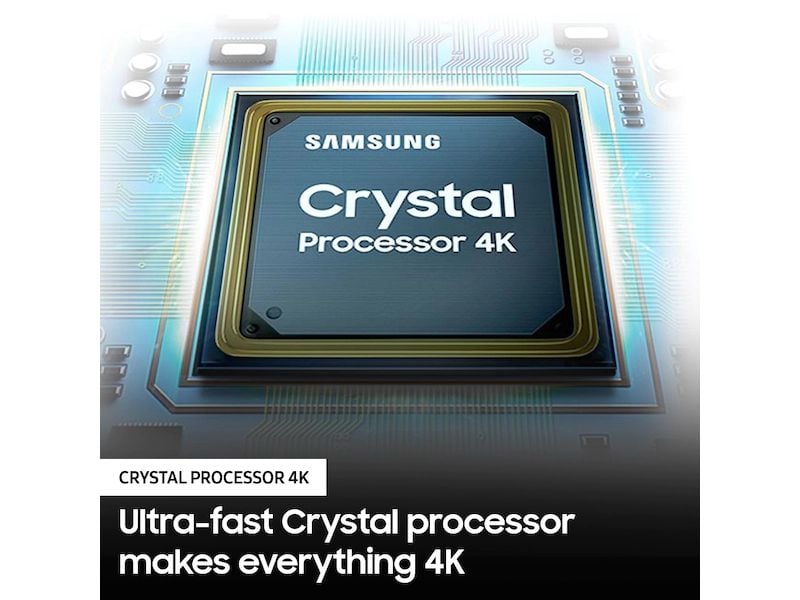 4. Bluetooth​
Looking at their comparative tables, the Samsung BU8000 and TU8000 TVs don't change much, one of which is the Bluetooth upgrade. the TU8000 has Bluetooth 4.2, while the BU8000 has Bluetooth 5.2. so the 2022 models have faster and more stable Bluetooth transmission.
5. Dolby Digital/Plus​
Although the BU8000 is a new model, it does not have Dolby Digital/Dolby Digital Plus, a digital audio coding technique that reduces the amount of data needed to produce high The Dolby Digital effect makes the sound more pleasing to the ear based on the way the human ear hears sound.
You may also be interested in
Samsung BU8000 VS AU8000
. For more info, refer to
Samsung TV Forum
.
Last edited: