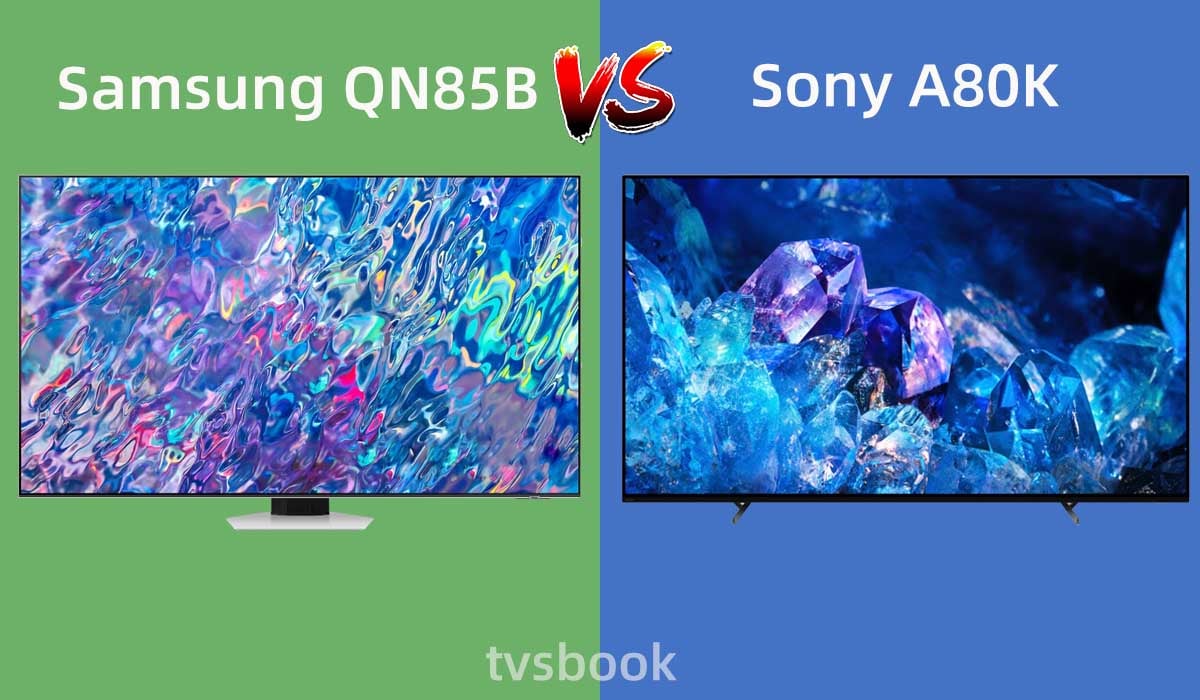 This article will compare Samsung QN85B vs. Sony A80K TVs. Samsung QN85B TV and Sony A80K TV are the 4K TVs launched by both brands in 2022, respectively. Since they use different panel technologies, they have different advantages and disadvantages, please continue reading below for more details.
Samsung QN85B vs. Sony A80K: Overall Comparison​
Samsung QN85B Neo QLED TV Quick Review​
The Samsung QN85B Neo QLED TV uses Samsung's Neo QLED panel technology, which is a combination of quantum dot and Mini LED technology. Mini LED puts smaller and more LEDs into the panel, so it can provide more precise localized light control and present brighter and higher black-level images.
It has excellent local dimming for improved contrast and is suitable for watching movies in dark rooms. Its high peak brightness is impressive enough to resist glare in bright rooms.
PROS
Peak brightness
Excellent reflection handling
Excellent game support
Elegant and stylish design
CONS
Lack of Dolby Vision
Low native contrast ratio
Sony A80K OLED TV Quick Review​
The Sony A80K retains all the important specs, yet offers a more affordable price than its higher-end series. It is suitable for a wide range of uses, and its OLED panel offers excellent contrast and deep blacks, making it a smart choice for dark scenes. It also offers excellent gaming performance and provides a wide viewing angle.
PROS
Perfect contrast
Uniform deep black color
Excellent gaming performance
Wide viewing angle
CONS
Low peak brightness
Only two HDMI 2.1 ports
Samsung QN85B vs. Sony A80K: Picture Quality​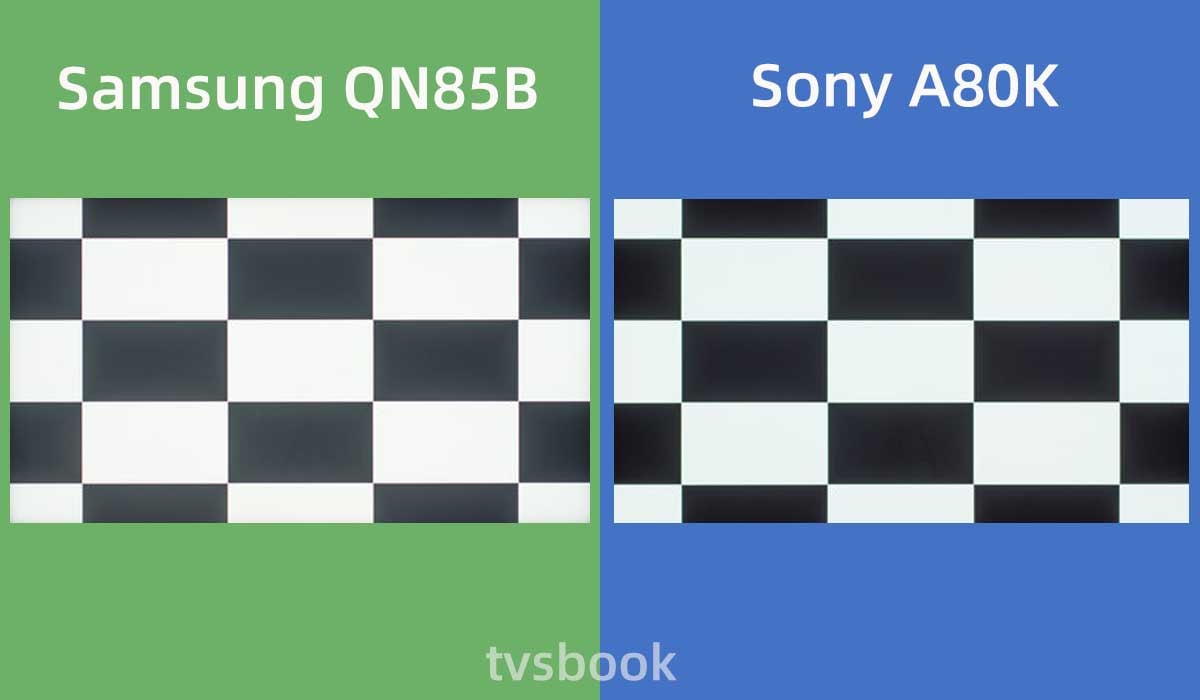 The Samsung QN85B is surprisingly bright, with its Mini LED backlight precisely controlling the dimming area. The TV's peak brightness is enough to combat glare in rooms with lots of ambient light or lights. Its automatic brightness limiter reduces the brightness of large, bright scenes, which can sometimes be distracting.
It has a decent contrast ratio, and the local dimming feature helps the TV improve contrast and render even black in dark rooms. Although it is an LED panel, it can render good black levels thanks to the dimming area controlled separately by Mini LED.
The QN85B's HDR brightness is good and not diminished in game mode, so you get a good HDR movie or gaming experience.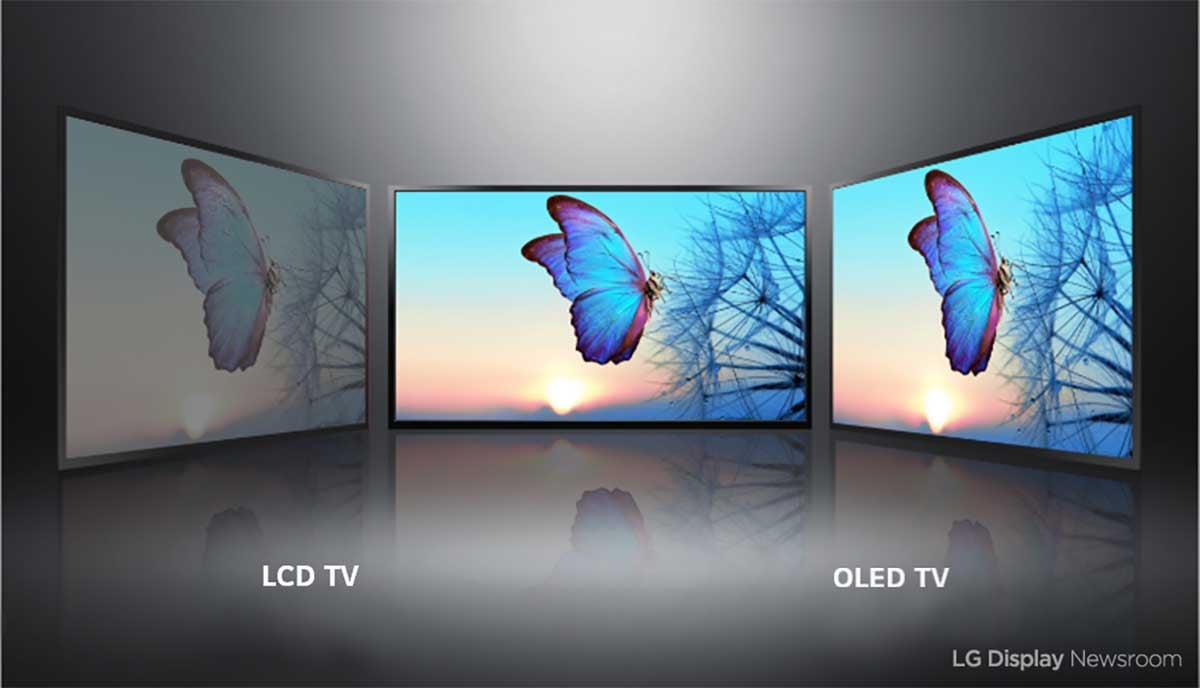 Like other OLEDs, the Sony A80K has a perfect contrast ratio and can render very good deep blacks. If you like to watch movies in a dark room, this TV won't make you regret it.
It doesn't have enough peak brightness to resist a lot of glare in a very bright room. It can get brighter in vivid mode, but the accuracy of the image is reduced.
The A80K's HDR brightness is OK, and the viewing angle is wide enough that you can get an accurate image even when you're sitting off-screen.
Samsung QN85B vs. Sony A80K: Design​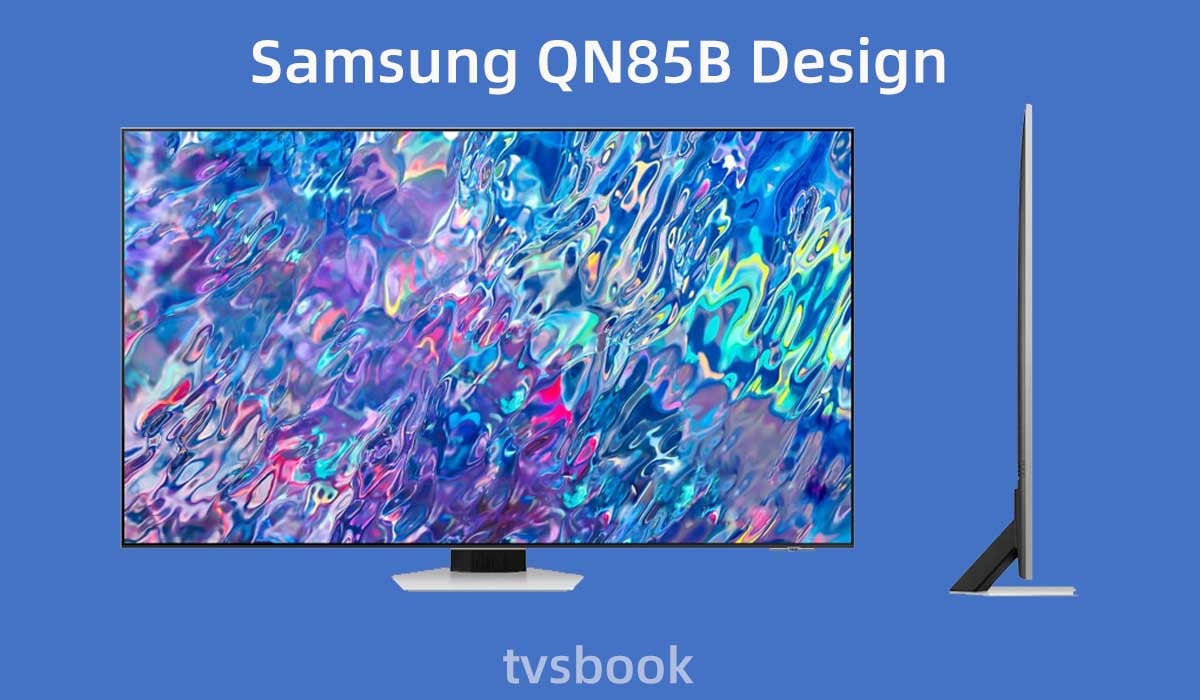 The Samsung QN85B offers a sleek and elegant design with a slim bezel that blends well into the environment. The hexagonal stand in the center of the screen is unique and holds the TV securely. The stand is small so it can be placed on smaller desktops, it elevates the TV, and you can place most soundbars in front of the TV.
The back of the panel is simple, with nice textured plastic material. The TV has channels on the back for cable management. The TV's panel is thin and does not protrude, allowing it to sit perfectly flush with the wall when wall-mounted.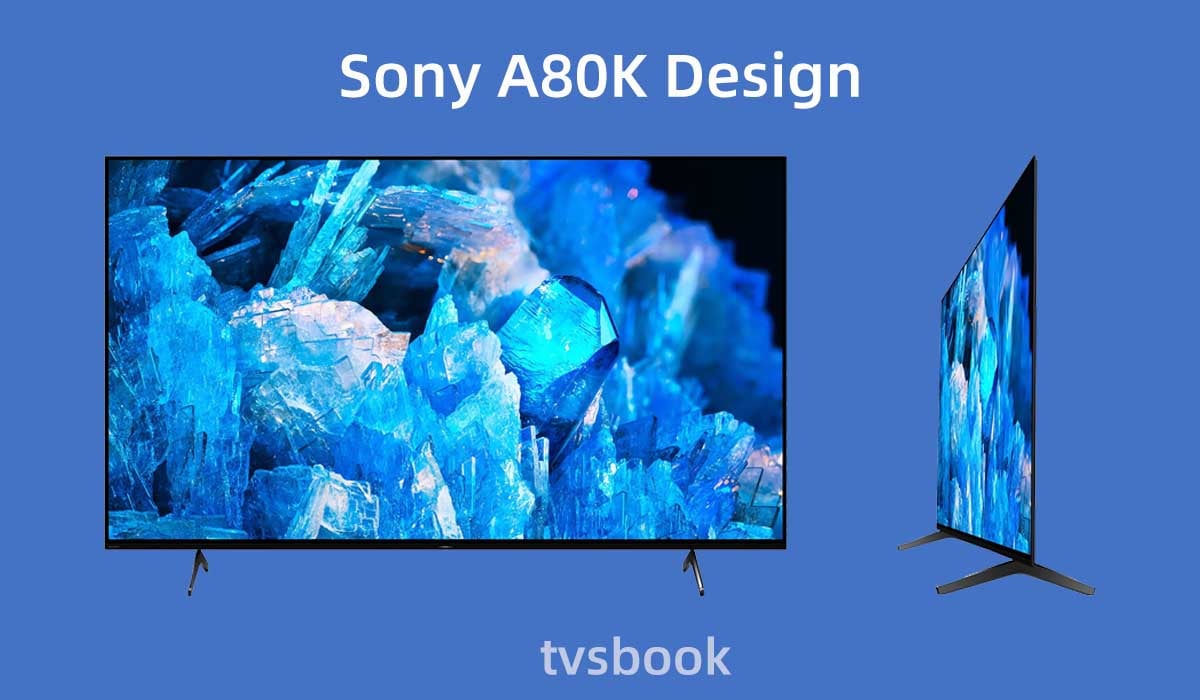 Sony A80K continues to feature Sony's sleek One Slate design with an all-glass cover for simplicity and elegance. The slim bezel is not distracting, and the metal stand offers three mounting positions, including a soundbar position that raises the TV.
The back of the panel is made of plastic and a cover is provided for cable management. Its panel is not too thin for an OLED TV, but can still be wall-mounted. The protrusion of the lower half causes it to not sit perfectly flush with the wall.
Samsung QN85B vs. Sony A80K: System & Smart Features​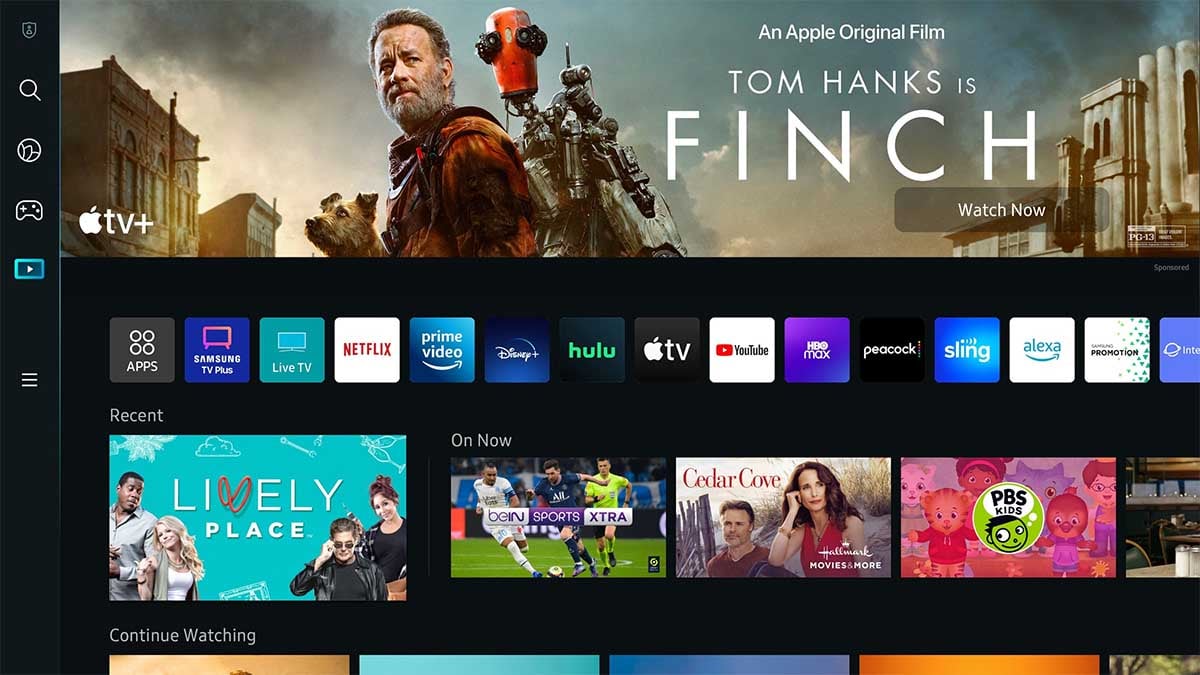 The QN85B comes with the latest version of Tizen OS 6.5, with a new interface that covers the entire screen and provides more content recommendations. The included apps will meet most of your needs, and you can download more apps and streaming services from the Samsung App Store.
The QN85B is compatible with Samsung's "SmartThings" control app, and you can also use Amazon Alexa, Bixby, and Google Assistant to control your TV by voice.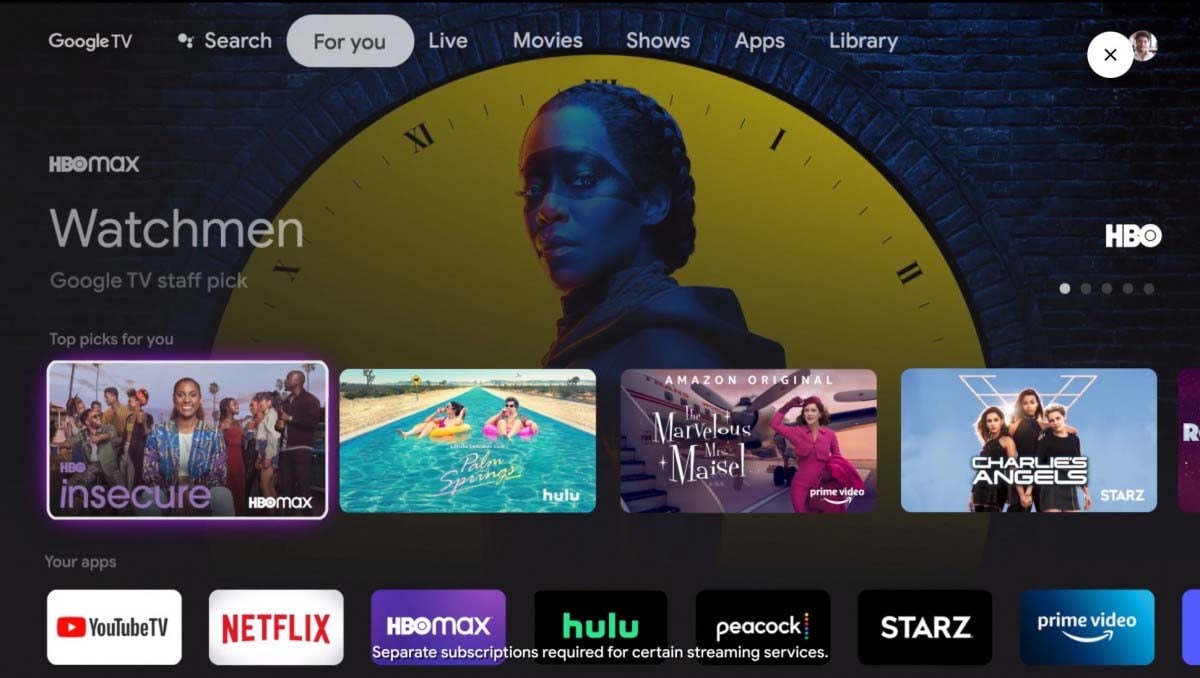 Sony A80K comes with Google TV 10, and you can sign in to your Google account to get personalized recommendations. The Google Play Store offers a large selection of apps and streaming services for download, and you can also cast content from your phone via the TV's built-in Google Chromecast.
Samsung QN85B vs. Sony A80K: Inputs​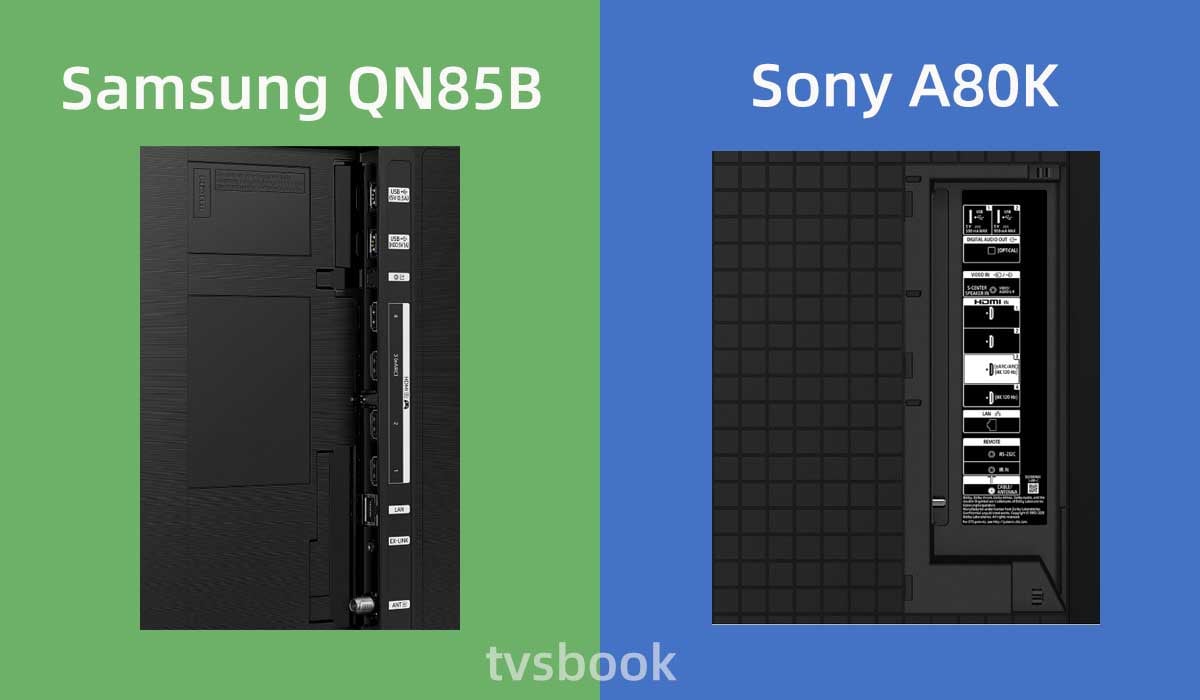 The Samsung QN85B supports 4K 120Hz and is equipped with a Neo Quantum 4K processor, providing a high-quality, smooth picture. Unfortunately, it does not support Dolby Vision, but it does support HDR, HDR10+, and HLG. all four HDMI ports support HDMI 2.1 bandwidth, so you can connect multiple high-bandwidth devices at the same time. It supports ALLM, VRR, and FreeSync Premium Pro for a great gaming experience.
The Sony A80K supports 4K 120Hz and has low enough input latency to provide a responsive experience. Two of the four HDMI ports support HDMI 2.1, which may be a bit unfortunate for users with multiple high-bandwidth devices. It supports VRR and ALLM and is well-compatible with both Xbox and Sony PS5.
Samsung QN85B vs. Sony A80K: Summary​
Overall, the two TVs have their own characteristics. The Samsung QN85B has very good brightness and good local dimming to improve contrast. But the Sony A80K with its OLED panel has a higher contrast ratio and better picture performance in dark rooms. the A80K is not as bright as the QN85B, so if you like to watch movies in the dark, the A80K is the better choice. And if you often watch programs during the day or in environments with lots of ambient light, the QN85B is bright enough to overcome glare.
In addition, if you have specific input requirements, the QN85B offers more HDMI 2.1 ports for multiple high-bandwidth device connections. If this is not of particular concern to you, I would recommend the Sony A80K OLED TV.
Check
Samsung QN90B vs Sony A80K