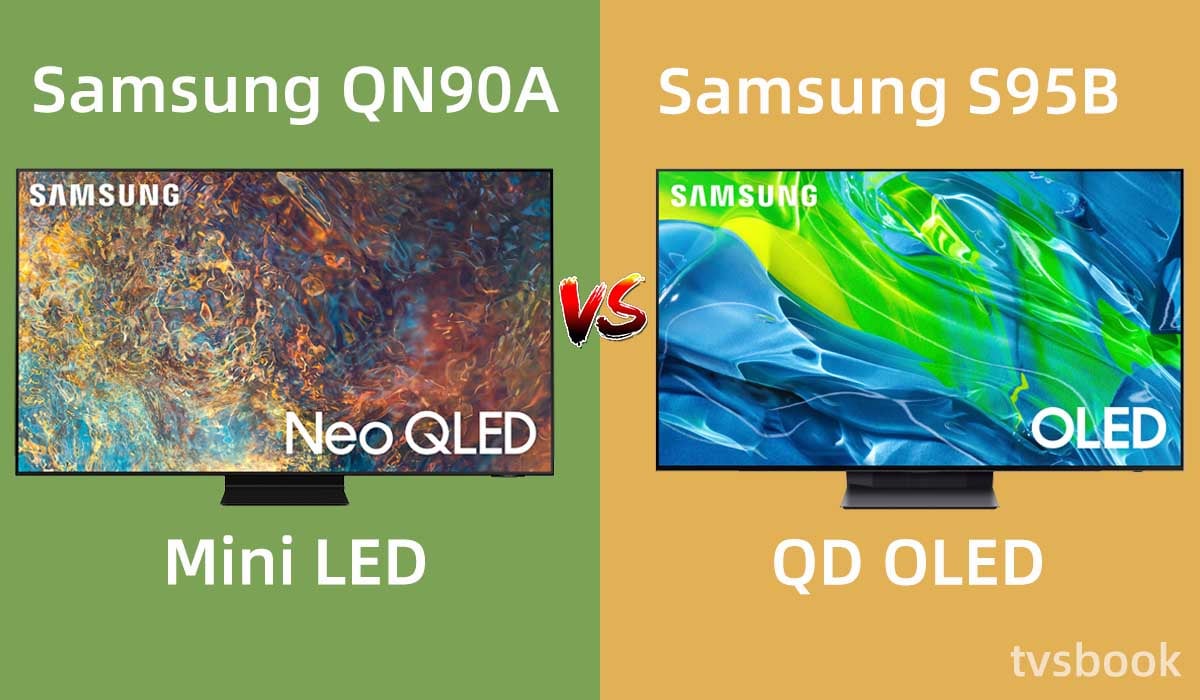 This article will compare Samsung QN90A and Samsung S95B TVs.
Samsung QN90A and Samsung S95B use different panel technology respectively, so each has its own characteristics, you can refer to the differences between the two TVs listed in this article to choose the right model for you.
Samsung QN90A vs S95B: Specs​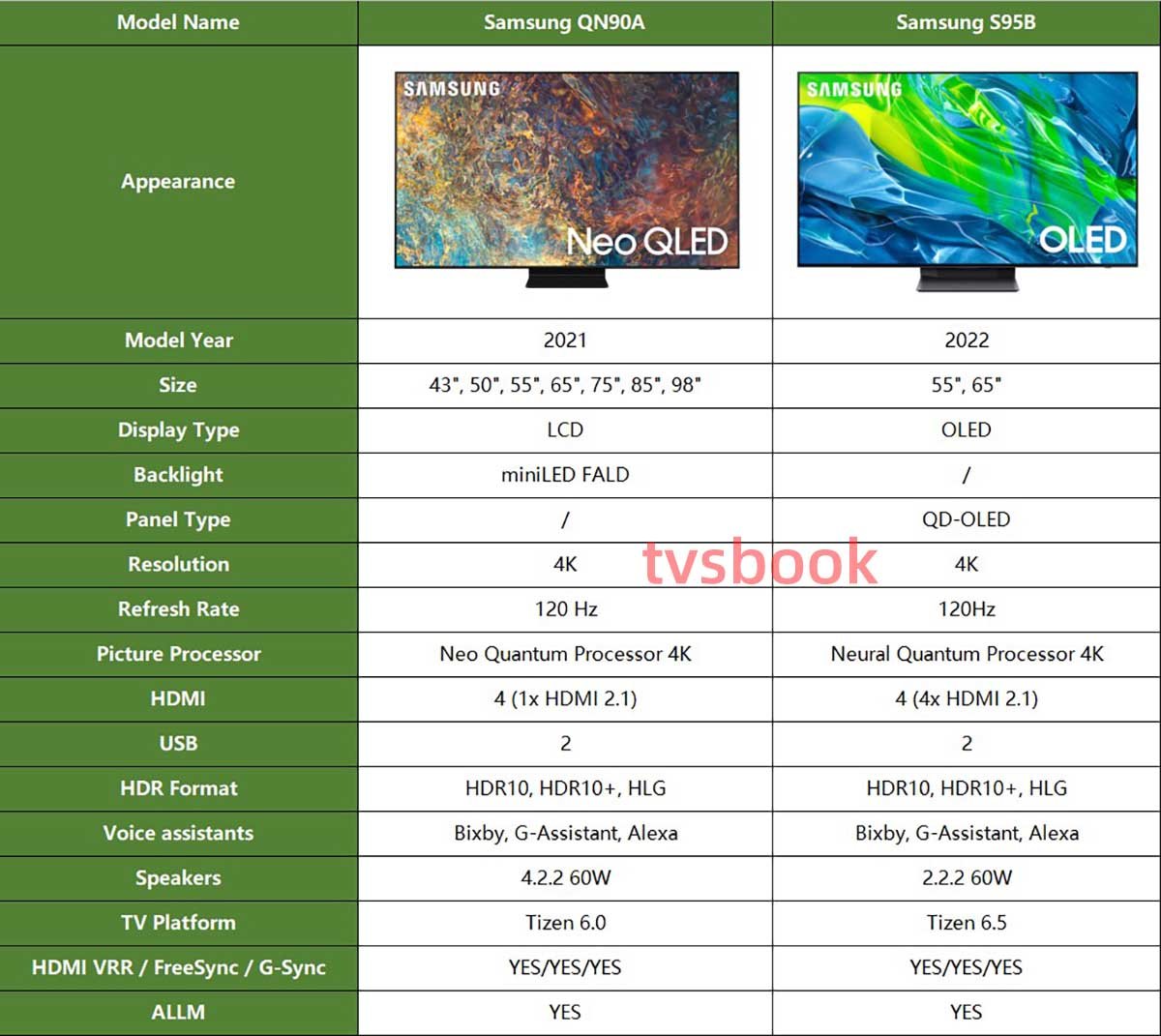 Samsung QN90A vs S95B: Appearance Design​
Both the Samsung QN90A and S95B feature a premium, sleek design, and Samsung is able to take its place in the modern TV aesthetic. Both TVs feature an extremely thin design, and you can get more size options in the QN90A, from as small as 43 inches to as large as 98 inches.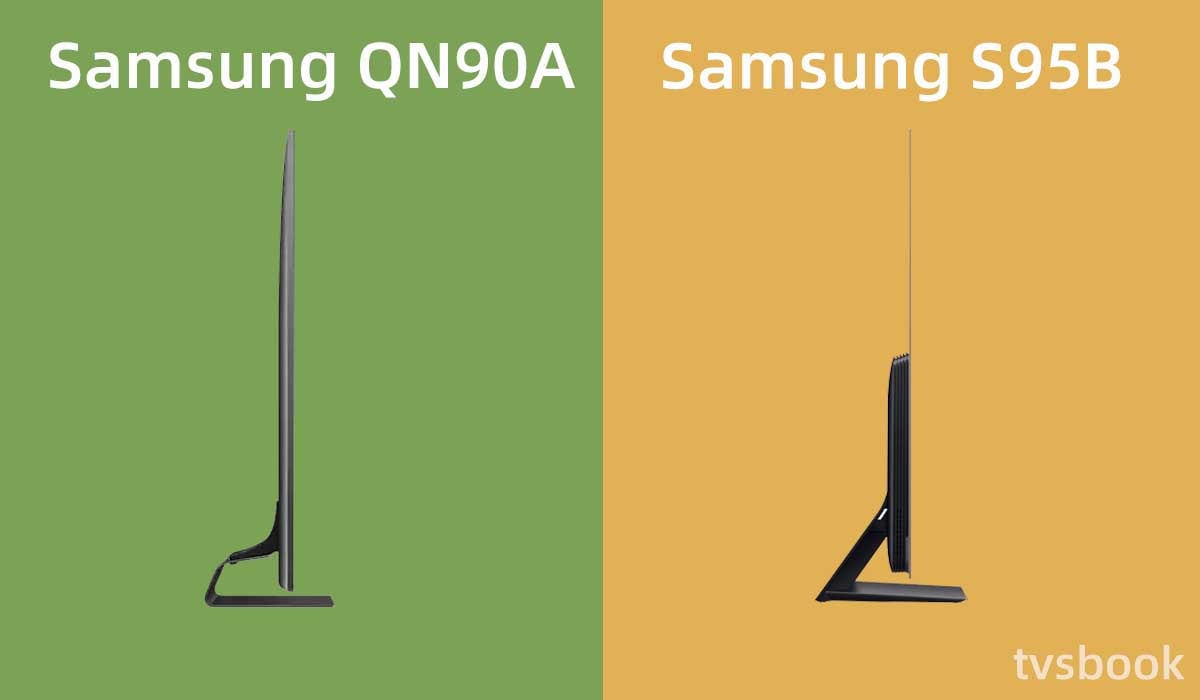 The Samsung QN90A has a very slim bezel that is almost negligible when viewed from the front, resulting in a better immersion. The bottom of the TV features a black metal stand with a small footprint so that it can be placed on a narrow table. However, when you install a larger size QN90A, such as 65" or more, the stand may not be able to support the TV panel very stably and the TV will wobble to some extent.
Like all other OLED TVs, the Samsung S95B has a very thin panel. The lower half of the TV sticks out slightly but remains thin overall, so it will look great either wall-mounted or on a stand. The bracket used for the S95B is also small, but enough to support the TV, and again it may be a bit wobbly when installed.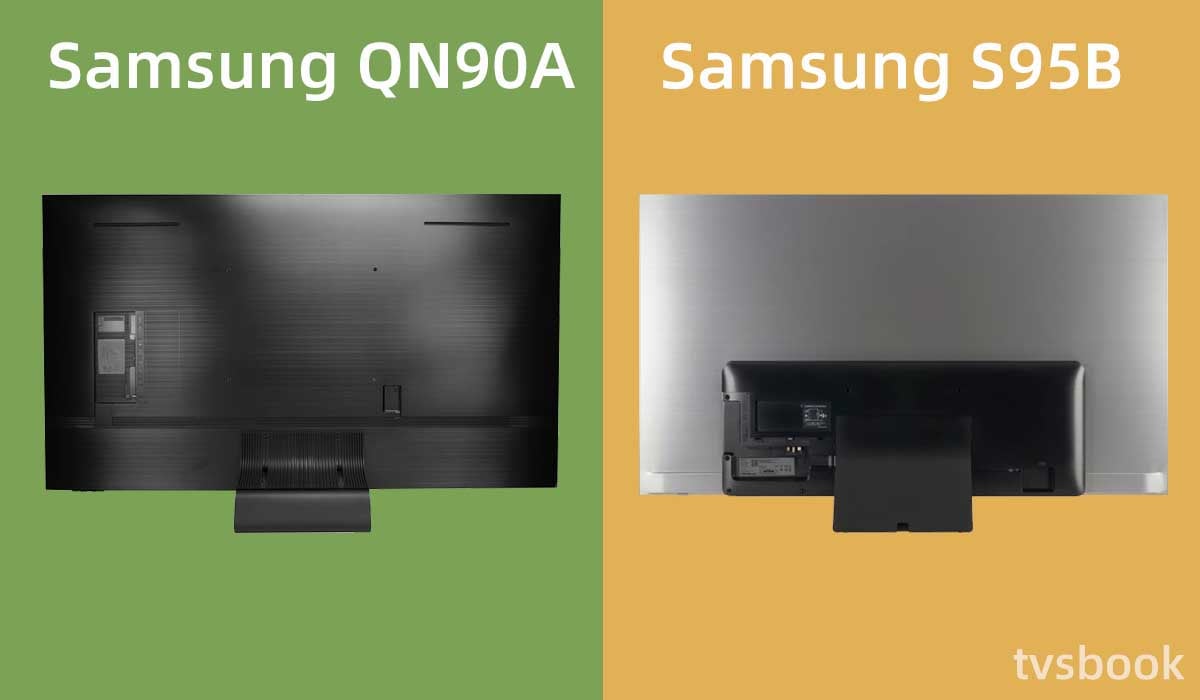 The quality of both TVs is very good, with better materials and workmanship. The back of the TVs are both supported by plastic and offer a cable management system. the inputs on both the QN90A and S95B are located on the side, but due to their location, they are difficult to access if you have a wall mount.
Samsung QN90A vs S95B: Picture Quality​
The Samsung QN90A Neo QLED TV is one of the first TVs to use Samsung's Neo QLED panel in 2021. Samsung's Neo QLED technology is actually a panel technology that uses
Mini-LED
backlighting, also known as Quantum Dot LED. this technology delivers a brighter TV due to the more efficient light emitted by quantum dots, while ensuring color accuracy.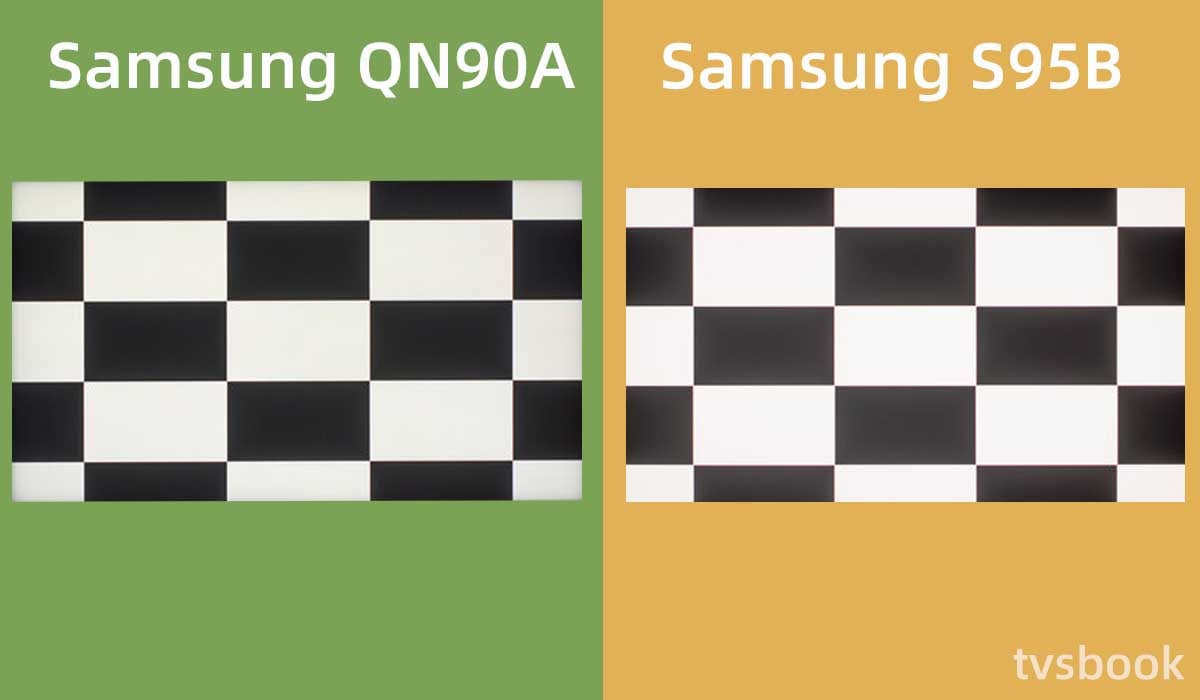 The Samsung QN90A features amazing SDR and HDR brightness, as well as better contrast and black levels than other LED TVs. mini LED backlight system coupled with Neo Quantum Processor 4K optimized images deliver a colorful, high-brightness picture. Perfect for use in rooms with strong ambient light, this TV can easily combat glare.
The QN90A has a good contrast performance and thanks to its full-array local dimming feature, the TV is able to display very deep blacks. However, as with other LCD TVs, there is some haloing around bright objects when the viewing angle is shifted. Usually, however, these blooms are not noticeable.
The Samsung S95B OLED TV is one of the first TVs to combine OLED and Quantum Dot technology into one. QD OLED combines the advantages that OLED and Quantum Dot have, such as high contrast ratio, fast pixel response and color.
The S95B has an amazing contrast ratio, and it controls the brightness of each pixel everywhere it goes, so it doesn't create halos. Like other OLEDs, the S95B has satisfying blacks that are great for viewing in dark rooms. But frustratingly, in scenes with low ambient light, you'll find raised blacks.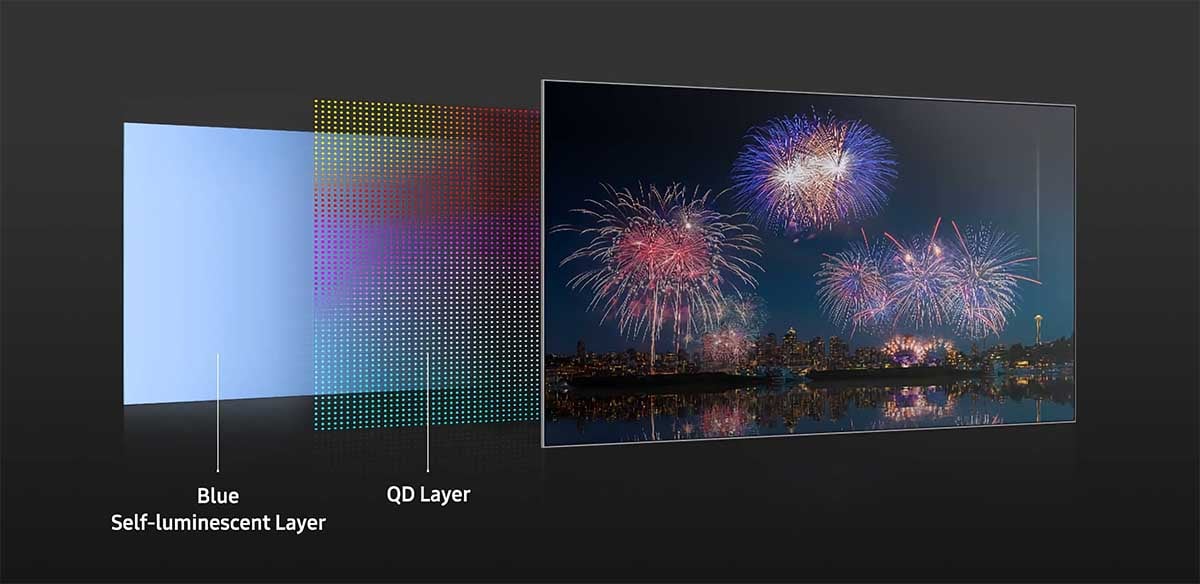 from SAMSUNG DISPLAY
​
S95B QD OLED has excellent peak brightness in both SDR and HDR, and the TV can combat glare in bright environments in time. However, the S95B's automatic brightness limiter can degrade large bright scenes if blown out of proportion.
Samsung QN90A vs S95B: Sound Quality​
The Samsung QN90A is equipped with 4.2.2 60W speakers with Samsung Object Tracking Sound Plus for an even better sound experience. The TV lacks bass and has a more balanced sound.
The Samsung S95B's 2.2.2 60W speakers also don't produce much bass, but the overall sound is balanced and loud enough.
Neither TV disappoints with sound quality, but if you want to experience cinema-quality sound, you will need to purchase a soundbar to match the premium image quality.
Samsung QN90A vs S95B: System & Smart Features​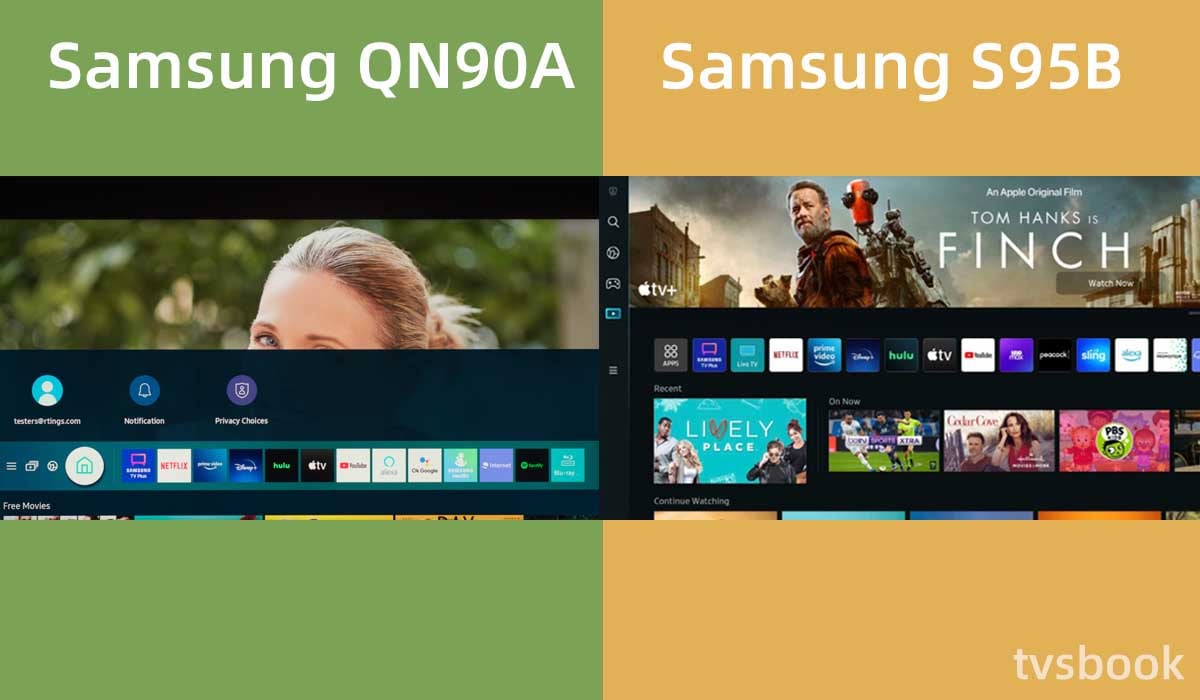 The Samsung S95B and QN90A both feature Samsung's exclusive Tizen smart system, with the S95B as the 2022 model carrying the latest version of Tizen OS 6.5. If you've used Android TV or Google TV before, you may not be used to Samsung's Tizen. You can check out the difference between
WebOS vs. Android TV vs. Tizen OS
.
The Tizen smart interface is smooth and easy to use. The new version makes it easier to find the content of interest compared to the previous version. Tizen offers a large selection of apps and has a free Samsung TV Plus built in. it offers recommendations for various TV channels and streaming channels, but it does autoplay from time to time, which can be an annoying feature for some people.
The S95B has a redesigned remote control with new Disney+ shortcut access compared to the QN90A, in addition to the shortcut buttons for Nerf, Prime Video and Samsung TV Plus.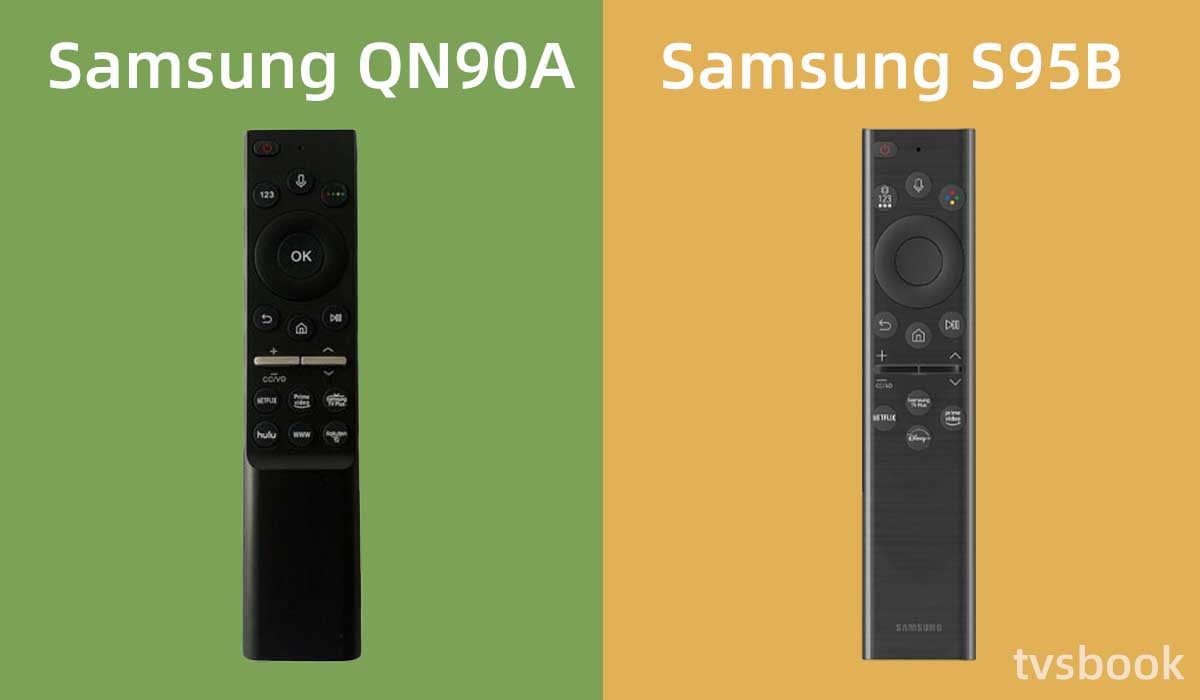 Both remotes are equipped with solar panels on the back, so you can lead them to the sun or charge them with a USB-C cable.
Both the S95B and QN90A support Google Assistant, Alexa, and Bixby voice assistants, and you can launch the TV's apps or change inputs with the microphone on the remote.
And of course, the QN90A and S95B can both be controlled via the Samsung SmartThings APP as one of Samsung's Smart Home Samsung TVs.
Samsung QN90A vs S95B: Inputs & Game Functions​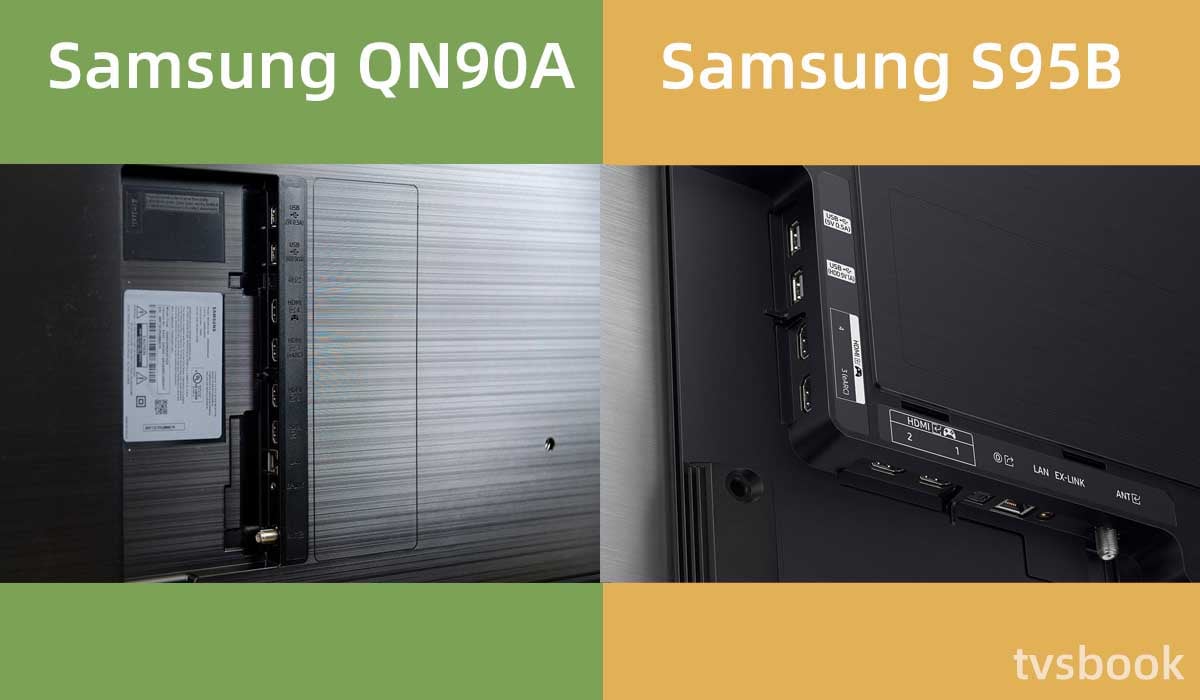 Gamers will be pleasantly surprised by the ultra-low input latency of the Samsung QN90A and S95B. Samsung's "Game Motion Plus" feature allows you to initiate interpolation in game mode.
Both TVs support all common resolutions up to 4K @ 120Hz and also support VRR, FreeSync, G-Sync, and Auto Low Latency (ALLM). So whether it's Xbox or PS 5, you'll have a fantastic gaming experience on both TVs.
The only difference is that the Samsung S95B supports the full 48Gbps bandwidth of HDMI 2.1 on all four HDMI ports, while the QN90A supports HDMI 2.1 on only one HDMI port. if you don't need to connect multiple HDMI 2.1 devices at the same time, this will not be a problem for you at all.
The Samsung S95B and QN90A support HDR10, HDR10+ and HLG, but the only regret is that neither model supports Dolby Vision.
Both TVs are equipped with 2 USB 2.0 ports.
Summary​
All in all, the Samsung QN90A and Samsung S95B are both quality TVs for a wide range of scenarios. It's hard for me to say which one is better due to the different panel technology used, but you can choose the most suitable one according to your usage needs.
The Samsung QN90A TV has excellent contrast and Mini LED full-array local dimming, so it performs surprisingly well in well-lit environments. However, it may produce vignetting around very bright objects, which is more noticeable when you're viewing off-angle.
The Samsung S95B TV has the advantage of an OLED self-illuminating panel, and its perfect contrast and deep blacks make watching movies or playing games in the dark wonderful. In addition, the OLED panel offers a wider viewing angle, so if you're watching a show with multiple people, you'll get accurate colors at any angle. On the downside, the S95B will show black bumps when ambient light is present.