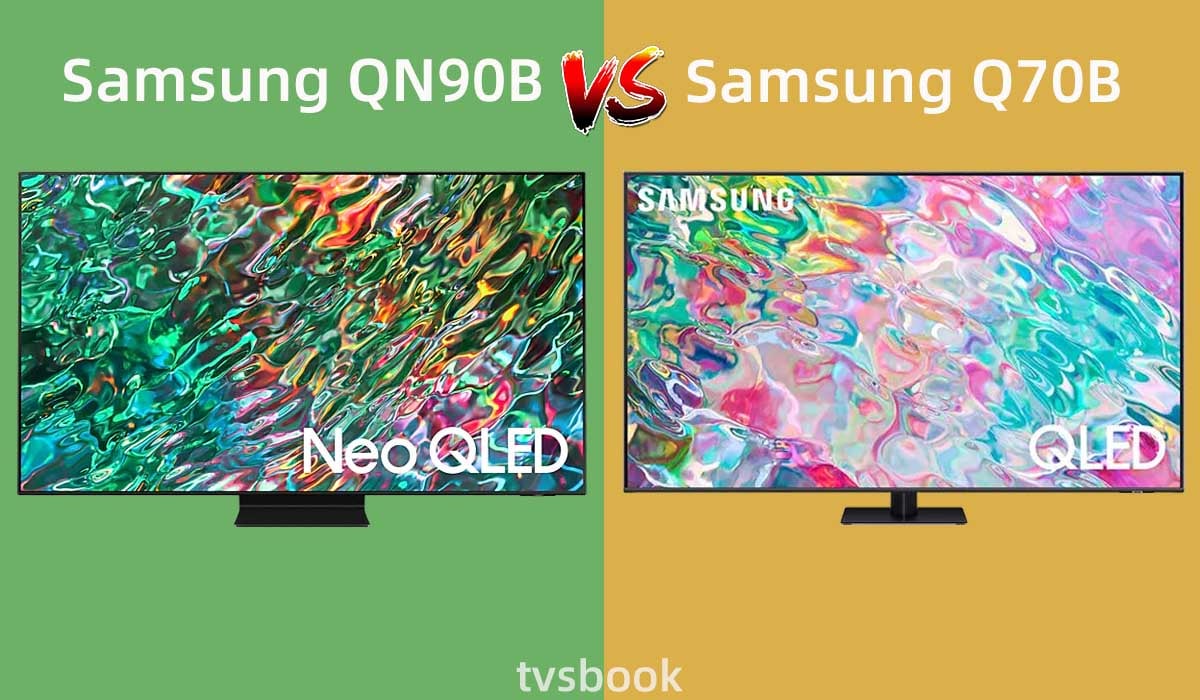 This article will compare Samsung QN90B vs Q70B.
Samsung QN90B and Samsung Q70B are models in Samsung's 2022 LCD TVs, each with a different panel type and backlight technology. The Samsung QN90B is the flagship 4K model, while the Q70B 4K TV is priced closer to the lower end.
Samsung QN90B vs Q70B: Overall Comparison​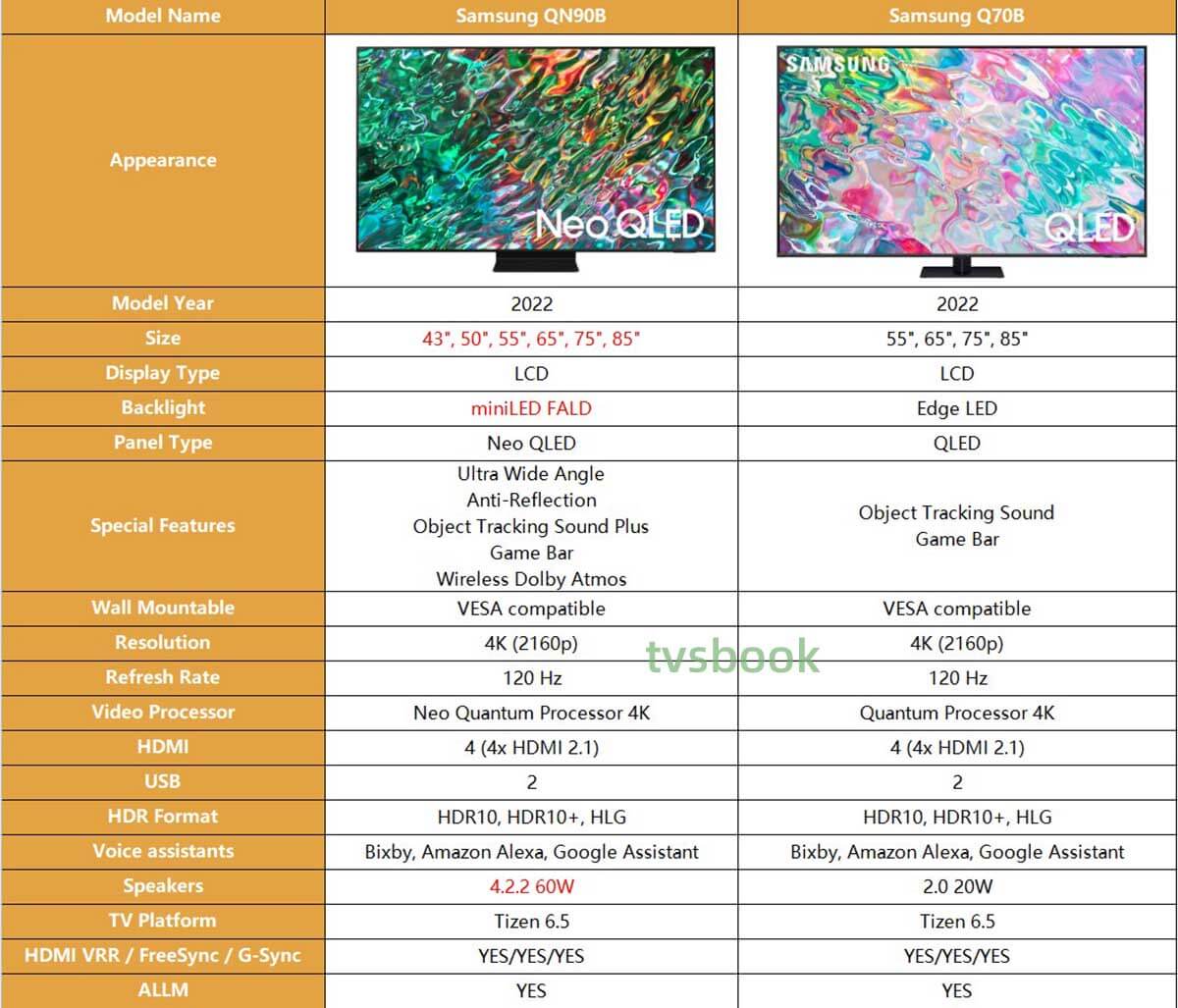 Samsung QN90B Neo QLED TV Quick Review​
The Samsung QN90B Neo QLED TV TV is Samsung's flagship 4K model for 2022, featuring the latest Neo OLED technology. It combines the benefits of Mini LED and Quantum Dots to deliver brighter, more vibrant images with vibrant colors while improving contrast with a local dimming feature that delivers deep blacks. It has amazing peak brightness with great anti-glare capability for viewing in bright rooms. Meanwhile, the TV supports a wide range of gaming features with four HDMI 2.1 ports to provide a great gaming experience.
PROS
Peak brightness
Excellent contrast ratio
Excellent reflection handling
Rich gaming features
CONS
Lack of Dolby Vision
Halo near light spots
Samsung Q70B QLED TV Quick Review​
The Samsung Q70B QLED TV is Samsung's mid-range 4K TV model launched in 2022, featuring QLED panels that offer high contrast and rich colors at an affordable price. It is bright enough to counter the glare of a bright room, making it suitable for watching a show in a well-lit environment. For gamers, its low input latency and other gaming features provide a smooth gaming experience.
PROS
Excellent HDR performance
High Contrast Ratio
Rich gaming features
Bright colors
CONS
Lack of Dolby Vision
Narrow viewing angles
No local dimming function
Samsung QN90B vs Q70B: Picture Quality​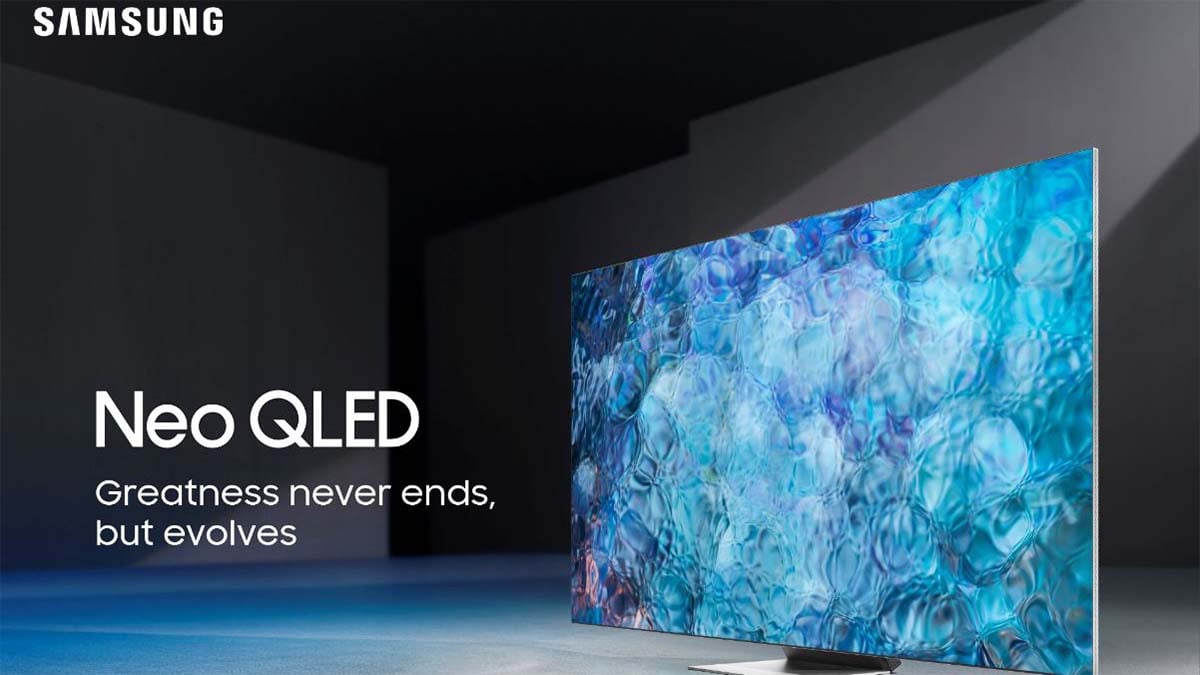 As we've mentioned before in other reviews, the biggest highlight of the Samsung QN90B comes from its Mini LED lighting system, a backlighting method that puts down more and smaller LEDs in the screen and therefore provides more precise localized light control. This results in higher brightness and contrast. Its high peak brightness is enough to combat glare in bright rooms, giving high-quality image color even when viewed in daylight or with lights on.
To improve the viewing angle of the screen, Samsung added a wide viewing angle layer to the QN90B, but it also reduces the native contrast ratio. However, its excellent local dimming feature can greatly improve the contrast ratio and render deep blacks in dark scenes.
The Samsung QN90B offers impressive HDR brightness for a satisfying HDR experience whether watching movies or playing games.
The Samsung Q70B has excellent contrast and is capable of rendering deep blacks in dark scenes, but it does not have a local dimming function. For its price, the Q70B offers satisfactory brightness, enough to overcome glare in bright environments. It has good HDR brightness and color, providing satisfactory images for both games and movies.
However, the Q70B has a narrow viewing angle, and if you move away from the center of the screen, the TV's image color, contrast and brightness, etc., will be reduced, making it unsuitable for wide seating arrangements. On the other hand, the Samsung QN90B has a decent viewing angle, but the 43-inch and 50-inch models have poorer viewing angles because they lack a super viewing layer.
Samsung QN90B vs Q70B: Sound​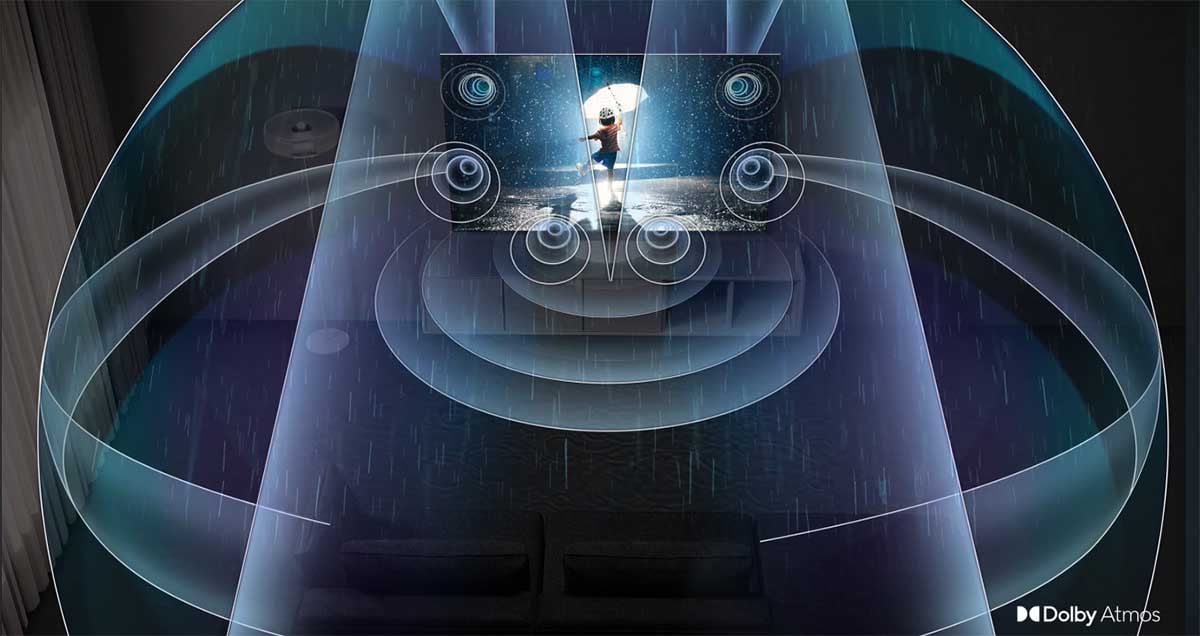 The Samsung QN90B TV has a good sound response frequency, and the built-in 4.2.2 60W speakers don't have many distortions. But the sound lacks some punch.
The Samsung Q70B has a built-in 2.0 20W speaker, so the speaker is not as loud as the QN90B and lacks bass.
If you want to get a better sound experience, you need a soundbar for your TV.
Samsung QN90B vs Q70B: System & Smart Features​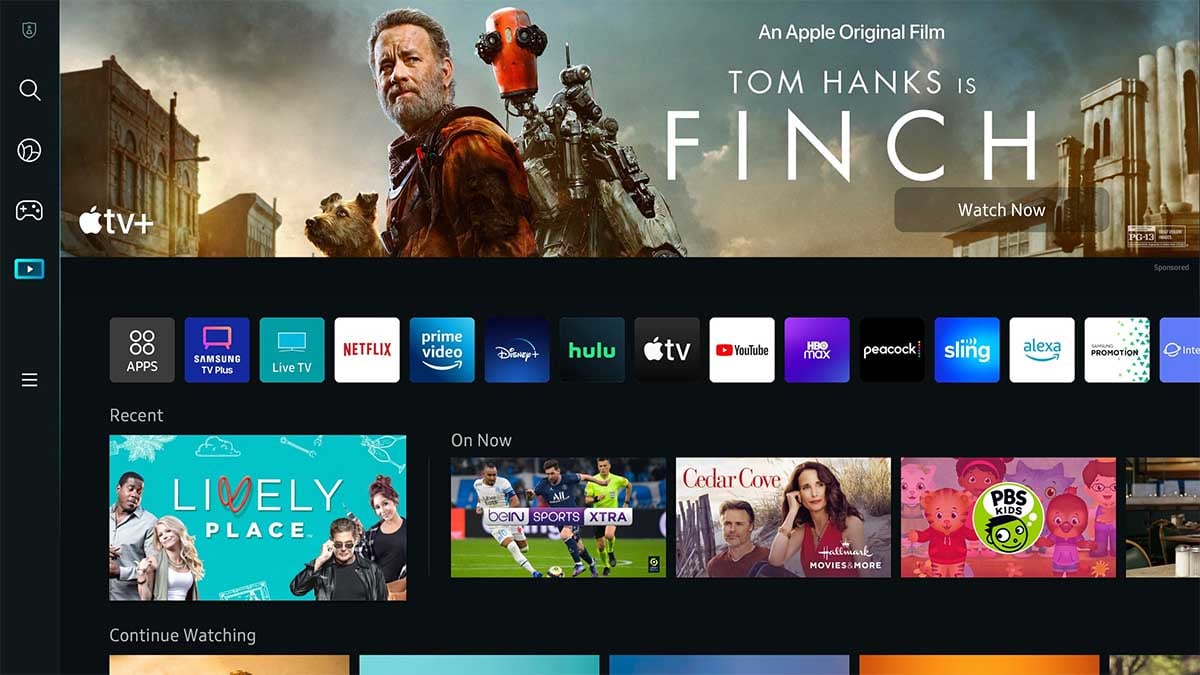 Both TVs come with Samsung's version 2022 of Tizen OS, and the new version has an interface that fills the entire screen instead of the small menu bar that is used to cover the bottom of the screen. The user interface is easy to access, runs smoothly, offers more recommendations, and unfortunately, you can't disable ads.
You can download a large number of apps from Samsung's app store, and the TV comes with most streaming services and popular apps already pre-installed.
You can access the TV's voice assistants, including Bixby, Google Assistant, and Alexa, via the voice function on the remote, which can help you launch apps or change some of the TV's settings.
Samsung QN90B vs Q70B: Design​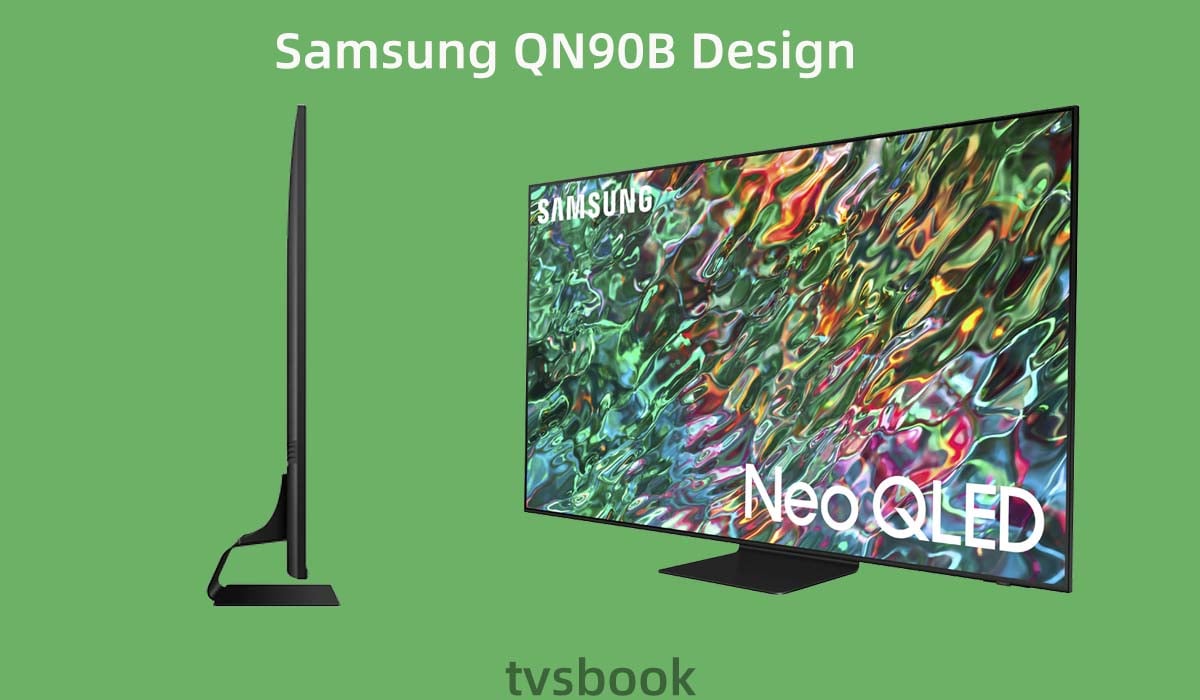 The Samsung QN90B has a sleek and beautiful design with a shallow black bezel with a slim base that can adapt to your environment. The black metal stand is narrow and can be placed on narrower furniture, but it can be a bit wobbly. The stand raises the TV so you can place most of the soundbar in front of the screen. the TV is thin and can sit flush with the wall when wall-mounted. The back of the TV is made of plastic and is well made, providing access for managing cables.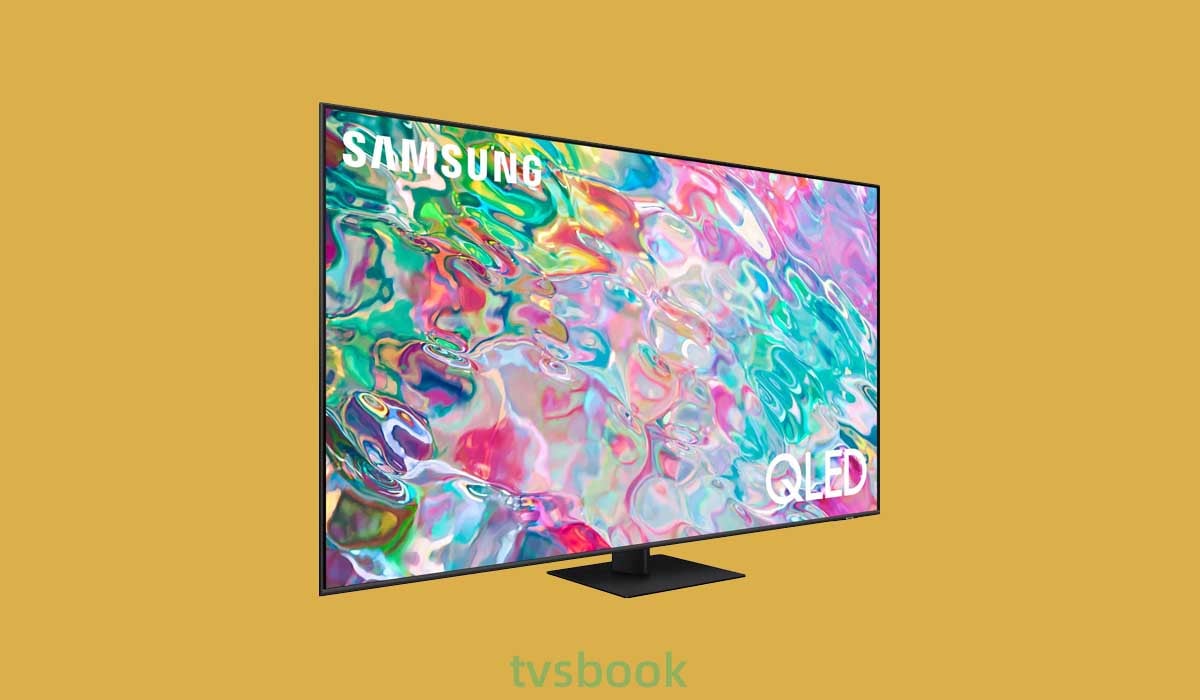 The Samsung Q70B features a slim, sleek design with a square stand in the center of the screen, so it can be placed on narrow furniture. The panel of the TV is thin enough to be able to sit flush with the wall when you hang it on the wall.
Samsung QN90B vs Q70B: Inputs​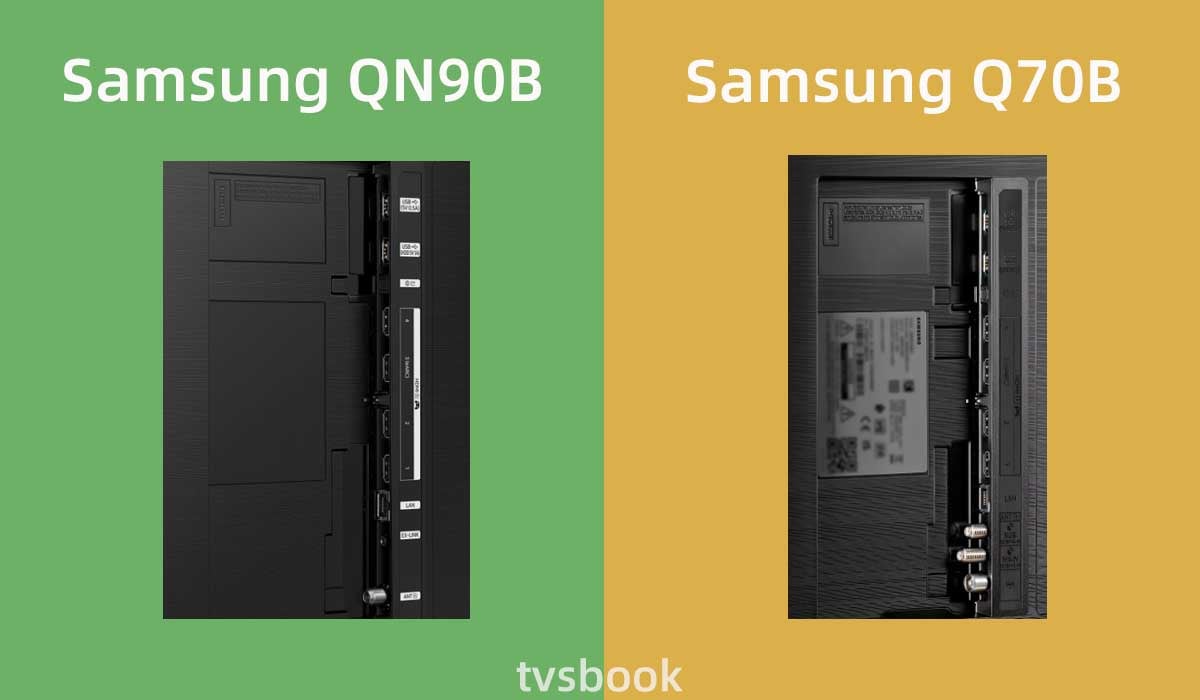 Both the Samsung QN90B and Samsung Q70B provide satisfactory game performance, with low input lag to provide smooth movement. Both TVs support up to 4K 120Hz resolution and come with four HDMI 2.1 ports, so you can connect multiple high-bandwidth devices at once. They support game features including VRR, FreeSync, G-Sync, and ALLM. But like other Samsung TVs, neither the Q70B nor the QN90B supports Dolby Vision, but they do support HDR10+.
Samsung QN90B vs Q70B: Summary​
Overall, the Samsung QN90B is better than the Samsung Q70A, but also more expensive. The Samsung QN90B combines Quantum Dots and Mini LEDs to deliver high contrast, high brightness, and rich colors, while also providing a good viewing angle.
The Samsung Q70A QLED with Edge LED offers excellent contrast and good brightness to meet most of your needs, making it a cost-effective model. However, it has a narrow viewing angle, so you need to be concerned about that if you mind. If you want a better viewing angle, you should consider the OLED panel, which you can refer to
Samsung QN90B vs LG G1
.
Both TVs support 4K 120Hz and HDMI 2.1 ports and support a wide range of gaming features that can provide a satisfying gaming experience.