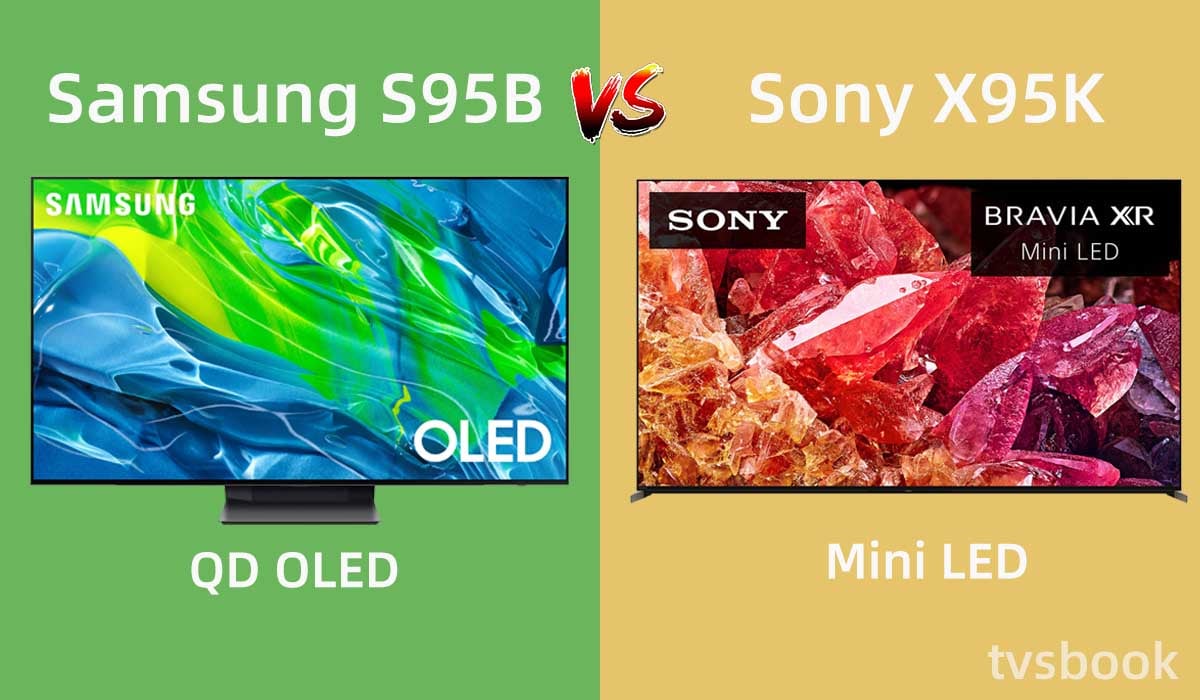 This article will compare Samsung S95B and Sony X95K TVs.
For those who want to buy a 4K TV, Samsung's QD-OLED and Sony's mini-LED may leave them torn. These two technologies bring you strong contenders in the 2022 TV lineup, Samsung S95B and Sony X95K, and even though each has its advantages, you still need to decide on the best model for you.
Sony's first mini-LED TV brings exciting brightness, but Samsung offers its neck-and-neck picture quality at a more affordable price.
Samsung S95B vs Sony X95K: Overall Comparison​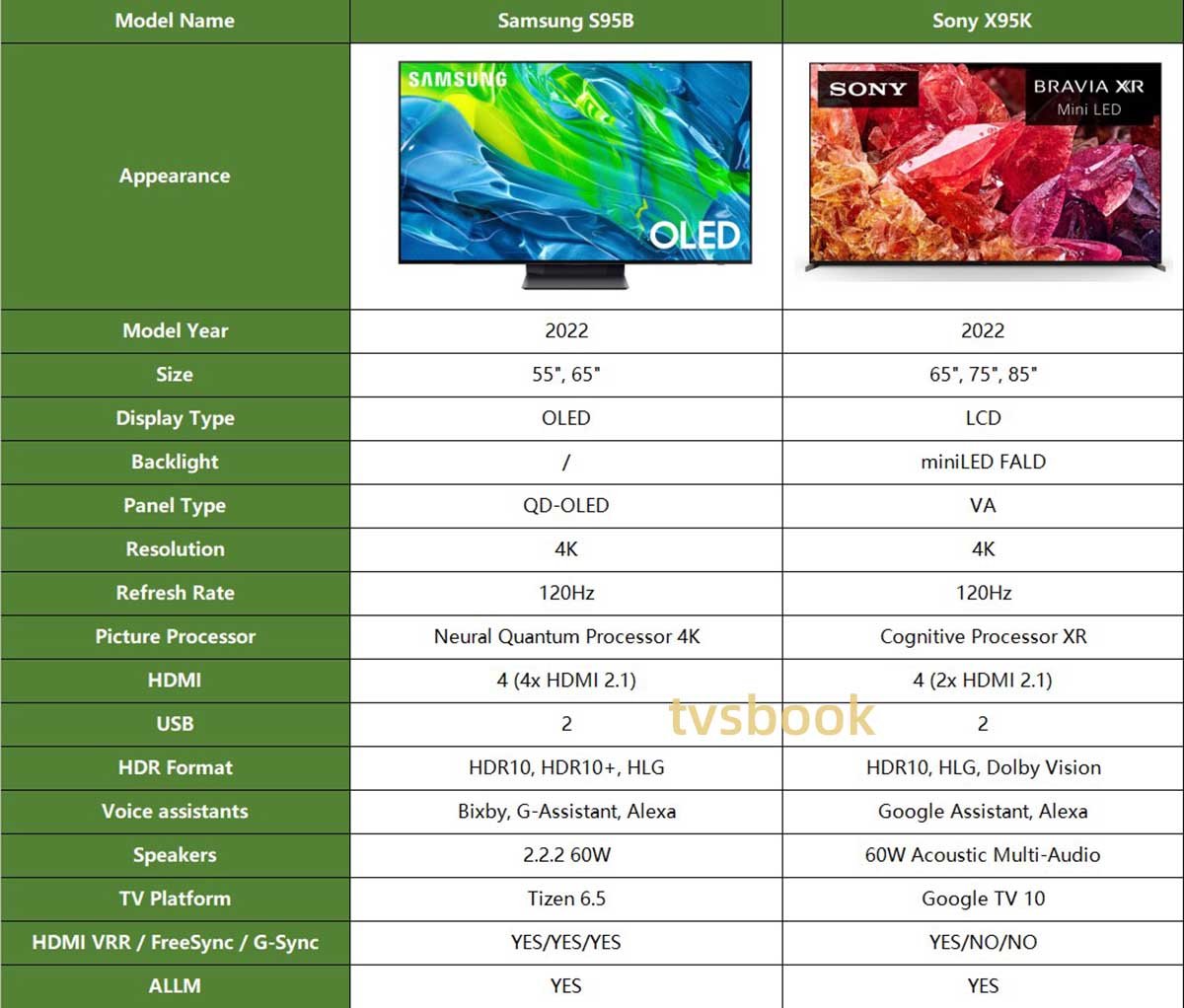 Samsung S95B QD-OLED TV Quick Review​
The Samsung S95B TV brings us a revolutionary panel technology, QD-OLED. you may be unfamiliar with the term, but it is actually a combination of OLED and quantum dots. As a result, the S95B delivers the near-infinite contrast ratio characteristic of OLED TVs, while having the bright picture and accurate colors of Quantum Dot TVs.
The S95B's high peak brightness and excellent contrast ratio make it suitable for watching movies or playing games in bright or dark rooms. It offers VSR, FreeSync, G-Sync, and ALLM gaming features.
Because the S95B's pixels are arranged in an unconventional way, it can cause some text blurring and colored border lines. However, this issue is generally hard to notice unless you get close enough to the screen to look at it closely.
Pros
Unparalleled contrast and excellent deep blacks
Excellent anti-glare capability
High peak brightness
Accurate and vibrant colors
Outstanding gaming capabilities
Wide viewing angle
Cons
Slight color artifacts
ABL reduces bright scenes
Sony X95K Mini LED TV Quick Review​
The Sony Bravia X95K Mini LED TV offers excellent brightness, enough to resist glare in bright rooms. Mini LED mixed with quantum dots provides rich, vibrant colors. Its contrast performance is good, and its local dimming feature optimizes contrast further, producing deep blacks. Therefore, it is also suitable for watching movies or HDR content in the dark. However, in darker scenes, there is a taught noticeable halo around the highlights.
Sony X95K is equipped with VRR and ALLM features for gamers and supports 4K gaming at 120Hz. However, it does not support FreeSync and G-Sync.
Pros
Amazing peak brightness
Outstanding anti-glare capability
Rich and vibrant colors
The partial dimming function improves contrast
Cons
Halo around bright spots
Narrow viewing angle
Samsung S95B vs Sony X95K: Design​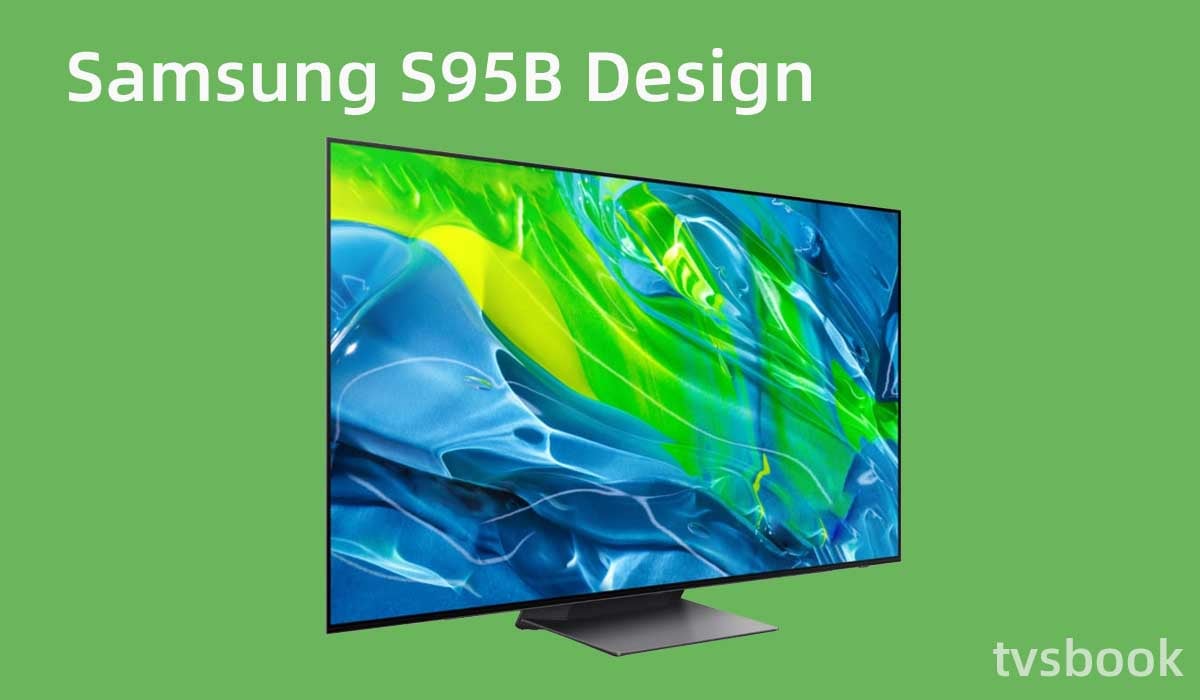 The Samsung S95B QD OLED TV has a sleek and beautiful design and offers a very thin panel thanks to the self-emitting OLED technology. The extremely thin bezel is almost negligible when viewed from the front and blends well into the environment.
The TV features a narrower metal stand that allows it to be placed on a relatively small flat surface. The stand sits in the center of the screen and may be slightly wobbly. The metal stand lifts the TV off the table and you can place most of the soundbar in front without worrying about blocking the screen.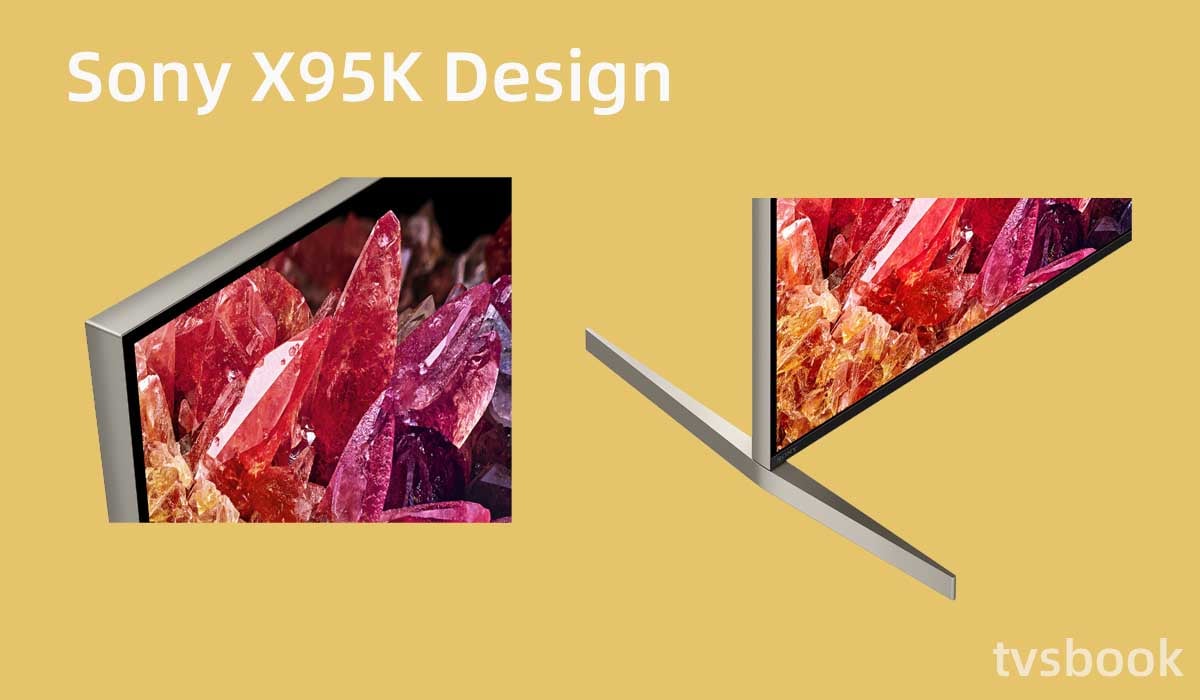 Sony X95K has a stylish design with a very thin and beautifully designed silver bezel. The TV panel is slim enough but relatively heavy.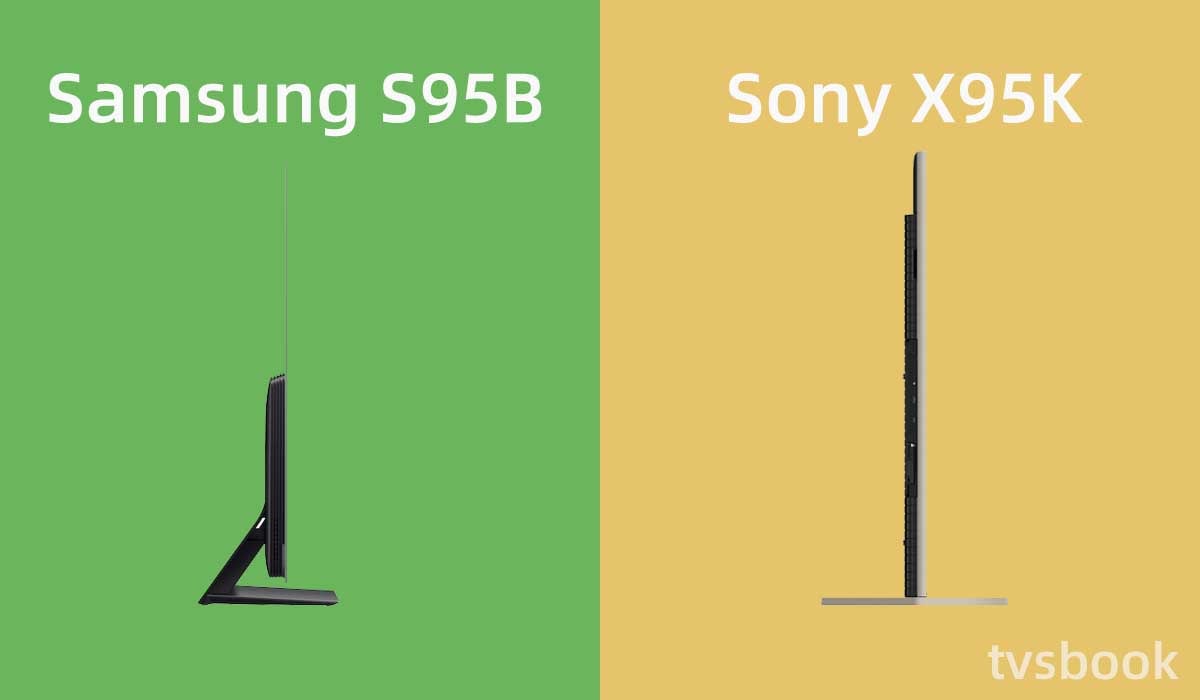 The X95K's silver metal stand is solid support for the TV, and Sony thoughtfully provides three mounting options to suit your needs. You can mount the stand to a narrow, wide, or wide-height position for easy placement of the soundbar.
The back of the S95B screen is very smooth, with a rectangular panel near the bottom that houses the TV's inputs and provides a plastic panel for managing cables, so once you've designed and organized the cables, you can put the plastic panel in place to get a very nice looking TV back.
The back of the X95K TV features a sophisticated checkerboard grid design, which also provides a plastic cover for easy cable management. In addition to that, it also mentions clips and cable ties.
Both TVs are well made, using sturdy materials, and well-designed.
Samsung S95B vs Sony X95K: Picture Quality​
Thanks to the self-emitting properties of the OLED panel, the Samsung S95B TV has a very perfect contrast ratio. When you watch a dark scene, it will render bright highlights and deep blacks and you won't notice any halos. You can get a very good experience when watching movies in a dark room.
What's even more amazing is its high peak brightness and color rendering. The S95B features Samsung's latest QD OLED (Quantum Dot OLED) technology, which combines the perfect black level of OLED while also providing excellent brightness and color effects.
The Samsung S95B offers good SDR and HDR peak brightness, and the reflective processing capabilities resist glare. However, because its Automatic Brightness Limiter (ABL) feature reduces relatively large bright scenes, there are better options for daytime viewing of programs.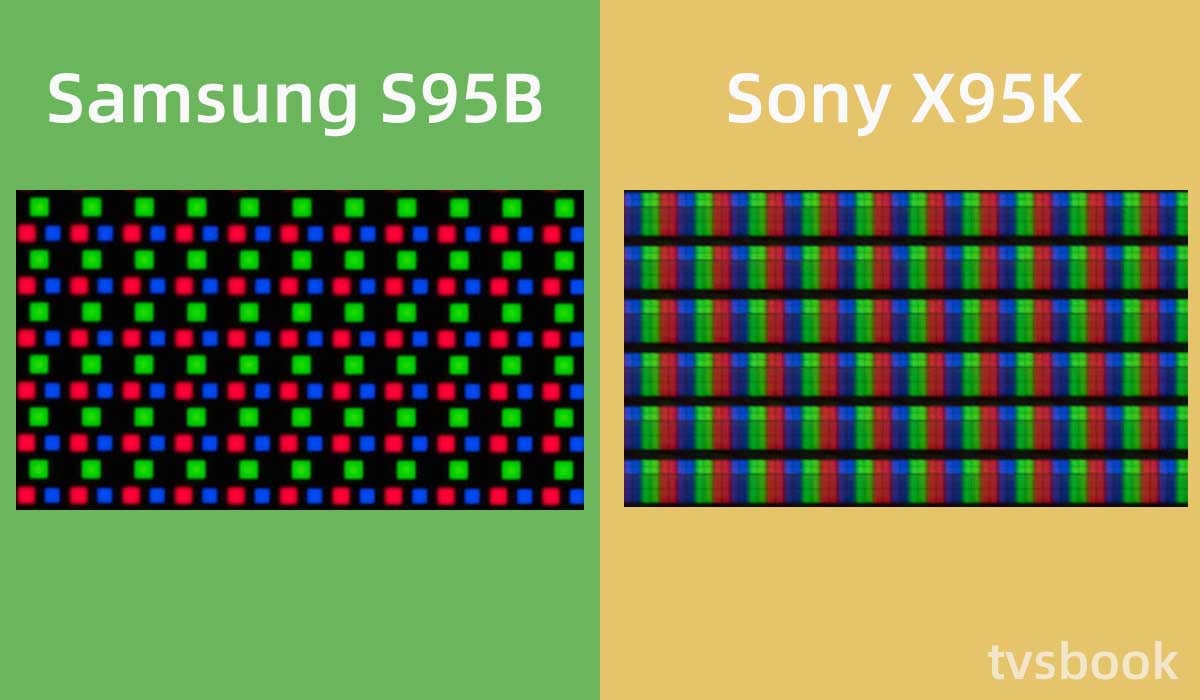 With surprisingly bright SDR and HDR peaks, the Sony X95K easily resists glare in bright environments. the X95K mixes mini-LED with quantum dots to deliver high brightness and accurate color. You won't lose picture detail even when you're watching a show in daylight.
The X95K has a good contrast performance and its local dimming function improves contrast and provides deep blacks. However, dark scenes have a noticeable halo around bright objects. If the local dimming function is turned off, the screen will appear gray, reducing the depth of blacks.
In addition, the viewing angle of the X95K is narrower compared to the S95B. Although Sony's "X-Wide Angle" technology increases the viewing angle, when you move away from the center of the TV, the picture loses some detail and quality. On the contrary, Samsung's QD OLED has a wide viewing angle, and you can get an accurate image from an off-center angle. So if you wish to watch a program with more than one person, the Samsung S95B would be a better choice.
Samsung S95B vs Sony X95K: System​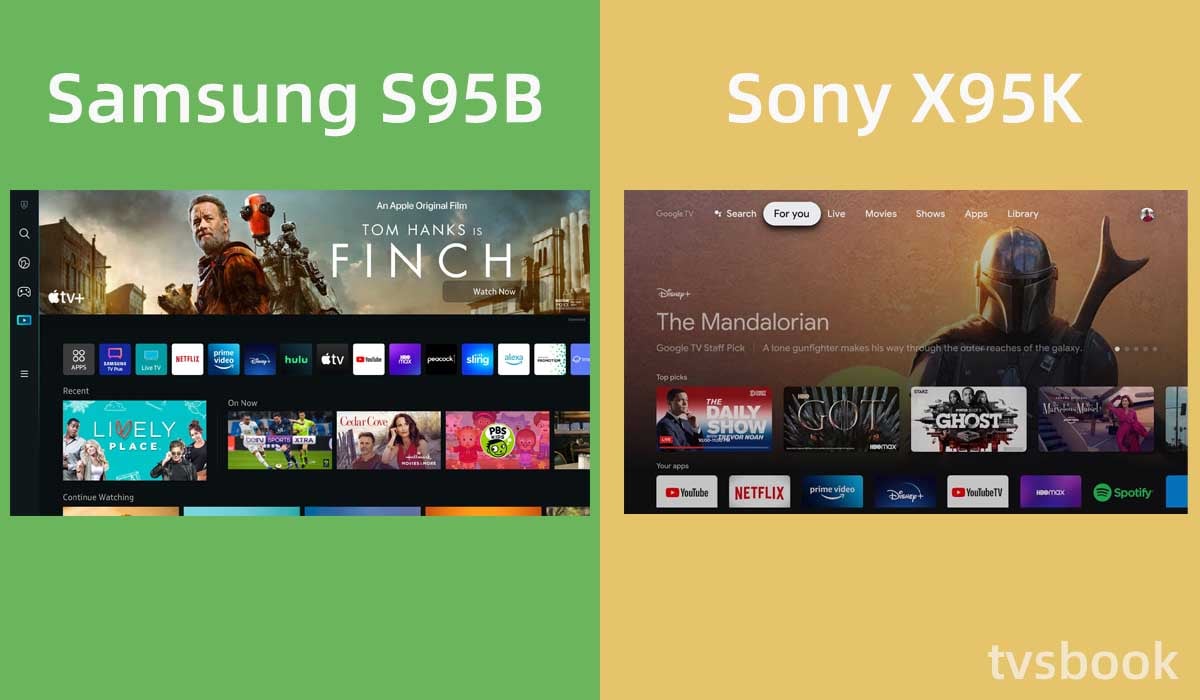 The two TVs use different operating systems. The Samsung S95B runs the latest version of Tizen OS 6.5 for 2022. The user interface is smooth and easy to access. The new version of Smart Hub takes up the entire screen, so you can access content more quickly. However, if you are not used to using Samsung's Smart System, you may find its operation steps cumbersome. The app store offers the most common apps and streaming services.
Sony X95K, on the other hand, comes with Google TV 10, which is an upgraded version of Android TV. The user interface runs smoothly and offers personalized content recommendations. You can download almost all the apps you need from the Google Play Store and can cast your mobile content via the built-in Chromecast.
Samsung S95B vs Sony X95K: Inputs​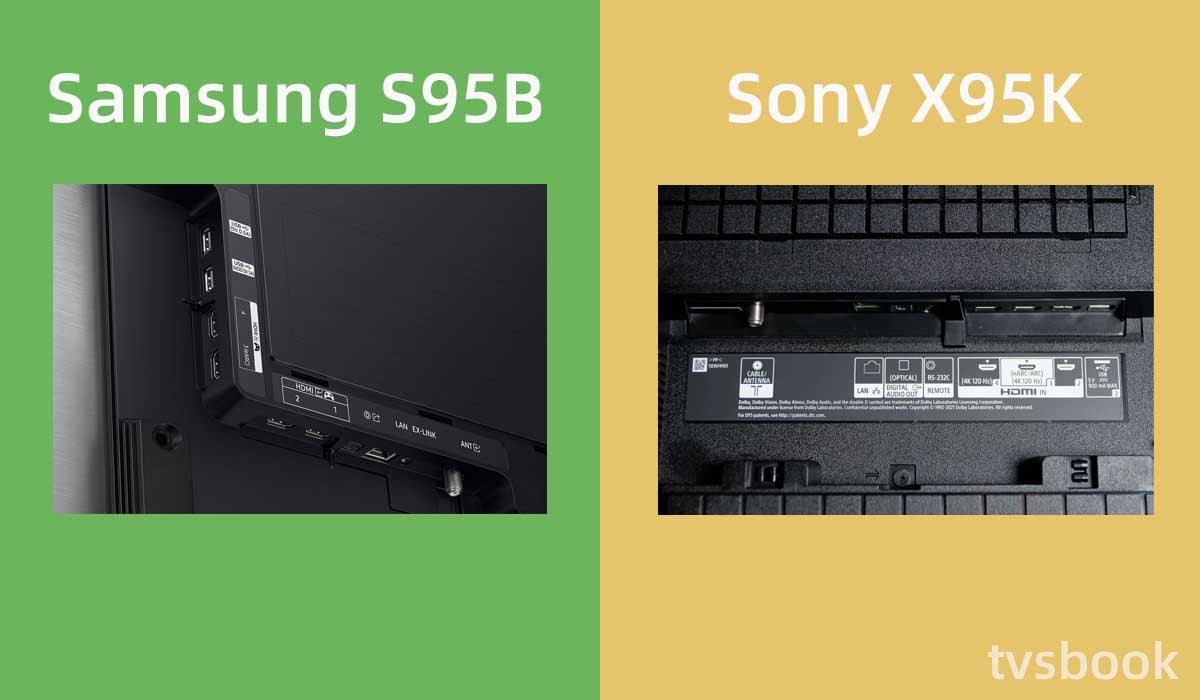 The Samsung S95B supports all common resolutions including 4K 120Hz and offers four HDMI 2.1 ports with 48Gbps loan support. The S95B supports HDR10+ and HLG, but unfortunately, it does not support Dolby Vision.
Gamers can be excited to find out that the S95B supports a variety of gaming performances including VRR, FreeSync, G-Sync, and ALLM, and you can get a great gaming experience.
The Sony X95K offers four HDMI ports, two of which support 4K @ 120Hz resolution and the full 48 Gbps bandwidth of HDMI 2.1. In gaming mode, the X95K features low input latency and supports VRR.
Samsung S95B vs Sony X95K: Summary​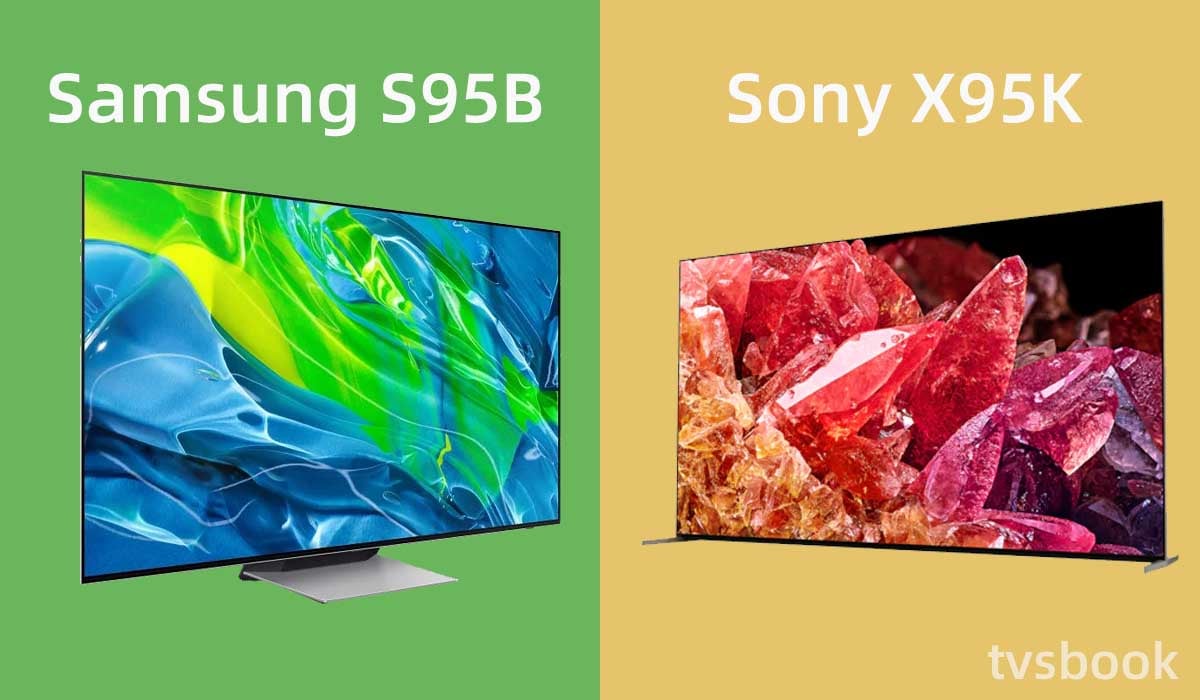 All in all, the Samsung S95B and Sony X95K are both 4K TVs suitable for most purposes. the S95B offers excellent contrast and deep blacks and is capable of delivering excellent HDR images in the dark. It also offers excellent gaming performance, but its blurry text makes it unsuitable for use as a monitor. The Samsung S95B offers a wide viewing angle, which is great if you often watch movies or games with your family. Check out the comparison review between
Samsung QN90A vs S95B
The Sony X95K, on the other hand, delivers a brighter image with impressive highlights and accurate colors. Its excellent anti-glare capabilities make it ideal for viewing under bright rooms. However, its viewing angle is relatively narrow, and image quality is significantly lower when off-centered from the TV.