Different from previous samsung products, The Serif series
pays much attention to artistic design
. Inspired by typography and the English alphabet, the designer created the I shape on the side.
And in order to maintain the beauty of the product, the power cord and various interfaces are hidden on the side of the TV. These include three HDMI ports, one USB port, one USB3.0 port, fiber optic audio output, port, 3.5mm headphone jack and coaxial interface,
avoiding the discordant effect of cable
and port on the TV's aesthetic.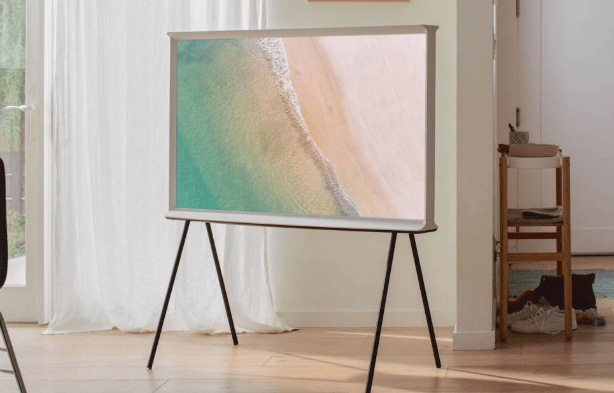 The Serif landscape series is equipped with a
4K quantum dot processor with a resolution of up to 3840*2160
to perform AI intelligent optimization of its sound and picture quality. HDR 10+ technology is also used to fine-tune the contrast and brightness of the picture, so that the audience can see a clearer and more artistic picture.
In fact, quantum dot technology is also known as QLED. Compared with The traditional OLED, The Serif picture series gives up The traditional backlight source and USES The latest photoluminescent solution semiconductor nanocrystalline film as a substitute for The light source. It is
better than OLED in color gamut, brightness and display.
But in contrast, the OLED is a little bit better than the QLED, but lost, although the contrast is not as high as OLED, but also
reduce the chances of screen burn-in.
When The TV is turned on quickly and succinctly, when it is turned off, it can present exquisite pictures, making samsung The Serif painting environment an outstanding work of art whether it is turned on or off.
In addition, The Serif also supports
NFC function
, and The smart phone can interact with it with a touch. The original Bixby voice assistant supports 16 dialects, making it easier for users to interact with the TV.
The combination of advanced technology and excellent design will combine The function and aesthetics into one, The birth of The Serif painting series products, small wisdom had to feel that samsung is really creative, whether it is The design, concept, positioning, The Serif painting series are worthy of art, more into The user's home life.