Dangbei U1 vs JMGO O1S Projector, what's different?​
Dangbei U1 and JMGO O1S are ultra-short-focus home smart projectors with better performance and quality. These two projectors are similar in price and have similar functions, so what are the specific differences between them? Let's first take a look at the actual appearance pictures to understand the difference in appearance between Dangbei U1 and JmGO O1S.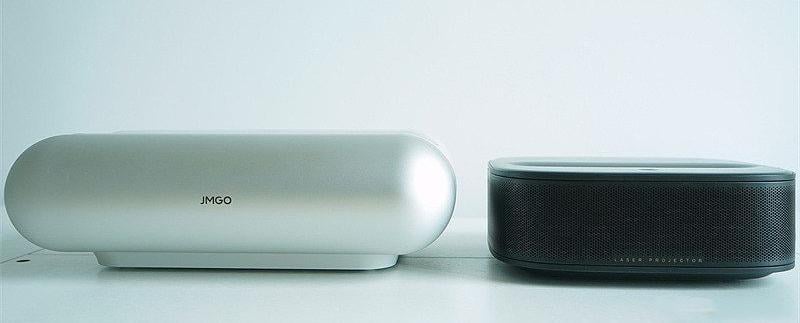 Projector Body Overall​
In terms of overall appearance, Dangbei U1 has a black body with a volume of 210*210*72.8mm, which is only 2/3 the size of an A4 paper, and the body is a rectangular parallelepiped with rounded corners. The body color of JMGO O1S is white, the volume is 308*235*97mm, and the body is flat. In contrast, it can be seen that Dangbei U1 is smaller in size and can be easily carried when going out. The JMGO O1S is slightly larger, suitable for installation or fixed placement.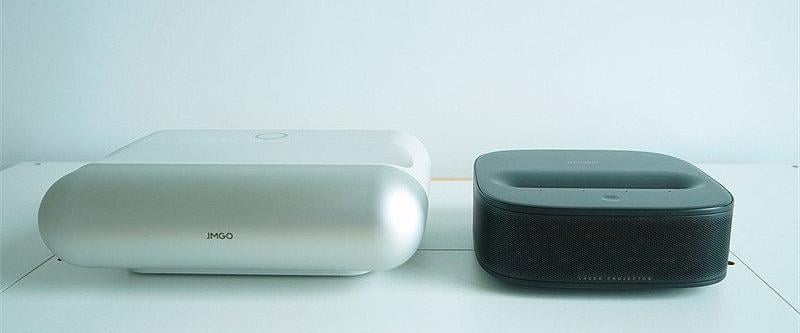 Connection Ports​
On the device interface, Dangbei U1 is equipped with DC interface, 2 USB interfaces, HDMI interface, S/PDIF interface and LAN interface on the rear side of the fuselage, supporting U disk, game console, microphone, set-top box, audio and other multi-device connection. into use.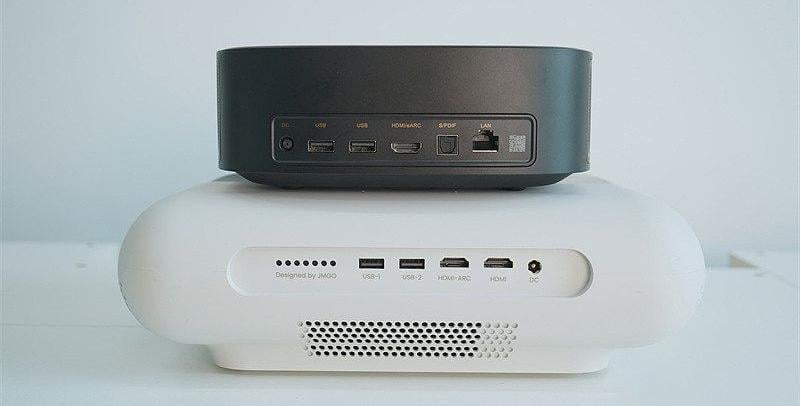 The rear side of JMGO O1S is equipped with 2 USB ports, 2 HDMI ports and DC ports. The number of ports of both is similar, which can bring a rich device experience. However, Dangbei U1 has one more port in comparison. The network cable interface is convenient for wired network connection.
Appearance Design​
In terms of appearance details, the lenses of Dangbei U1 and JmGO O1S are located on the top of the fuselage, and the images are refracted and projected obliquely from above, which is convenient for projection in an ultra-short distance and brings users a large-screen image.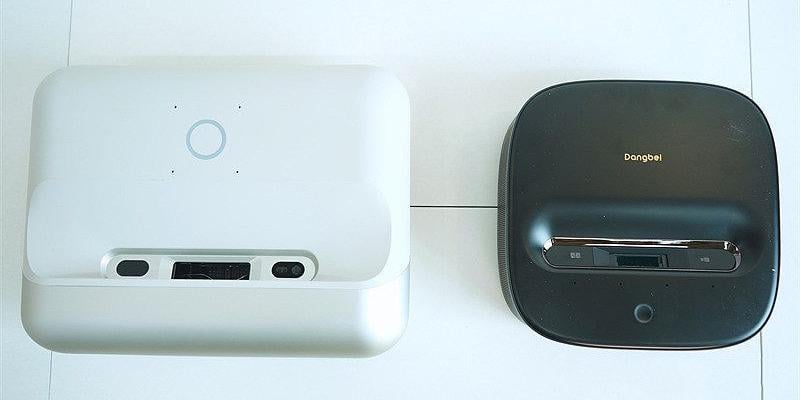 Dangbei U1's logo and power button are located on the top of the fuselage, and there are dual ToF laser sensors on both sides of the lens, which can realize automatic keystone correction and sensorless focusing. The power button of JMGO O1S is located on the top of the fuselage, the lens is flanked by dual ToF laser sensors, and the logo is located on the front of the fuselage, which is relatively simple and elegant.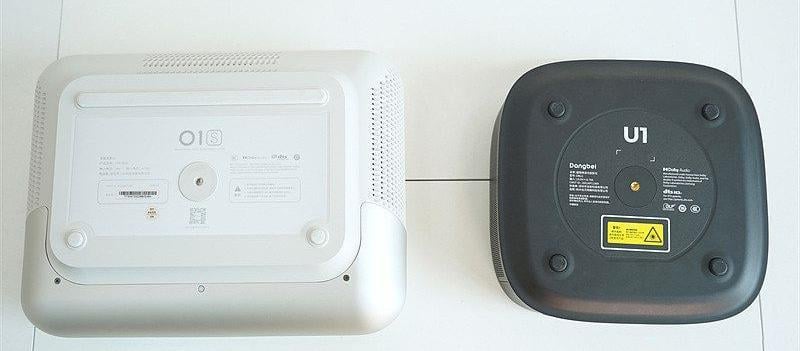 Both Dangbei U1 and JMGO O1S are equipped with screw holes at the bottom of the fuselage, which are convenient for installation. And they all have trademarks and instructions for use, and the overall design is reasonable and convenient.
Summary​
Through comparison, we can see that the most obvious difference in appearance between Dangbei U1 and JmGO O1S is that Dangbei is lighter and more portable, while JmGO O1S is slightly larger and suitable for fixed placement.
In addition, Dangbei U1 is made of frosted material, which has a more textured appearance; the interface of Dangbei U1 is slightly more abundant than JMGO O1S. The lens design of the two is relatively similar, with a simple and elegant shape, which is a cost-effective choice among ultra-short-throw projectors.