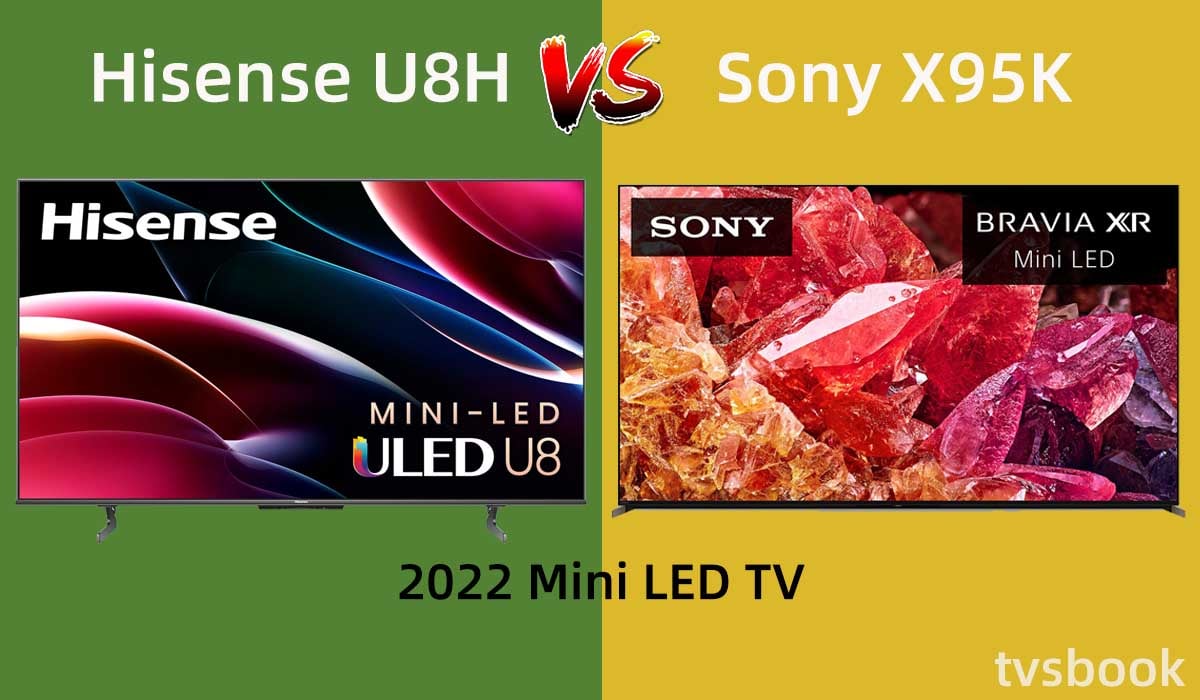 This article will compare Hisense U8H and Sony X95K TVs.
Hisense U8H and Sony X95K are both 2022 4K LCD TVs suitable for most purposes. the U8H has better overall performance than the X95K, with excellent contrast and brightness. It has the good anti-glare capability and is good enough for rooms with lots of ambient light.
The X95K has good local dimming to show deep blacks in the dark, but bright objects may appear as halos. Its reflection handling is good enough to counter bright rooms.
Because of the price and the manufacturer's unique technology, you can refer to the comparison review in this article to make your choice.
Hisense U8H vs Sony X95K: Overall Comparison​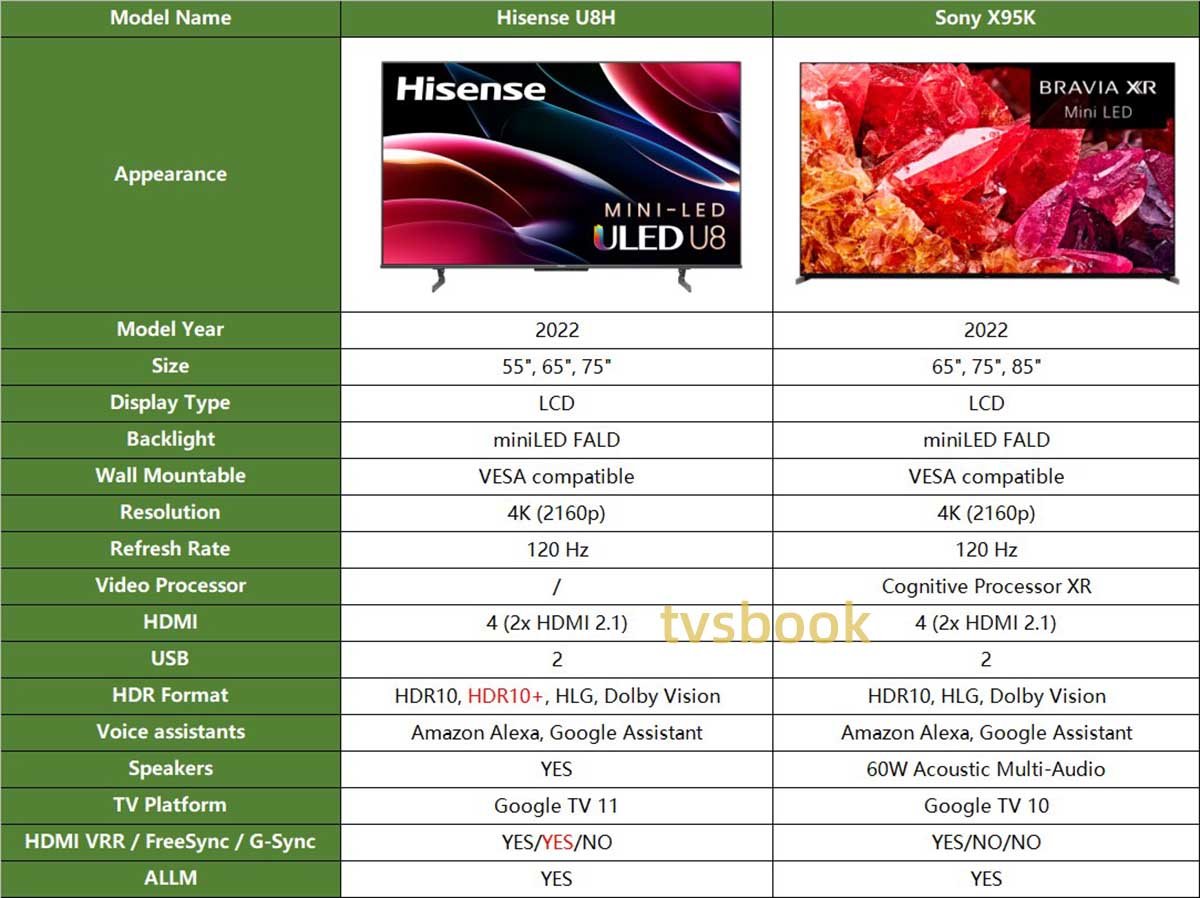 Hisense U8H Mini-LED TV Review​
The Hisense U8H is the best value-for-money model of the 2022 flagship 4K TV, offering the highest peak brightness of any LED TV in its price range, so if you're looking to buy a TV for a bright room, it won't let you down.
It has excellent contrast and renders deep blacks in the dark with its local dimming function. It is surprisingly bright and has excellent anti-glare capabilities. It also offers gaming features such as HDMI 2.1, FreeSync, low input latency, and more.
PROS
Amazing brightness
Outstanding contrast and local dimming capabilities
Great anti-glare capability
Good gaming experience
CONS
Narrow viewing angle
Sony X95K Mini-LED TV Review​
Sony Bravia X95K is Sony's first mini LED TV that offers excellent brightness and easily resists glare. It gives you great HDR content and is also great for watching movies in the dark. It has a local dimming feature that improves contrast, but halos appear around bright spots in dark fields. It also offers gaming performance with HDMI 2.1, VRR, and more.
PROS
Excellent brightness and anti-glare capability
Local dimming function to enhance contrast
Low input latency and good motion handling
CONS
Narrow viewing angle
Halo around bright spots
Hisense U8H vs Sony X95K: Picture Quality​
The Hisense U8H is surprisingly bright, rendering excellent images accurately in bright rooms. Even in scenes with a lot of ambient light, it's bright enough to combat glare without creating halos.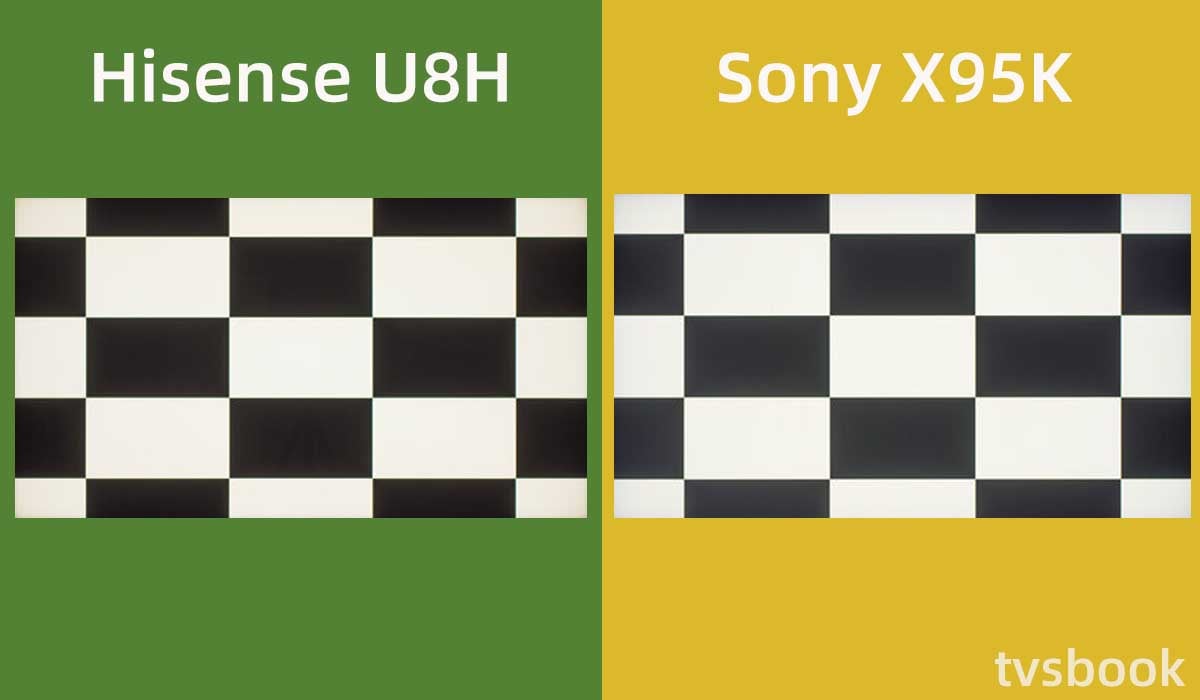 The U8H screen uses Mini LED backlight technology, with more and smaller LED diodes for brighter images and better contrast. With excellent full-array local dimming, the U8H enhances bright spots and renders deep blacks in the dark. It effectively limits halos, making it one of the most cost-effective Mini LED TVs.
Hisense U8H has an impressive HDR picture, achieving higher picture brightness while rendering accurate and vivid colors. It supports both HDR10+ and Dolby Vision, which is great when watching movies or sports.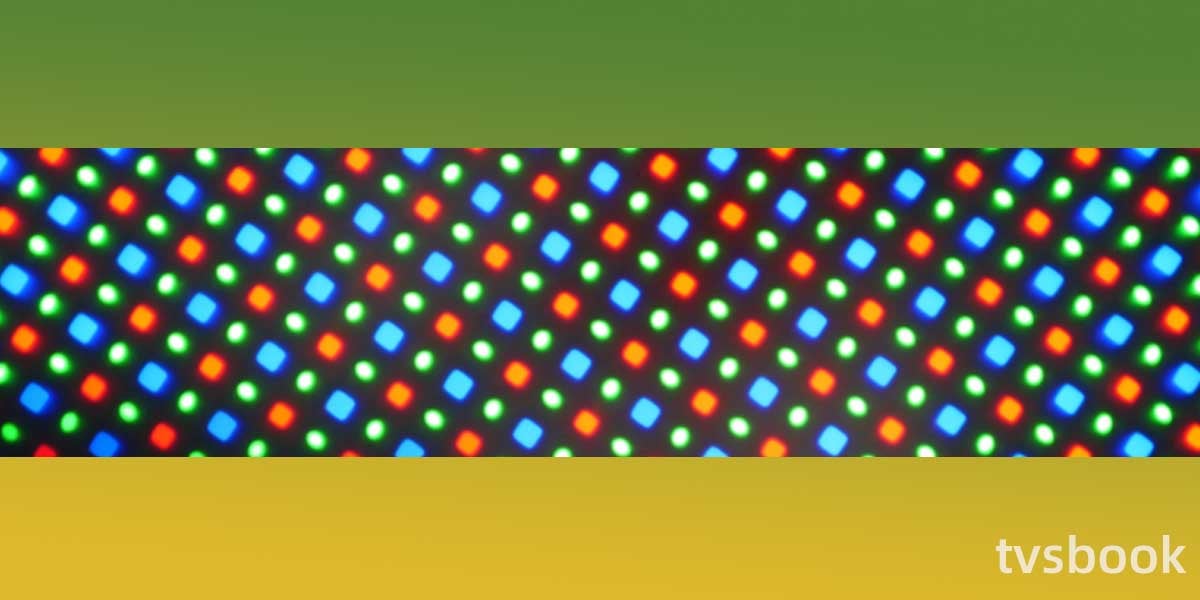 The Sony X95K is bright enough to fight glare in bright rooms and has very good HDR performance. Its HDR peak brightness performance is good, but not as bright as the Hisense U8H. Sony's native contrast ratio is not bad, and the excellent Mini LED local dimming feature boosts contrast and deepens blacks. However, the contrast ratio of the Hisense U8H is far superior to that of the X95K. In the dark, the X95K is able to render good image quality with halos around bright objects.
The X95K combines mini-LED with quantum dots to render very accurate image colors. When the local dimming function is not enabled, the picture has bluish blacks.
Hisense U8H vs Sony X95K: Design​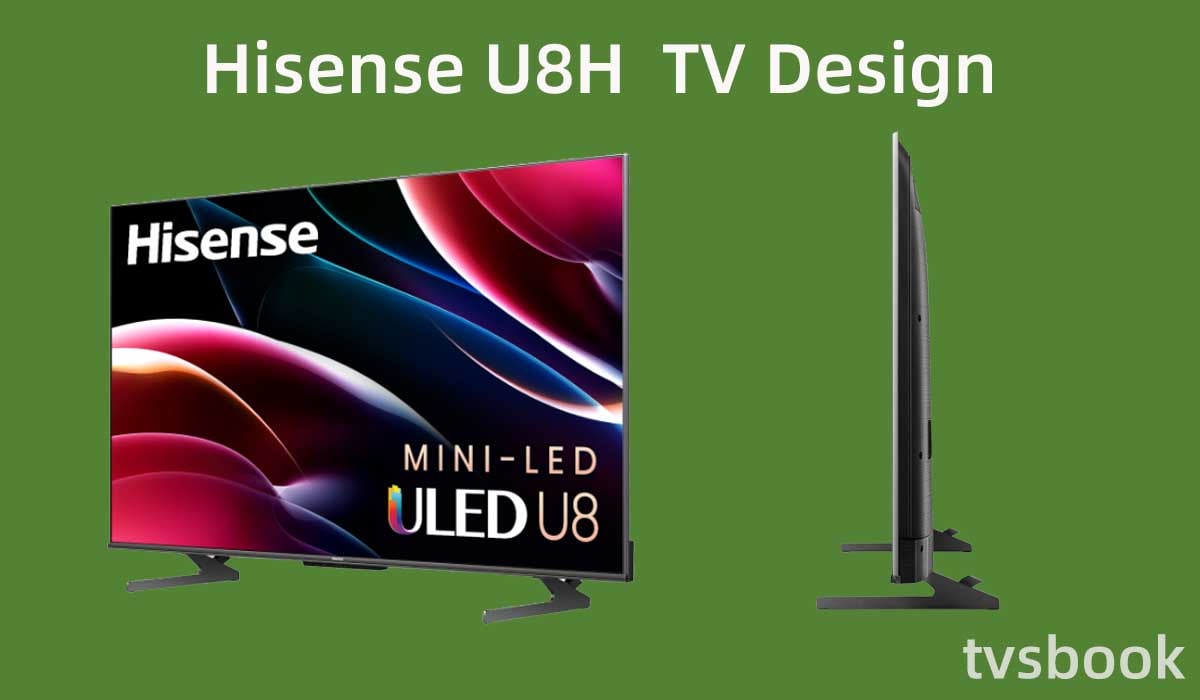 Hisense U8H is simple in design, not much different from the TVs on the market, but well made. The bezels on three sides of the screen are thin, with a thin gray bezel at the bottom to better articulate the gray stand. The stand is thin and supports the TV well, but may wobble slightly. You can choose to mount the stand in a wide position or a narrow position to fit the size of your desk. The stand raises the TV to leave enough room for the soundbar.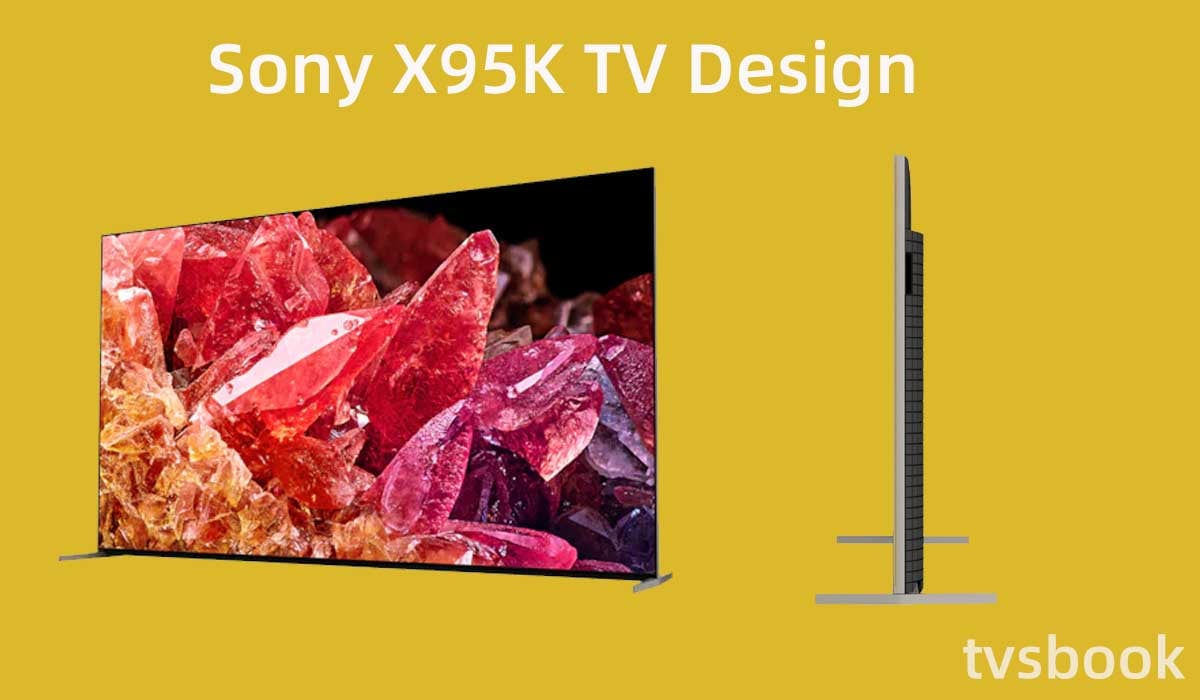 Sony X95K has a sophisticated design and is available in three large size options 65", 75", and 85". The thin silver bezel is delicate and will not draw your eyes while you are watching a program. The diamond-shaped metal stand may well support the TV panel and offers three mounting positions. You can choose from a wide position, a low position, or a Soundbar position.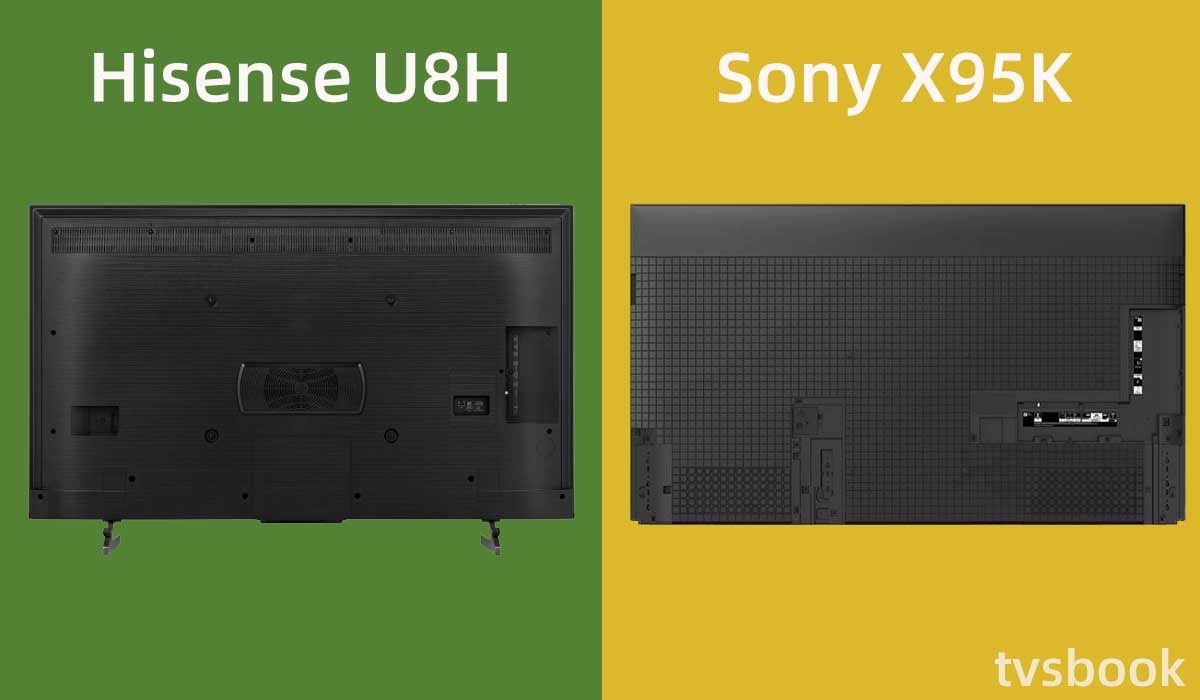 Both TVs have plastic backs and are equipped with a managed cable system. Clips are provided on the U8H stand, while the X95K offers cable ties, clips, and covers to hide the cables. Both TVs are thin enough for VESA standard wall mounting.
Hisense U8H vs Sony X95K: System and Smart Features​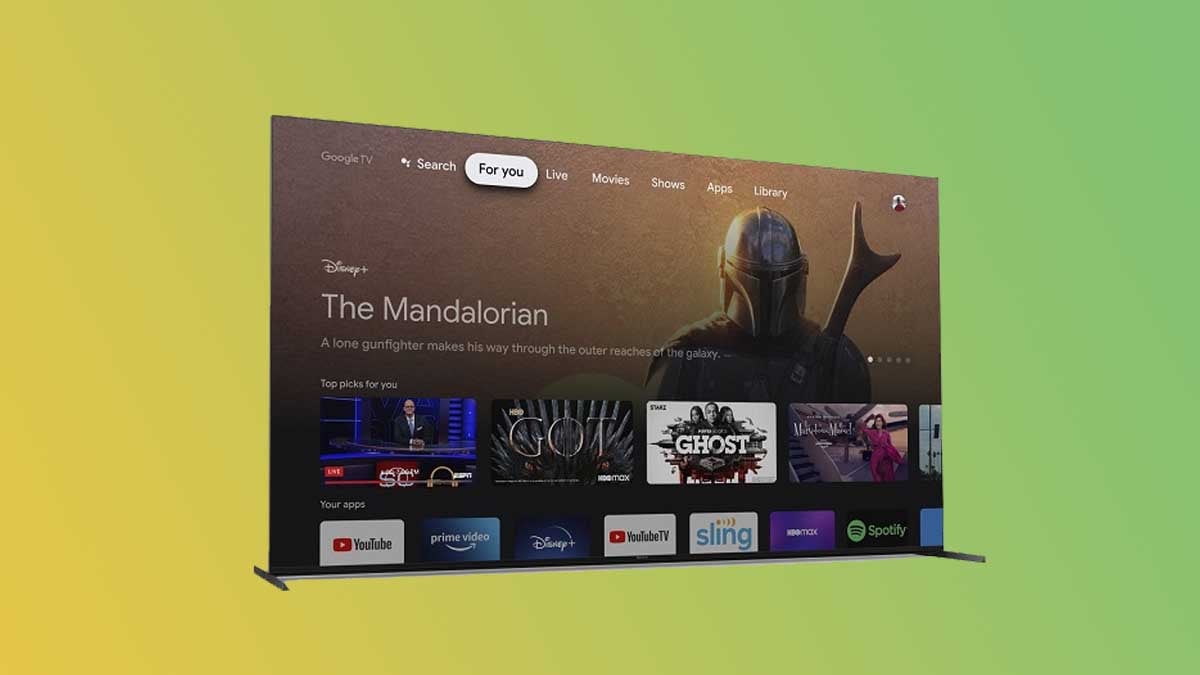 The Sony X95K and Hisense U8H come with Google TV, versions Google TV 10 and Google TV 11 respectively. Upgraded with Android TV, Google TV has a smooth and easy-to-use user interface that you can customize through your Google account and get personalized recommendations.
The built-in Google Store has a wide range of apps and streaming services, and you can also cast content from your phone to your TV via Chromecast.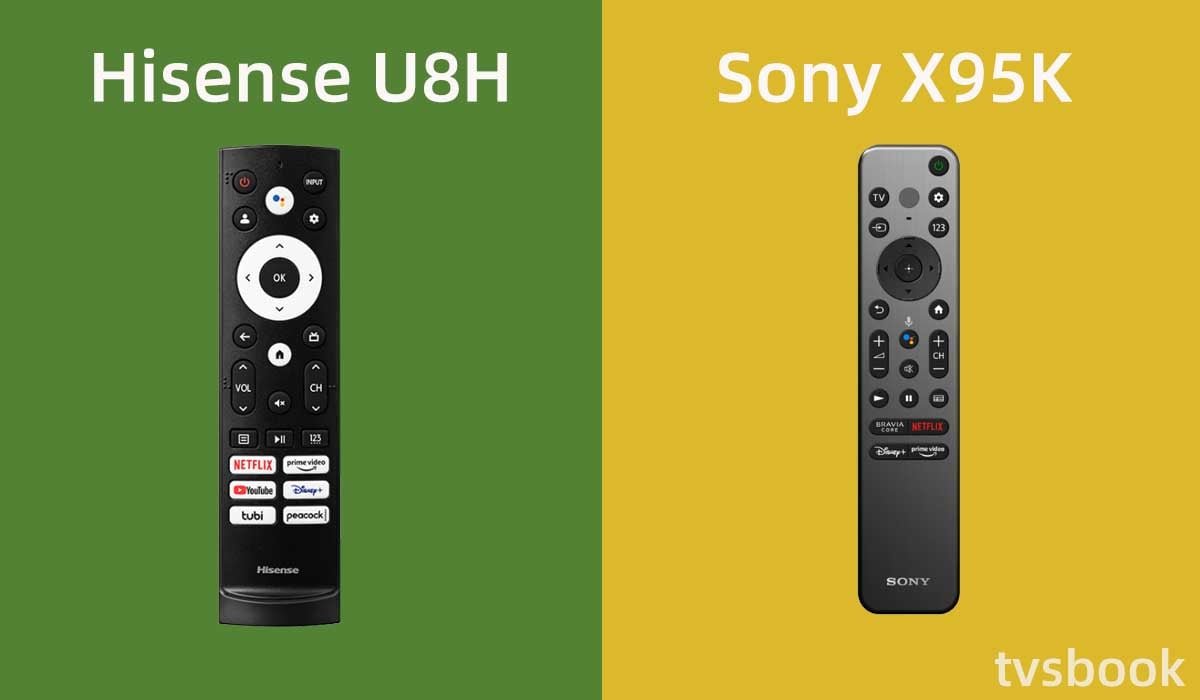 The U8H's remote control is larger than the X95K's and, like most smart remotes, offers a variety of smart buttons and eliminates the numeric keypad. Both remotes offer quick access buttons for streaming media. You can also access the Google Assistant and Alexa voice assistants through the microphone.
Hisense U8H vs Sony X95K: Inputs​
The Hisense U8H supports 4K 120Hz resolution and has two HDMI 2.1 ports out of four HDMI inputs, one of which is also an eARC port. Gamers will be happy to find that the U8H supports Auto Low Latency Mode (ALLM), Variable Refresh Rate (VRR), and FreeSync Premium Pro, features that ensure a tear-free, smooth gaming experience. It is fully compatible with both Xbox and PS5, but of course, if you have an eARC device connected, you can only connect up to one more HDMI 2.1 device. If you don't need to connect two next-gen consoles at the same time, this will not be a problem.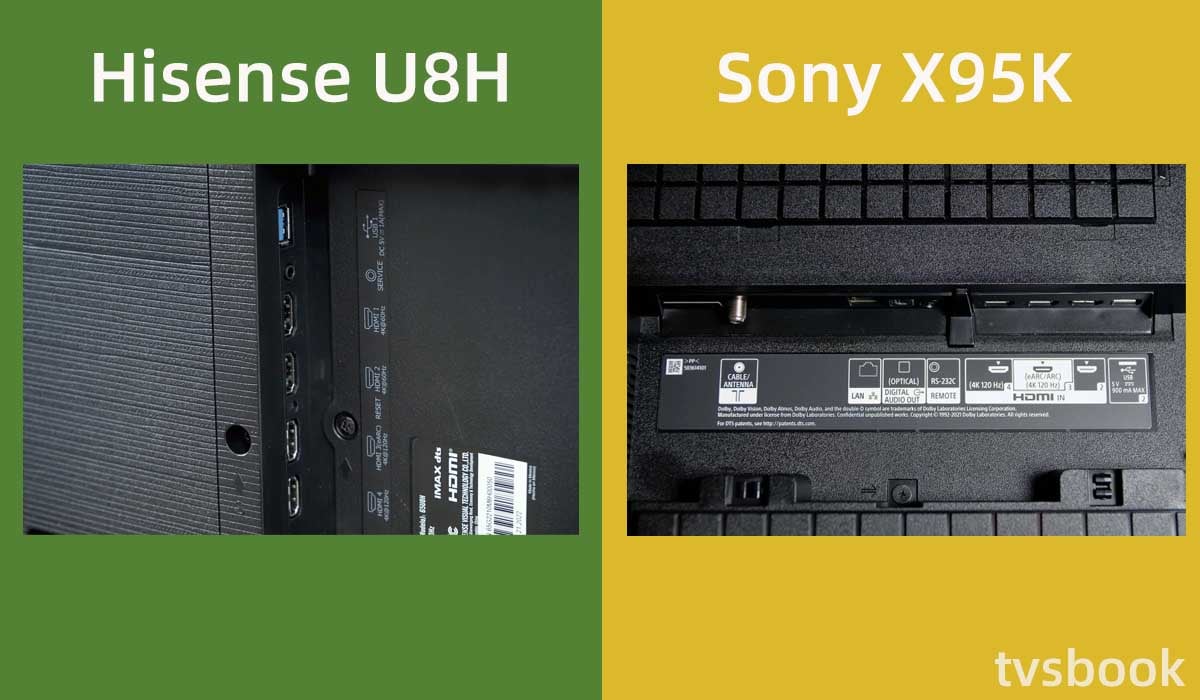 Two of the Sony X95K's four ports support HDMI 2.1 and 4K 120Hz signals, and again, one of them supports eARC. The X95K TV supports Auto Low Latency (ALLM) and Variable Refresh Rate (VNR), but not FreeSync or G-Sync. Also, the TV's local dimming feature is limited when VNR is activated. Considering its price, you might expect more and better gaming performance.
Hisense U8H vs Sony X95K: Summary​
All in all, the Hisense U8H is a more cost-effective choice considering the price and the picture presented by the TV. mini-LED allows both TVs to present a brighter, better contrast and more accurate color picture. At the same time, both TVs share the common flaw of narrow viewing angles. There is a noticeable loss in picture quality when you are off-center on the screen. This drawback is even more pronounced on the Hisense U8H because the Sony X95K's "X-Wide Angle" technology increases the viewing angle. If you have a need for wide viewing angles, you might consider OLED TVs like the 2022 LG C2, which offer wider viewing angles and high brightness (see
Hisense U8H vs LG C2
comparison review).
Whether in a dark or bright room, the U8H delivers high-quality, accurate images. Combined with support for a wide range of gaming performance, it will keep you happy whether you're watching movies or playing games. Of course, the Sony X95K also has many commendable advantages, but I think you can get a better one for this price.