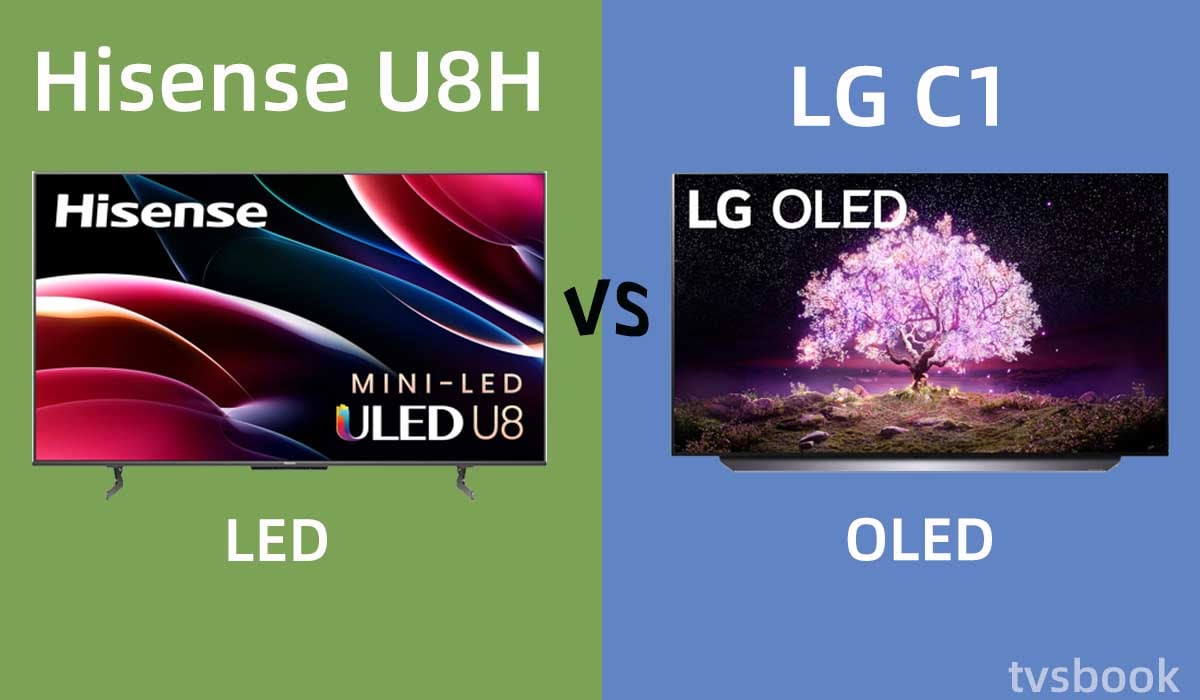 In this article, I will introduce Hisense U8H vs LG C1 TV comparison review, and I hope it can help you choose. Also, welcome users who have one of these two models to reply to this thread.
Hisense U8H and LG C1 are 2022 and 2021 models respectively. The two TVs use different panel display technologies and therefore have different characteristics. You can choose the right TV model based on the pros and cons of the two TVs listed in this article, combined with your own usage.
Hisense U8H vs LG C1: Specs​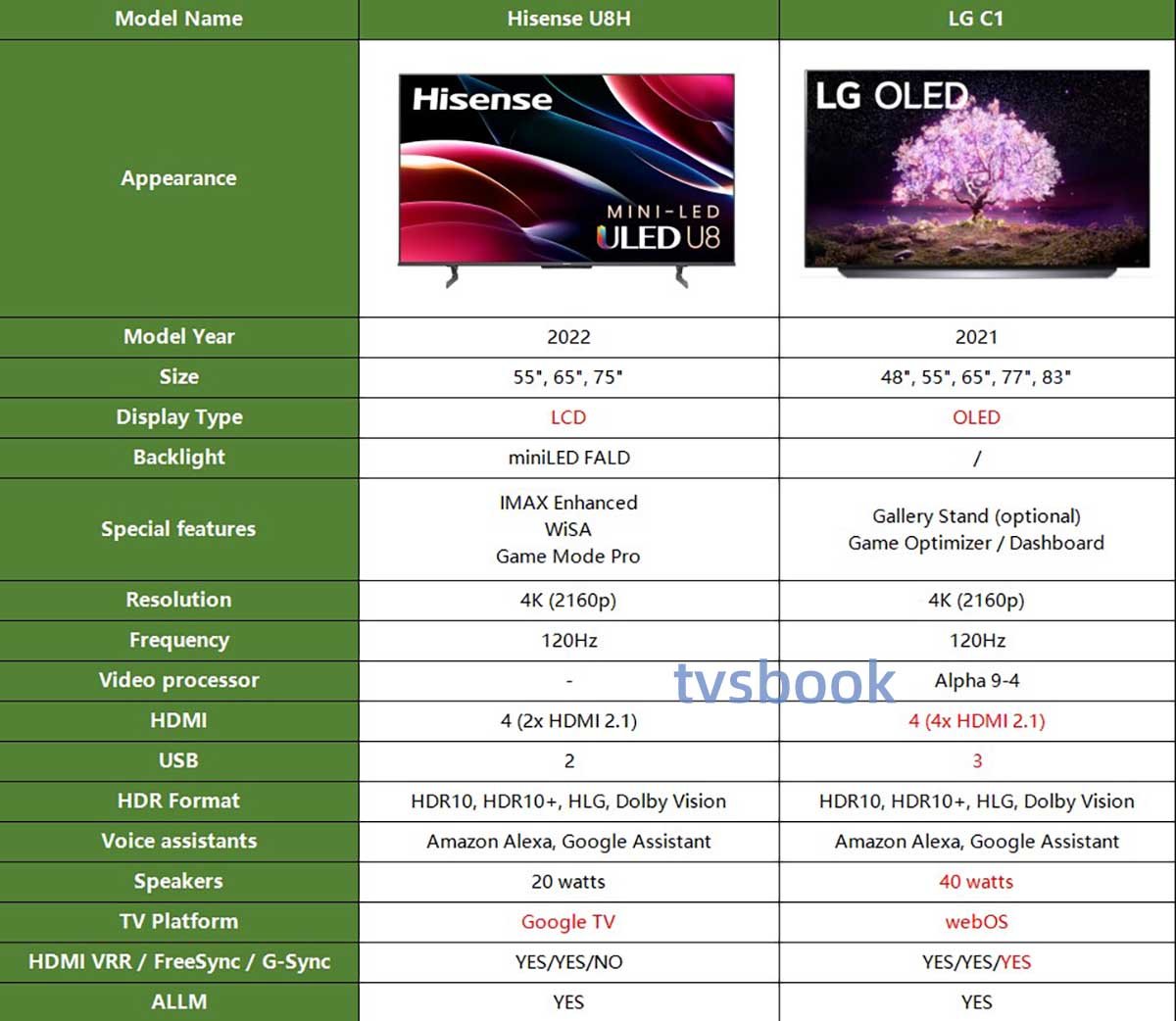 Hisense U8H vs LG C1: Appearance Design​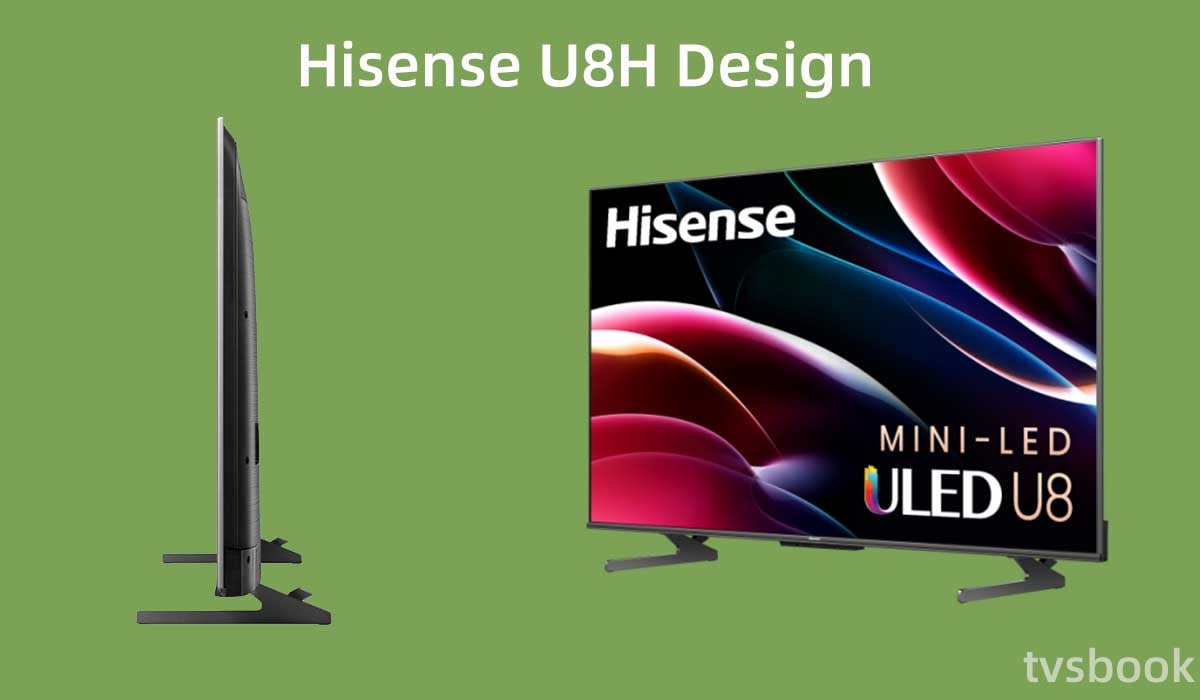 Hisense U8H is well-designed with a slim bezel and a silver border at the bottom of the screen adding to the stylish design. Compared to its predecessor, the U8G, the U8H has a thinner silver bezel, so it also blends in better with the screen image, giving you an immersive feel.
The U8H features a high-quality silver stand that securely supports the TV. The stand is slim and can be adjusted to fit the width of your desktop for mounting position. If you have a soundbar, you can raise the stand without worrying about the screen being blocked by the speakers.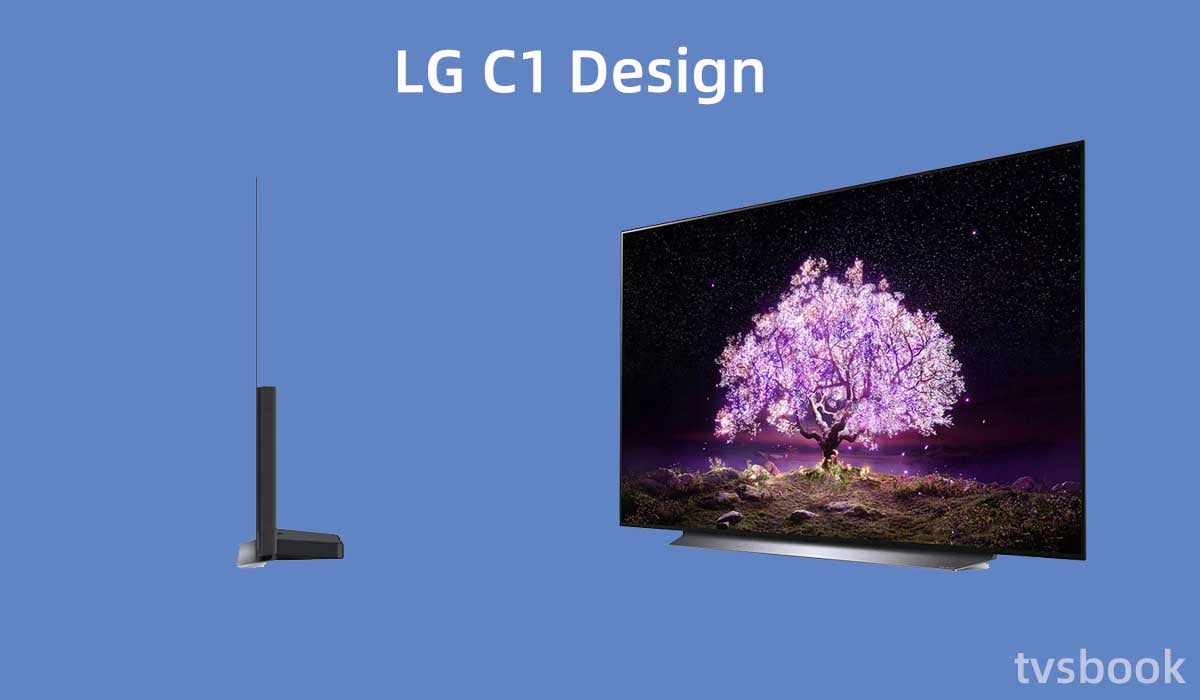 The stand of the C1 TV takes up more space than the U8H and requires a wider table for placement. The stand is low, so it is not suitable for placing a soundbar in front.
But I personally like this stand, it's more special than other TV stands and holds the TV very firmly. Of course, you can also choose a wall mount to avoid taking up space on your desk.
Both TVs have a cable management system on the back of the stand, with the U8H having a plastic back and the LG C1 TV having the top half of the back made of metal and the bottom half plastic.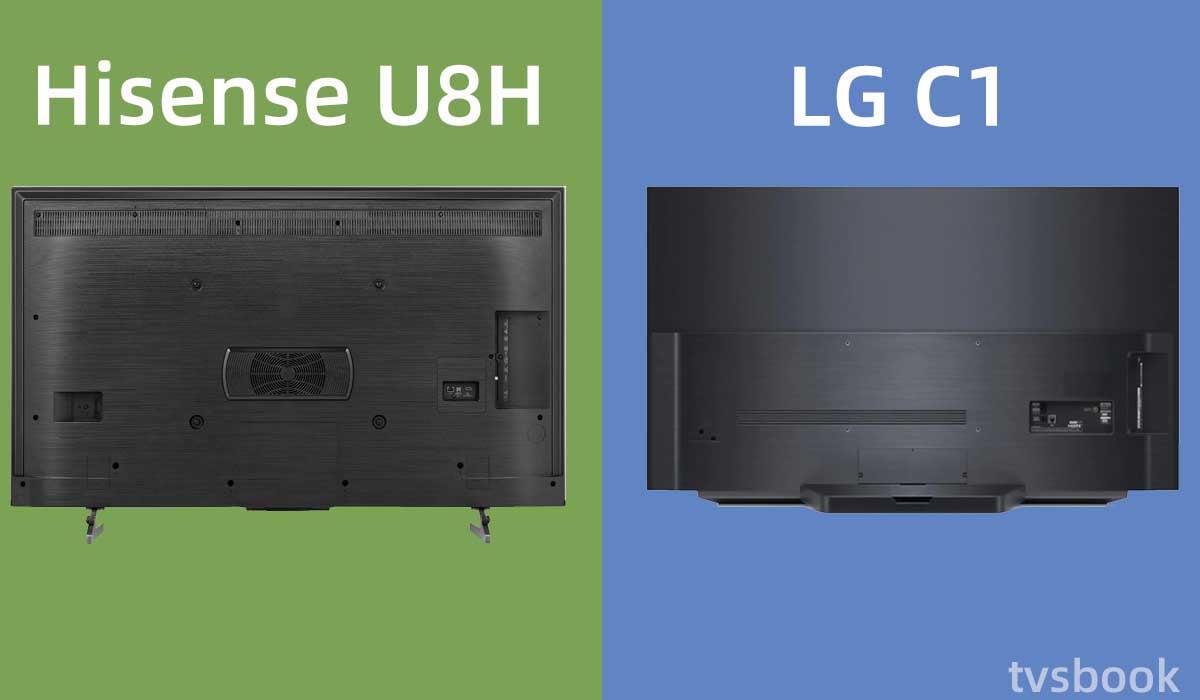 From the side, C1 is thinner than U8G and more suitable for wall-mounted installation. However, the bottom of C1 is further back than the top, so it can't fit snugly on the wall when wall-mounted, but it can get close to your wall.
Hisense U8H vs LG C1: Picture Quality​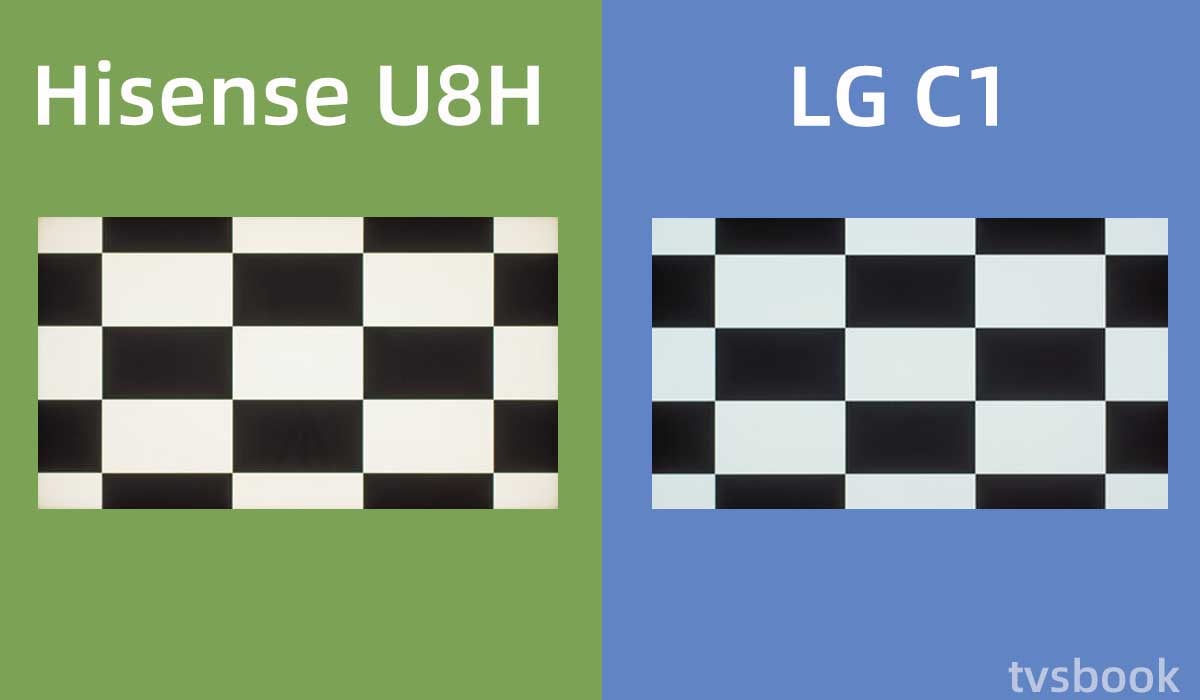 As I mentioned above, the two TVs use different panel technologies and therefore will have different advantages.
The LG C1 uses an OLED panel and therefore has a very perfect contrast ratio and excellent blacks.
If you like to watch movies at night in an all-black room, then the C1 is the right choice for you.
Hisense U8H also has an excellent contrast ratio, although not as deep as C1's black, its deep black and highlight performance are considered excellent among LED TVs. Compared to the older U8G, the U8H also has a specially upgraded local dimming function that significantly improves contrast and is brighter than the U8G.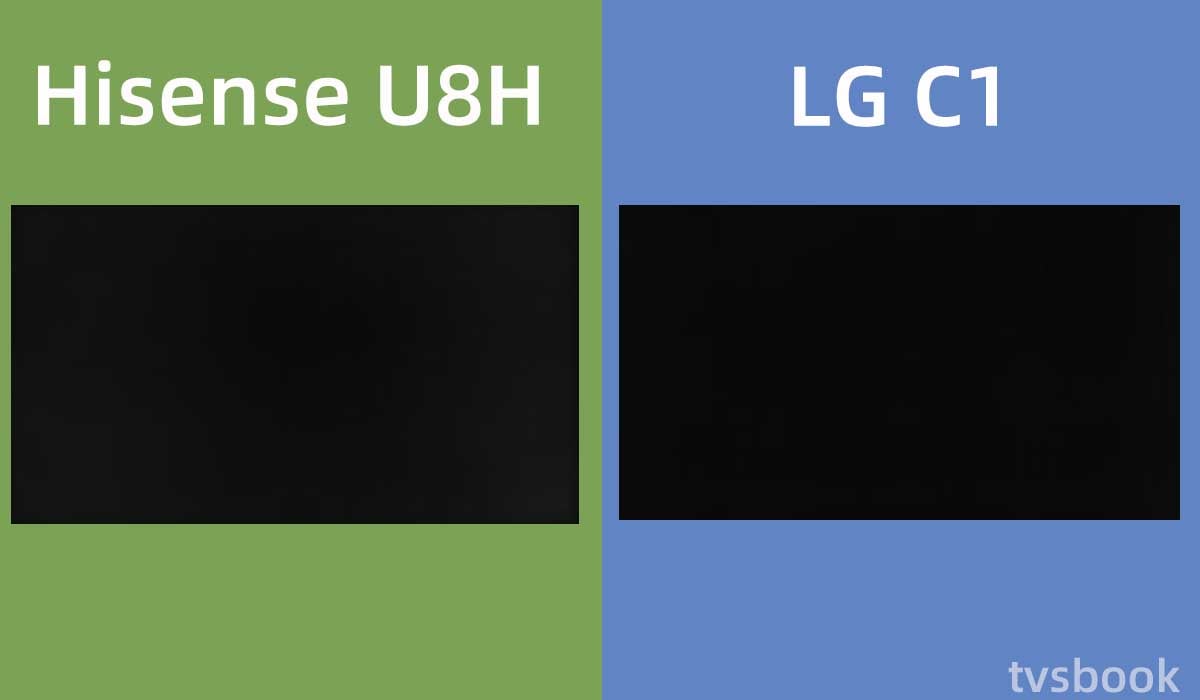 The U8H presents some vignetting in some scenes, but compared to its predecessor model, the dimming function does a better job and can eliminate some of the vignetting. On the contrary, the C1's dimming function is nearly perfect, with almost no vignetting of highlights in dark scenes.
Hisense U8H Mini-LED does its best in SDR and HDR, with excellent peak brightness.
The LG C1, on the other hand, does OK in HDR and SDR, but is not as bright as the U8H. You can set the image mode to boost the C1's brightness, but this will sacrifice some of the image quality.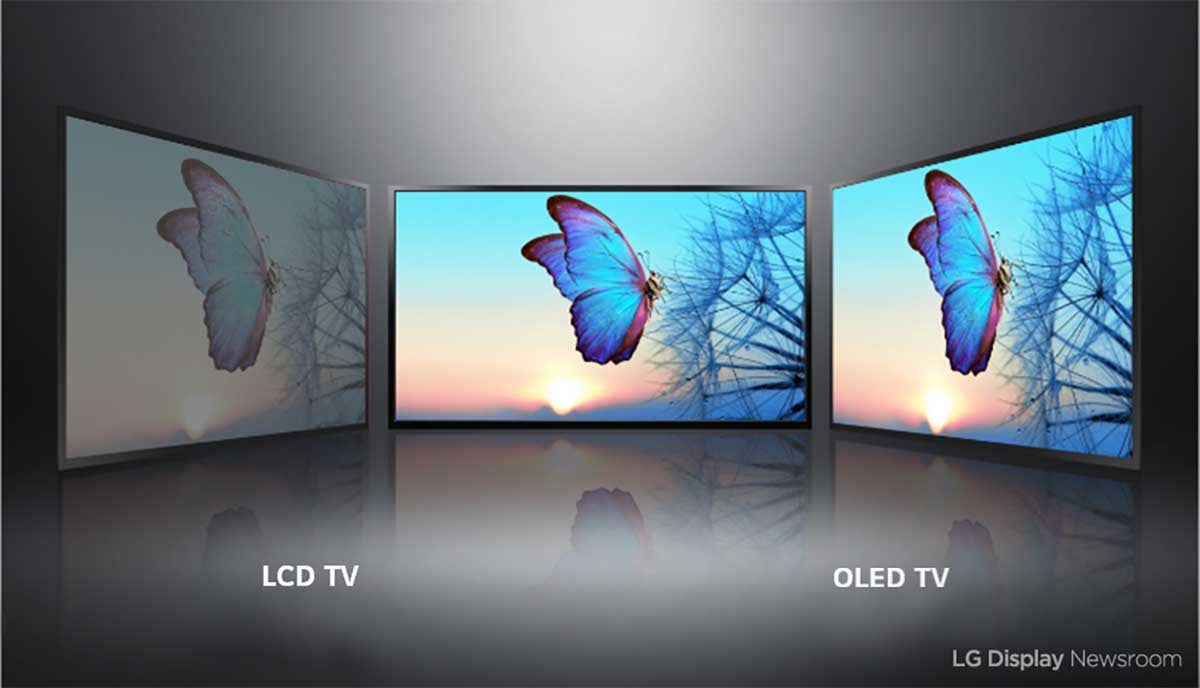 Another major difference between two panel technologies is the viewing angle.
The LG C1 OLED viewing angle is excellent
, making it ideal for families who like to watch shows or sporting events with friends or family. The OLED panel ensures a wide viewing angle, so you can see an accurate image even when you're sitting farther to the side from the center.
The Hisense U8H, on the other hand, offers a relatively small viewing angle
, so you need to sit in the center of the TV to get a high-quality image. If you have a requirement for the viewing angle, C1 is a better choice.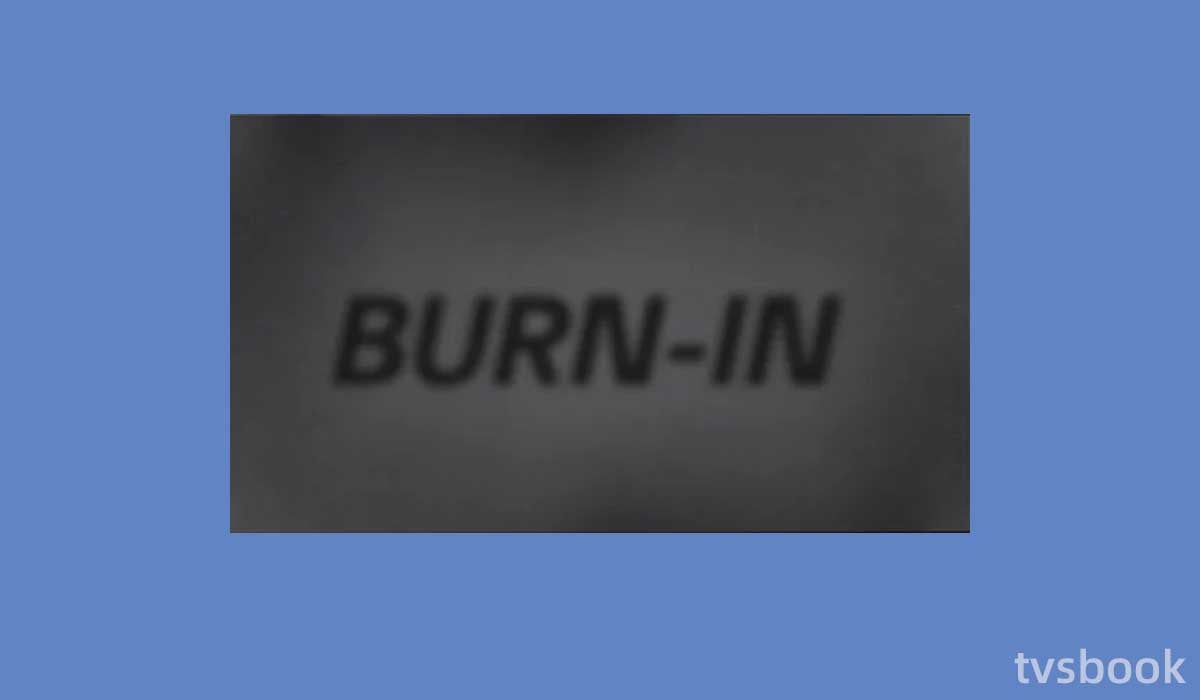 Note
: It should be noted that OLED panels still have the risk of panel aging, while VA panels basically do not have image retention.
Hisense U8H vs LG C1: Sound Quality​
Both the LG C1 and Hisense U8H offer decent audio, the C1 comes with 40 watts of 2.2 channel audio and the overall sound is well-balanced but lacks some bass. the U8H has 2 x 10-watt speakers built in but, like the C1, also lacks bass. If you are looking for higher sound quality, a high-quality soundbar will provide a good experience.
Hisense U8H vs LG C1: System & Smart Features​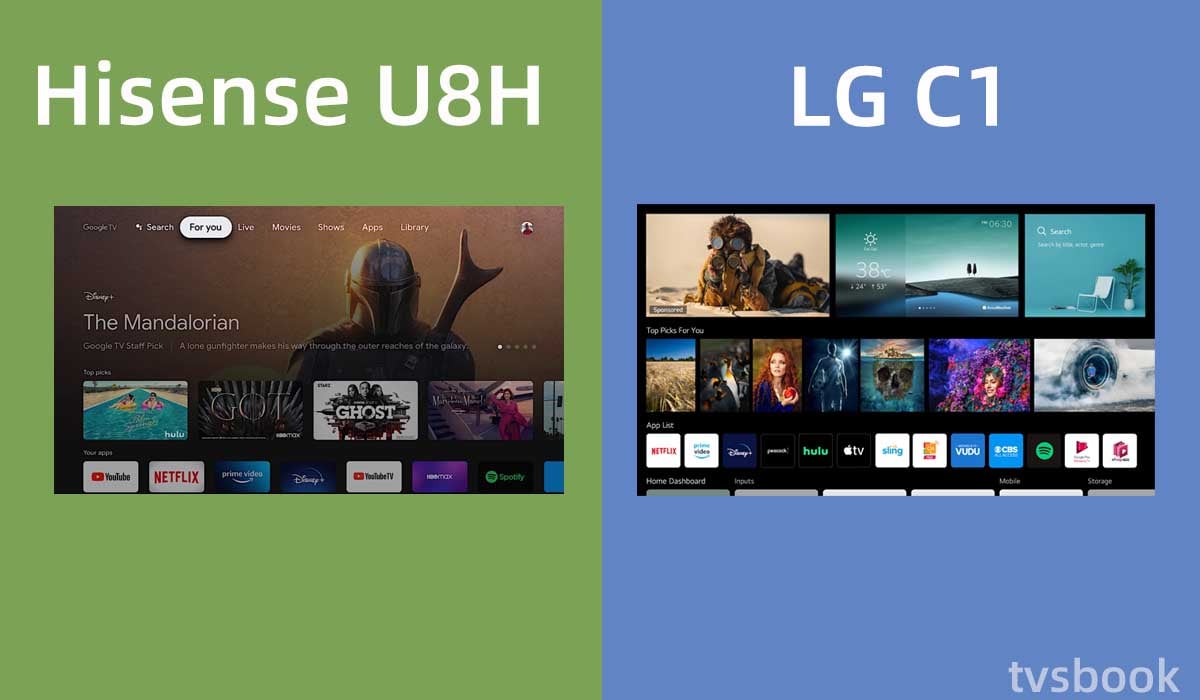 Hisense U8H comes with the new Google TV, which provides a smoother and more convenient user interface compared to the previous Android TV. It adds some new smart features and sets up personalized recommendations for users.
LG C1 OLED is equipped with the unique webOS 6.0, which offers a simple and smooth user interface and some unique smart features. But webOS doesn't have the same selection of apps as Google TV, so you can check ahead to see if it offers the apps you want.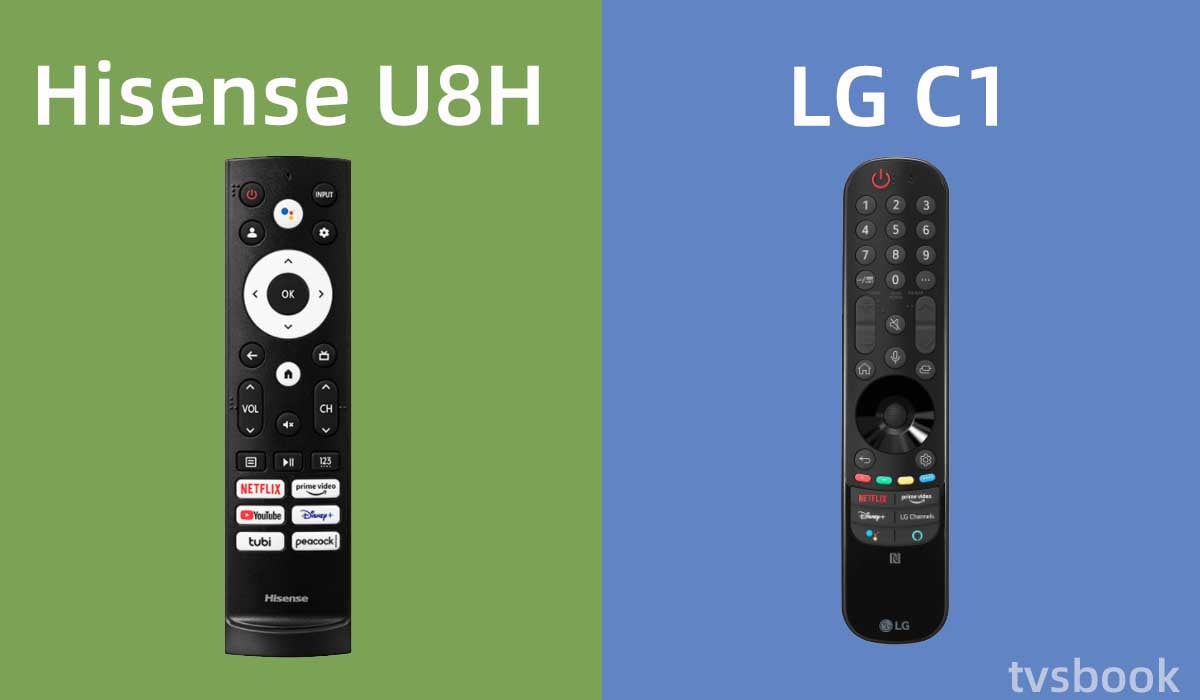 Both TVs support the Google Assistant and Amazon Alexa voice assistants, so you can speak your commands through the voice control buttons on the remote.
Hisense U8H vs LG C1: Inputs​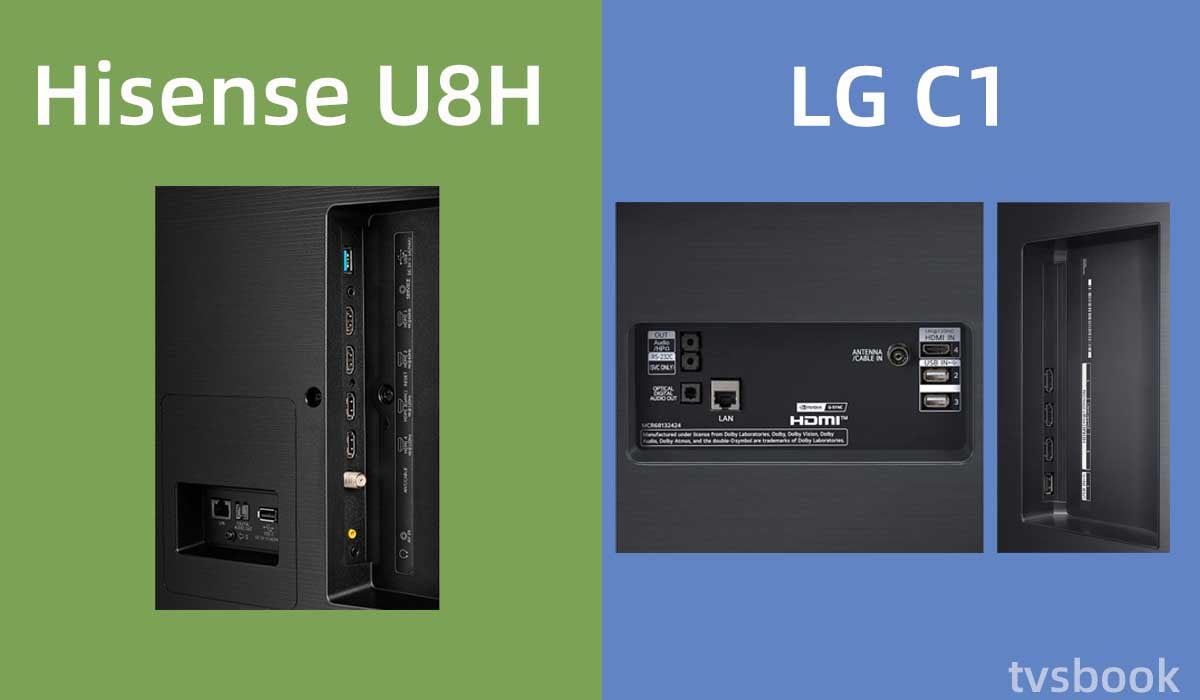 Hisense U8H is equipped with four HDMI ports, only two of which support HDMI 2.1. one of them also supports eARC, so when you use an eARC device, the U8H can only connect up to one more HDMI 2.1 device.
All four ports on the LG C1 are HDMI 2.1 ports, but they do not support the full 48Gbps bandwidth of HDMI 2.1. You can still use 4K 120Hz though, and the four HDMI 2.1 ports are a more attractive selling point for gamers. Both TVs support HDMI VRR, FreeSync, and ALLM, but only the C1 supports G-Sync.
C1 is equipped with three USB ports, and U8H is equipped with two USB ports, one of which supports USB 3.0.
Summary​
Overall, both the Hisense U8G and LG C1 are satisfactory TVs. The two different panel technologies bring different advantages and disadvantages, and you need to choose according to your usage habits and needs.
If you like to watch movies at night and often watch TV with your family and friends, then I recommend you to buy LG C1, which has the very good image quality and excellent blacks.
If you are worried about the aging of the screen, want a brighter picture, and have no requirement for a larger viewing angle, then I would recommend the Hisense U8H.
You may be interested in how to fix
LG TV blinking codes
.