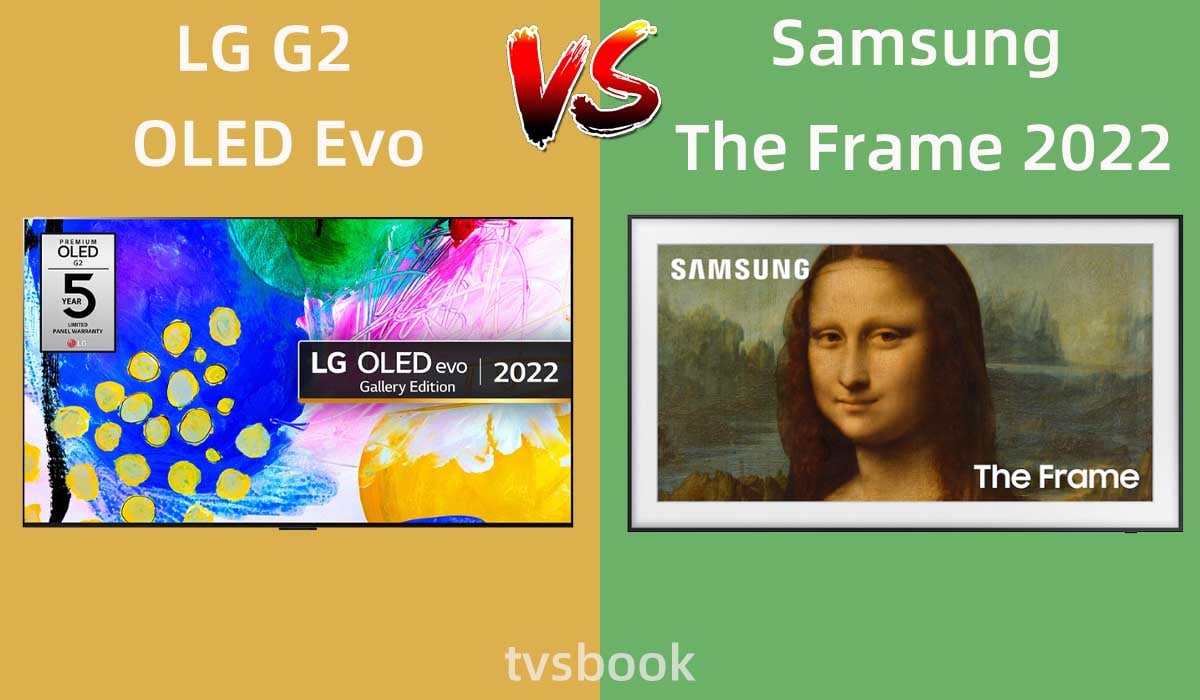 This article will compare LG G2 vs Samsung The Frame 2022 TVs.
The LG G2 and Samsung The Frame use different panel technologies and therefore have different characteristics. the LG G2 OLED has better contrast and deep blacks for viewing in the dark. It is also satisfyingly bright, enough to resist glare in bright rooms.
Samsung The Frame 2022 offers excellent brightness and reflection handling. But it lacks local dimming, so the contrast in dark rooms is not as good as with OLED panels. LG G2 also has a wider viewing angle than The Frame.
LG G2 vs Samsung The Frame 2022: Overall Comparison​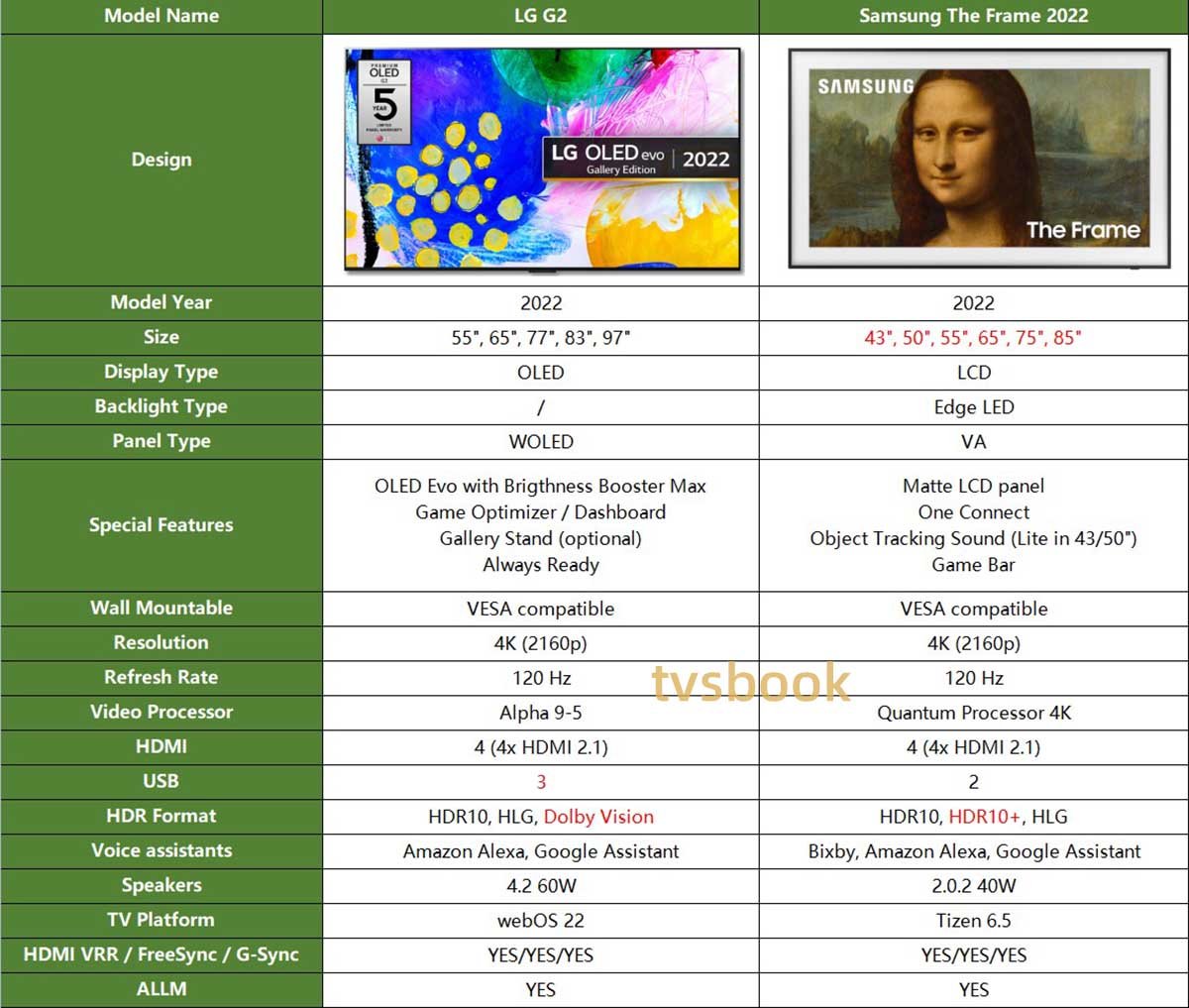 LG G2 OLED TV Quick Review​
The LG G2 OLED is impressive, featuring an OLED Evo that claims to be able to stand up to QD-OLED as one of the brightest OLED TVs ever made. Its contrast and uniform deep blacks are perfect, making it an intelligent choice for dark rooms. And at the same time, it's surprisingly bright enough to combat the glare of bright rooms, making it an all-around standout TV.
It also offers excellent gaming performance for a satisfying gaming experience.
PROS
Brighter picture than other OLEDs
Perfect contrast and deep blacks
Wide viewing angle
Excellent gaming performance
CONS
Does not come with a stand
Samsung The Frame 2022 TV Quick Review​
Samsung The Frame is a great multi-purpose TV. It has high peak brightness and excellent reflection handling to combat glare in bright rooms and enhance low-resolution content. His native contrast ratio is also good but unfortunately lacks a local dimming feature.
It also offers good gaming capabilities. However, it has a narrow viewing angle.
PROS
Peak brightness
Excellent reflection handling
New matte display coating
Artistic design
CONS
Narrow viewing angle
Lack of local dimming function
LG G2 vs Samsung The Frame 2022: Picture Quality​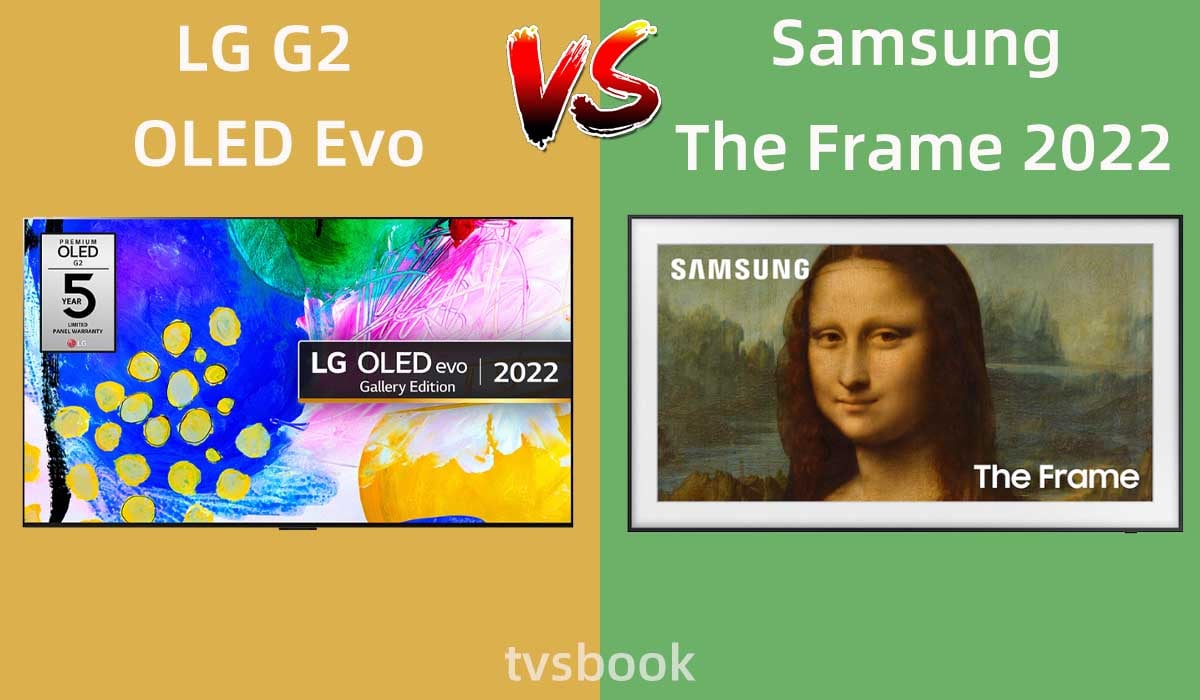 LG G2 has all the characteristics of an OLED panel with near-infinite contrast and perfect deep blacks. It also renders precise blacks and dots without halos when viewed in a dark room.
Thanks to the OLED Evo panel, it is brighter than regular OLED TVs, with peak brightness sufficient to overcome glare during the day or in a room with plenty of natural light. However, its Automatic Brightness Limiter(ABL) reduces the brightness of large bright scenes.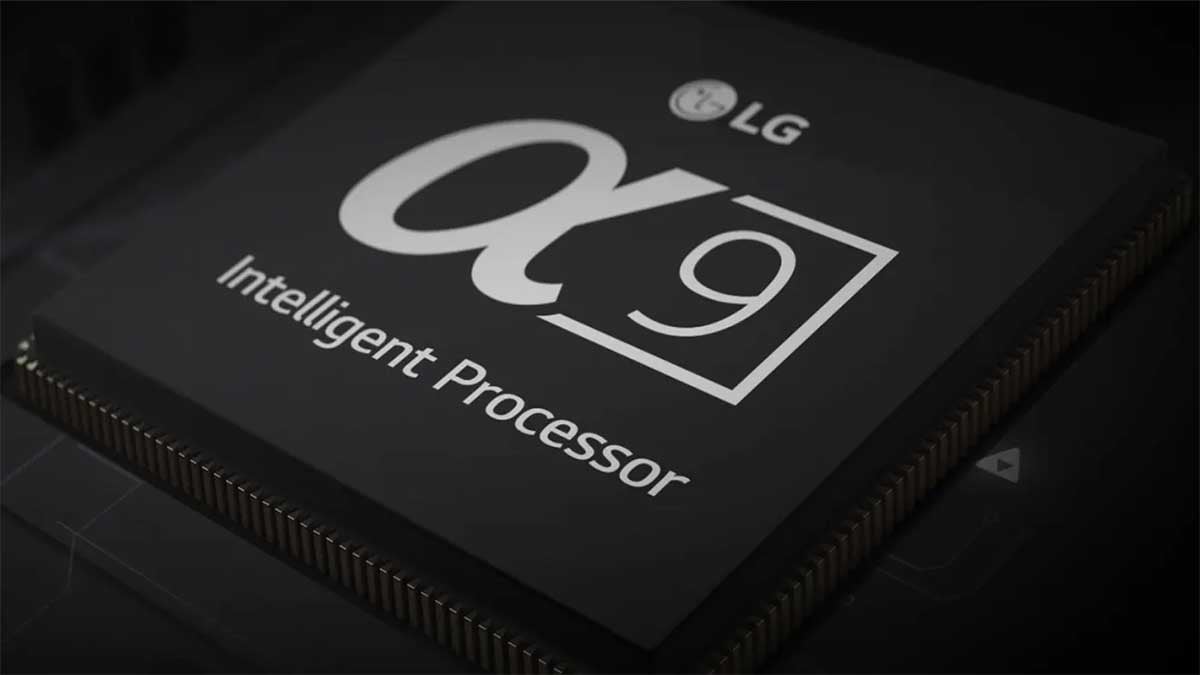 It has high HDR brightness and supports HDR10, HLG, and Dolby Vision, but not HDR10+. It delivers an excellent HDR experience, and LG's AI Picture Pro and Alpha 9 Gen 5 processors enhance image quality to bring out more image detail.
Samsung The Frame features QLED technology with excellent peak brightness to resist glare in rooms with lots of ambient light. It has a decent native contrast ratio for use in dark rooms, but the lack of local dimming prevents further contrast enhancement. In some dark scenes, halos will appear around the light spots.
The Frame 2022's new matte finish handles reflections well. But the reason to buy this TV is probably more because of its design than its picture.
LG G2 vs Samsung The Frame 2022: Design​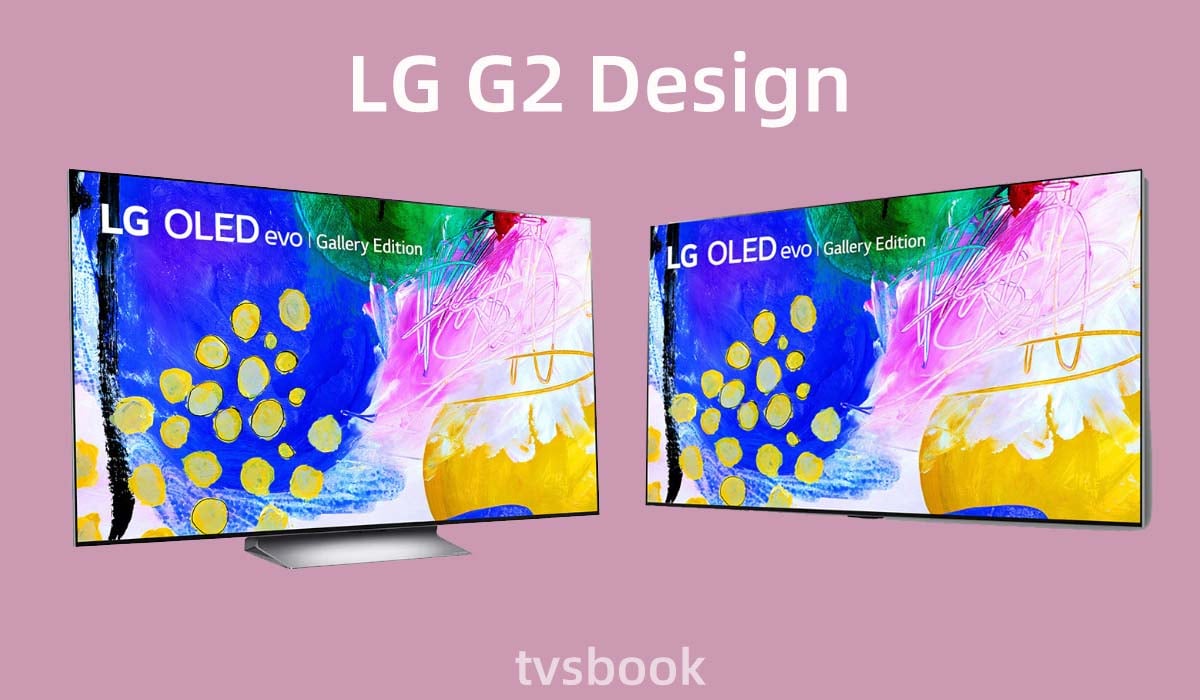 The LG G2 OLED is part of LG's Gallery series, a line of TVs that emphasize design. This TV features a sleek design with a slim silver bezel that is not distracting when viewed from the front. The extremely thin bezel and panel are intended for wall mounting, so the LG G2 is not supplied with a stand. If you want to place it on a desktop, you'll need to purchase the stand separately from LG. Of course, the most recommended way is to use the special slim wall mount bracket included with LG for wall mounting.
The back of the TV reflects the minimalism of modern TV aesthetics, with the textured metal of good quality. Clips for cable management are provided on the back of the panel to help you keep your cables neatly organized.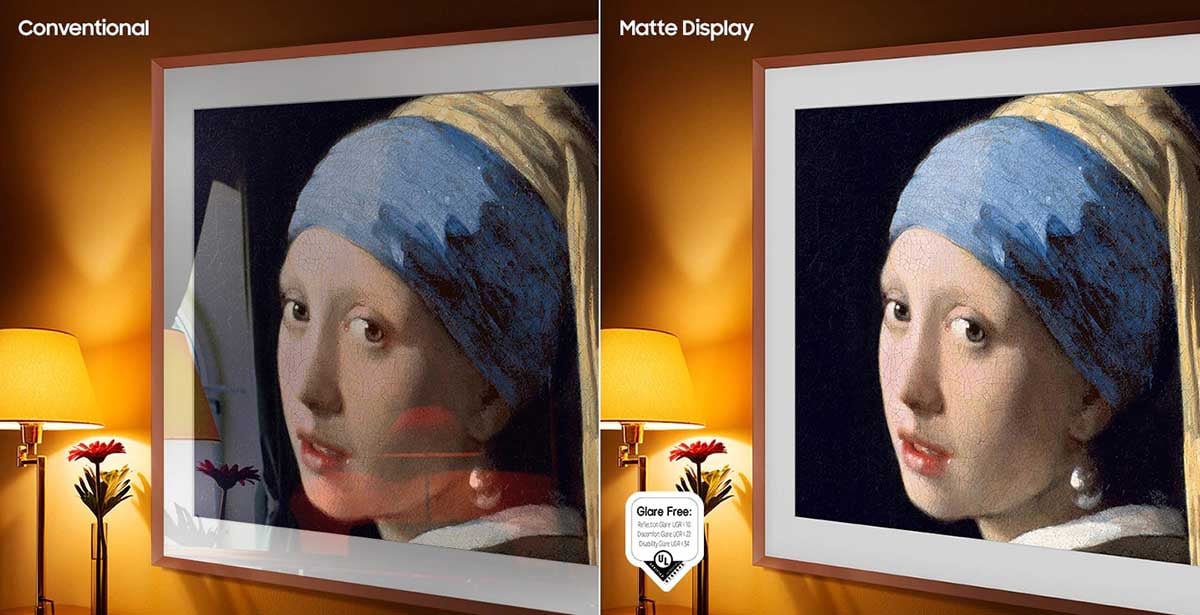 The Samsung The Frame 2022 TV is undoubtedly a work of art, not just an appliance. It has a very thin black bezel, and happily, you can purchase the bezel separately to replace the original black bezel so you can get a different color of framed artwork. Samsung offers some free artwork, and you can also get more artists' work by subscribing to the art store.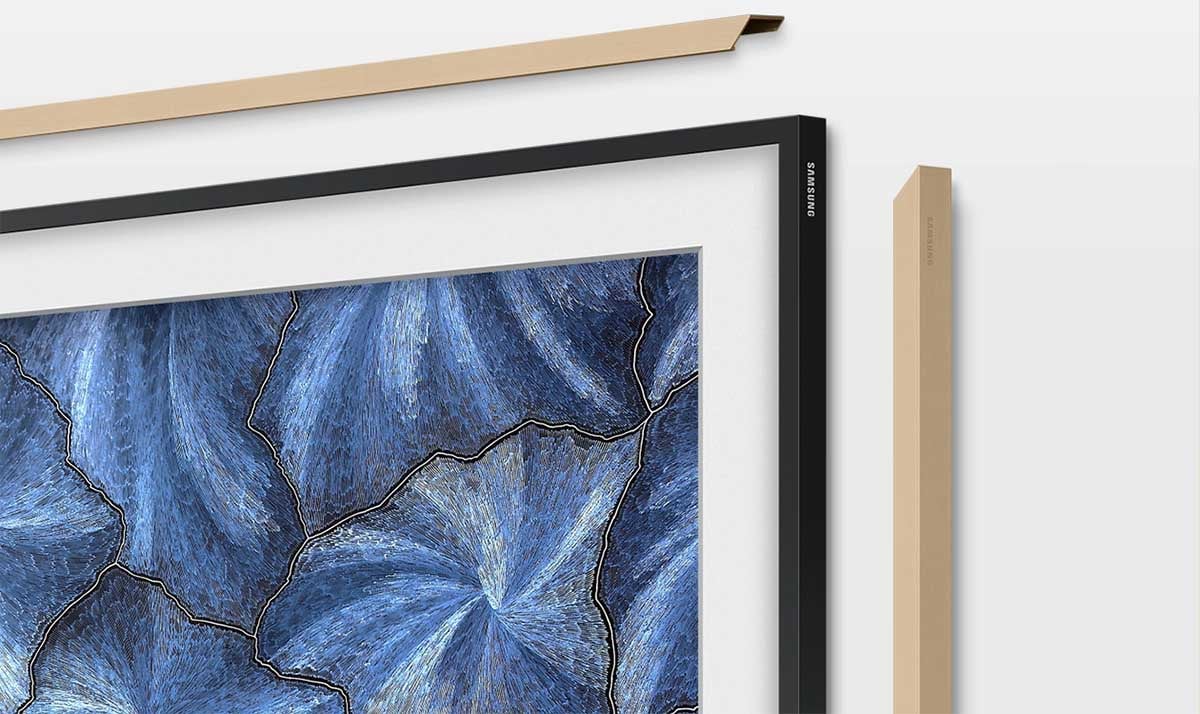 It includes input via the One Connect box to keep the cable neat. The back includes slots for the Slim-Fit Wall Mount. If you don't want to use a wall mount, you can use the included wide feet, which can place the TV in a lower position or raise it up.
LG G2 vs Samsung The Frame 2022: System​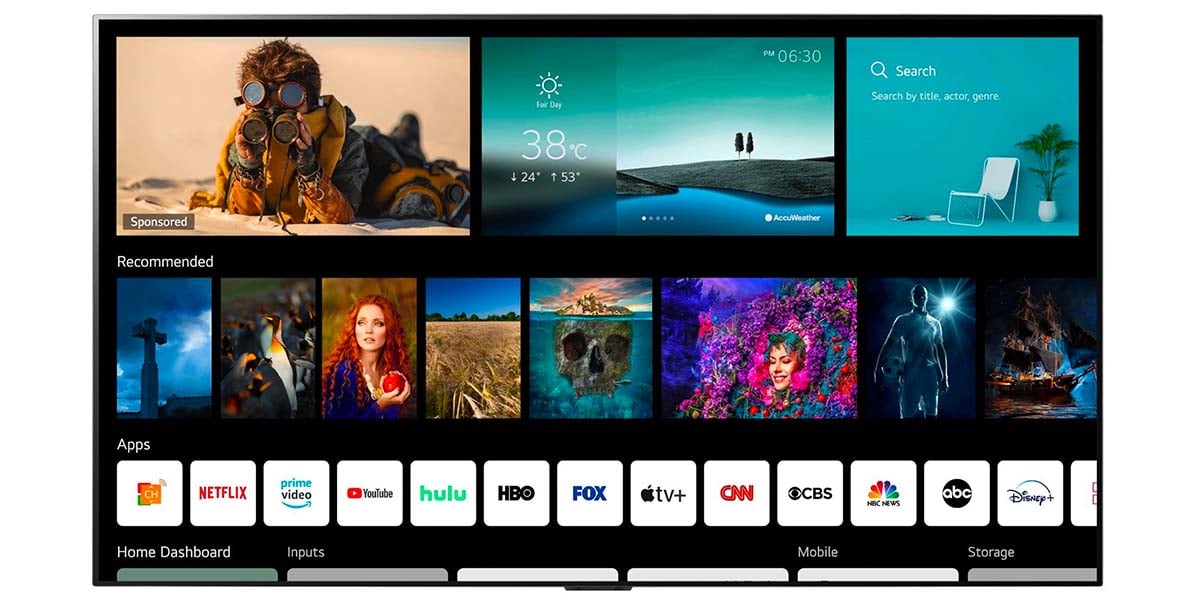 LG G2 OLED runs the latest version of LG's proprietary smart interface, webOS, which runs smoothly and the new interface supports user profiles so you can customize the home page for different users.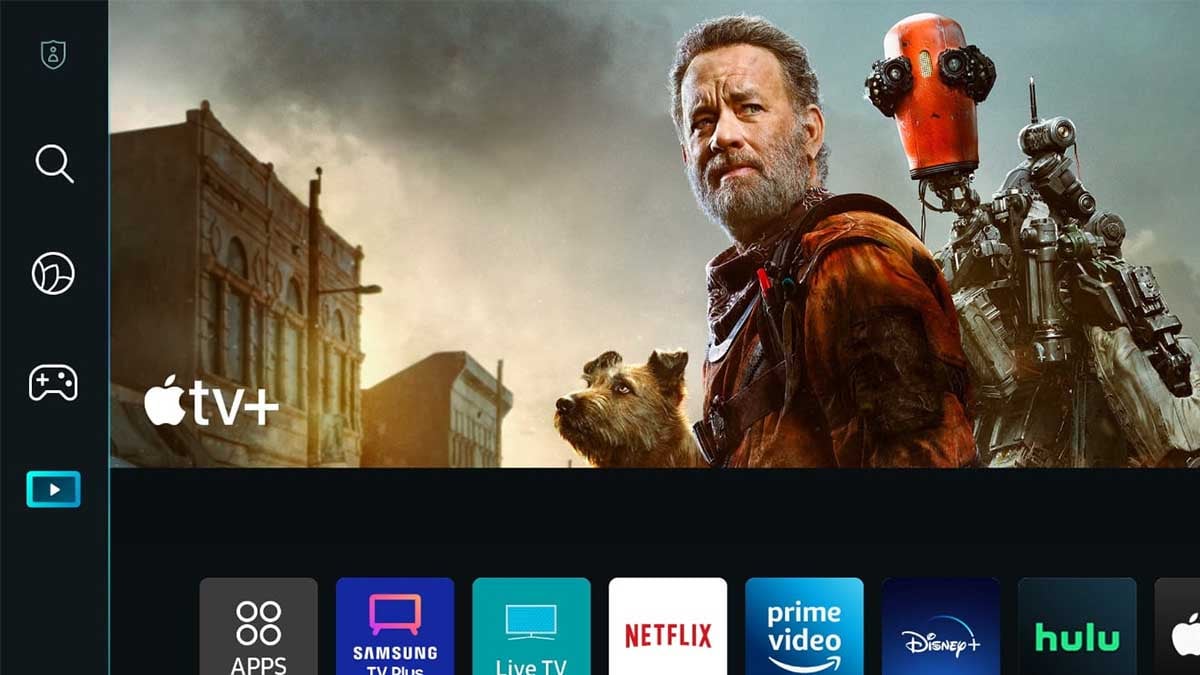 The Samsung The Frame 2022 TV comes with Samsung's Tizen system, which runs smoothly and allows you to download a wide range of apps from the Samsung App Store. In addition, you can subscribe and download paintings by artists in the Art Store. This is also a special feature of this TV.
LG G2 vs Samsung The Frame 2022: Inputs​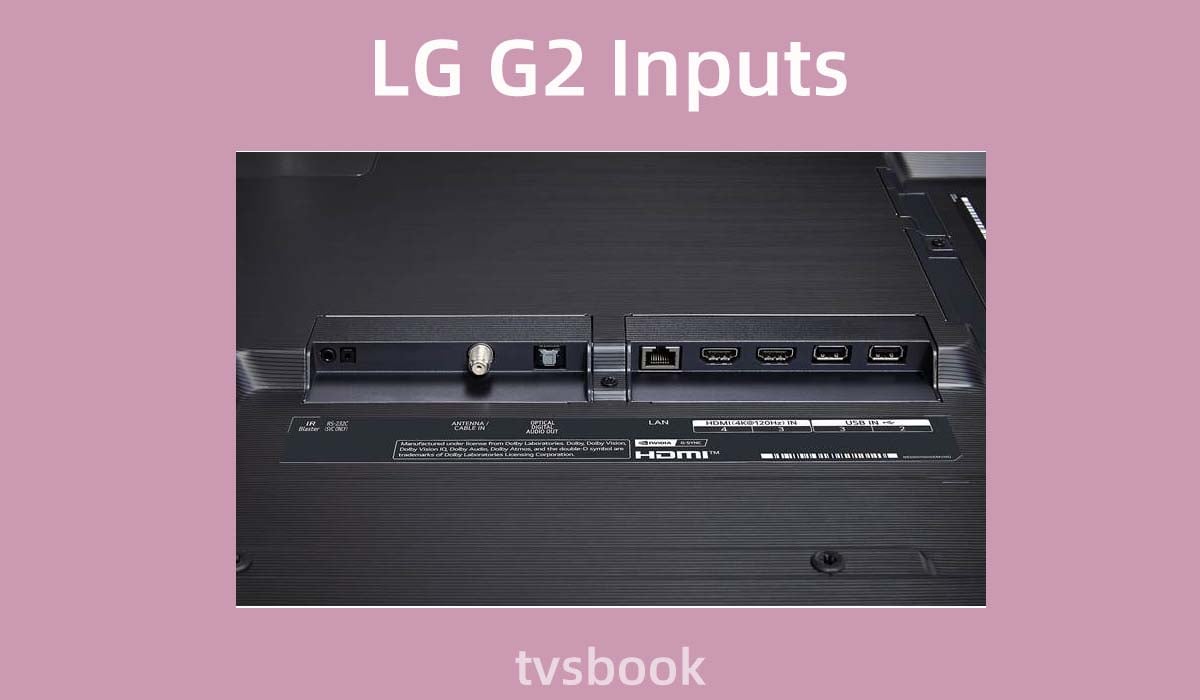 The input configuration of both TVs is basically similar, with all common resolutions supported including up to 4k @ 120H. The TVs have very low input latency and support VRR, FreeSync, G-Sync, and ALLM gaming features for a smooth gaming experience.
Both the Samsung The Frame 2022 and LG G2 feature four HDMI 2.1 ports. Note that only HDMI 4 supports HDMI 2.1 on the larger Samsung The Frame.
The LG G2 supports HDR10, HLG, and Dolby Vision, while the Samsung The Frame 2022 supports HDR10, HDR10+, and HLG.
LG G2 vs Samsung The Frame 2022: Summary​
Overall, the LG G2 outperforms the Samsung The Frame in terms of image quality and overall performance. it has a higher contrast ratio and wider viewing angles while being bright enough.
But the premium design of the Samsung The Frame 2022 has an appeal that's hard to resist if you do want to add a touch of art to your home.
You may want to check out the comparison between
Sony X95K vs LG G2
, Sony X95K uses the Mini LED technology.