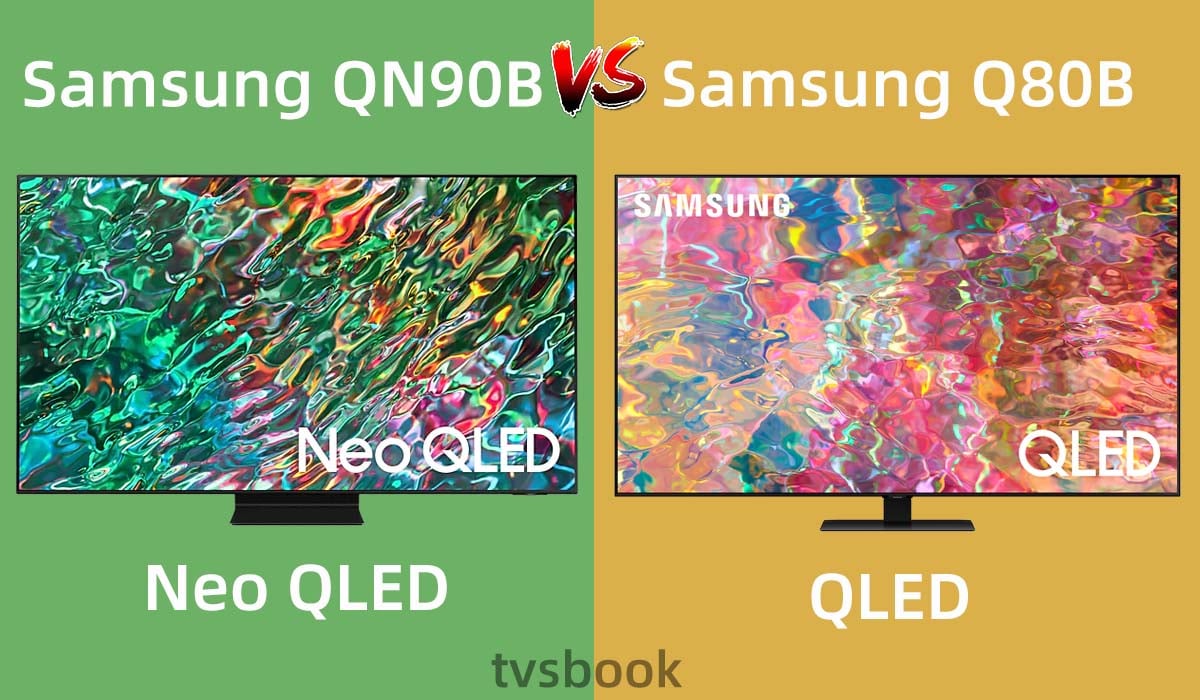 This article will compare Samsung QN90B vs Q80B TVs.
The Samsung QN90B and Q80B are 2022 Samsung 4K TV models that use Samsung's Neo QLED and QLED technologies, respectively. Overall, the Samsung QN90B is better than the Q80B, and of course, the Q80B is more affordable. Keep reading below for the full comparison review.
Samsung QN90B vs Q80B: Overall Comparison​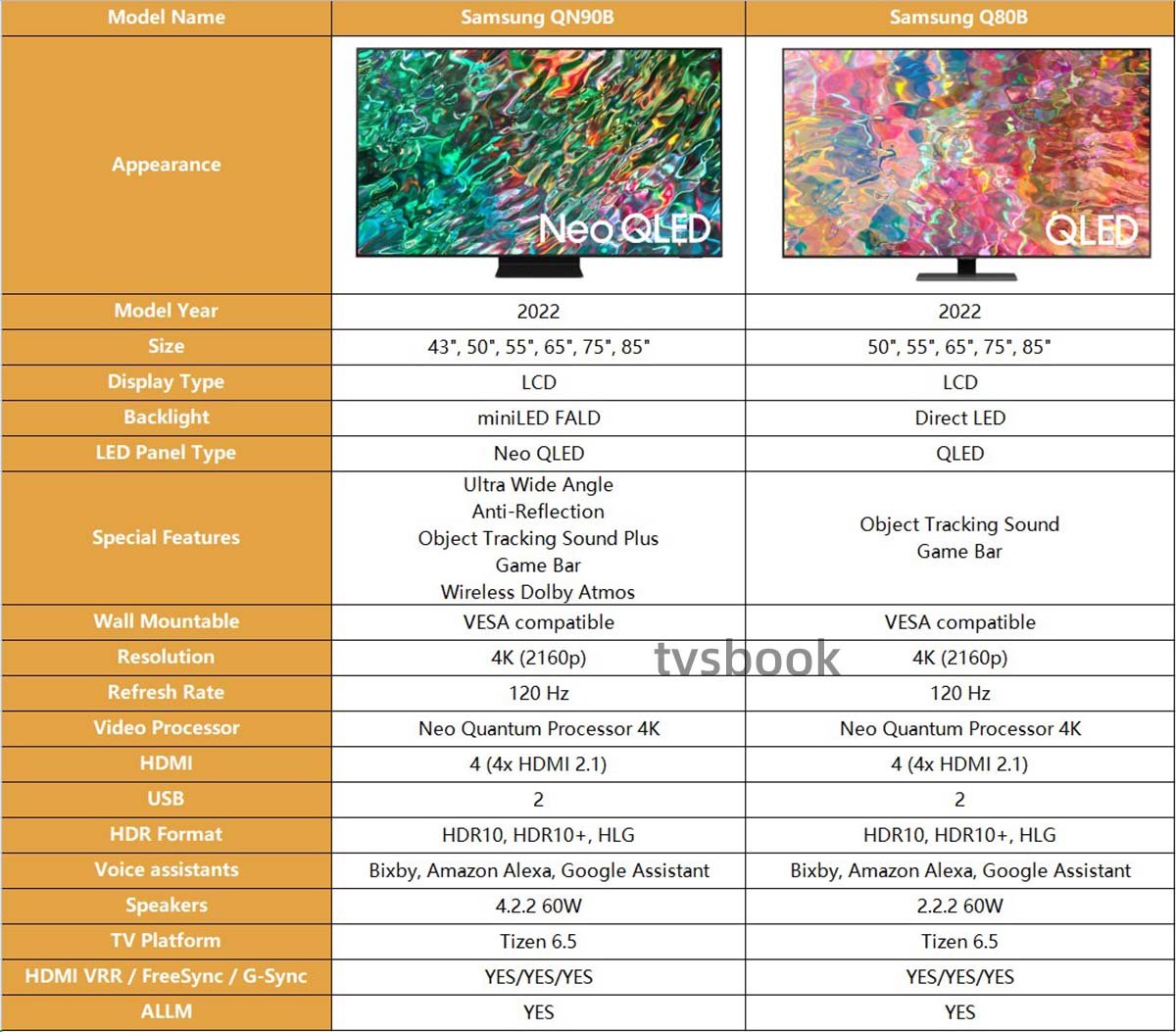 Samsung QN90B Neo QLED TV Quick Review​
The
Samsung QN90B
is an all-around great hybrid TV that delivers amazing brightness while also outputting great picture quality. Samsung's Neo QLED technology combines Quantum Dots and Mini LEDs to precisely control the light and dark elements of the picture and enhance the contrast of the picture with a local dimming function that can compete with OLED screens.
PROS
Peak brightness
Excellent picture quality
High contrast ratio and local dimming function
Rich game features
CONS
Lack of Dolby Vision
Samsung Q80B QLED TV Quick Review​
The
Samsung Q80B
4K TV is a cost-effective QLED model from Samsung, making it a good choice if your budget isn't big enough to reach for Neo QLED. With excellent peak brightness and resistance to glare, the Samsung Q80B is suitable for viewing in well-lit rooms. Its full-array backlit Quantum Dot LED panel delivers high brightness while ensuring richer and more accurate colors. It also offers four HDMI 2.1 ports and rich gaming performance.
PROS
Peak brightness
Outstanding color
Rich gaming features
CONS
No Dolby Vision
Low Contrast Ratio
Samsung QN90B vs Q80B: Picture Quality​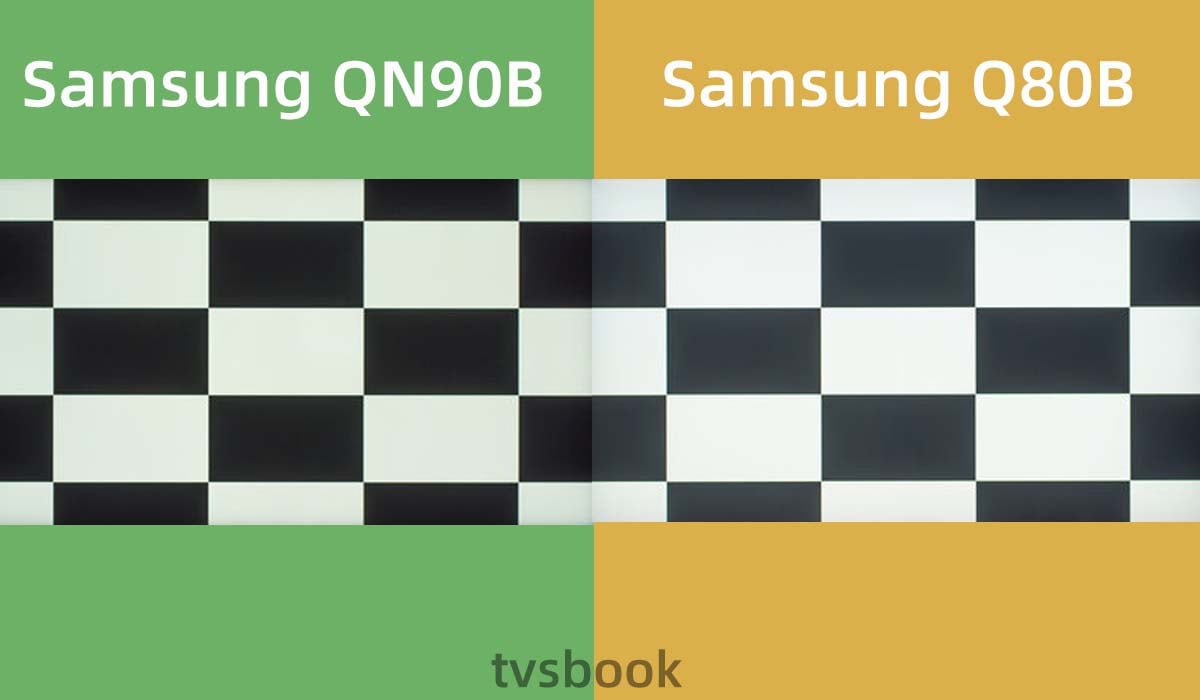 The Samsung QN90B has a fantastic brightness that delivers bright colors even when viewed in a very well-lit room, and its reflective processing is strong enough to resist glare. When playing HDR content, the QN90B performs impressively, delivering bright and excellent HDR content. Although the contrast ratio has been reduced to enhance the viewing angle of the LCD screen, Samsung has improved the contrast ratio considerably with the local dimming function, allowing the QN90B to render deep blacks without flooding. Its local dimming function will be reduced in game mode, and the screen will produce partial flooding.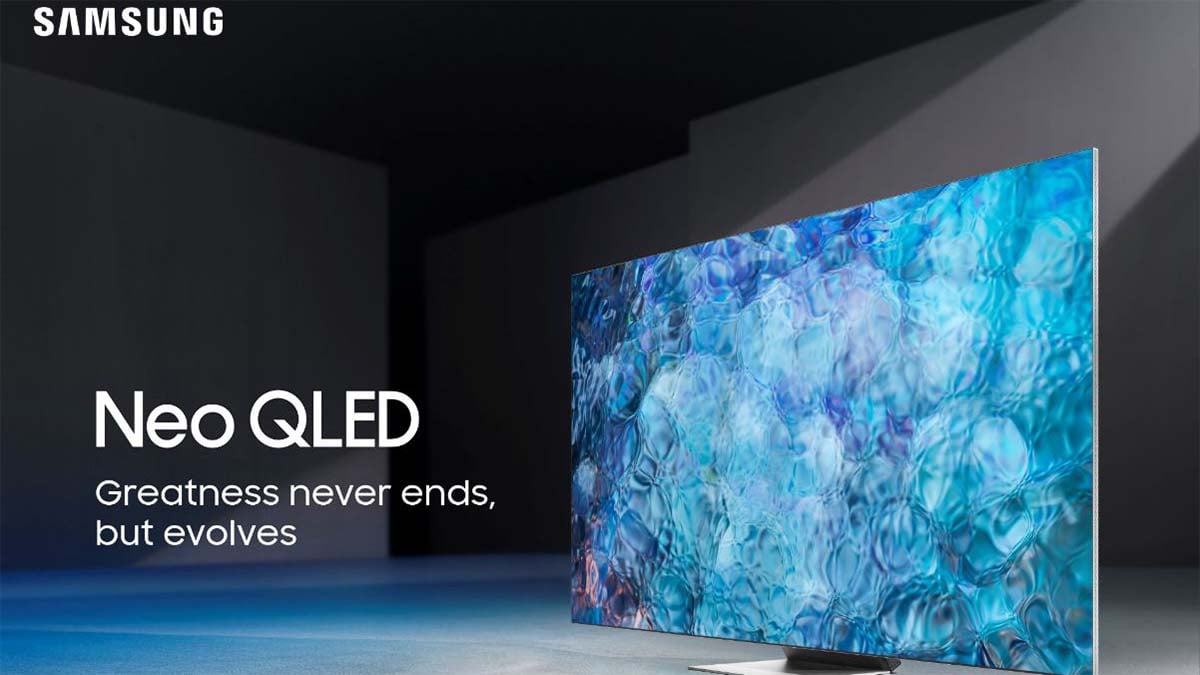 The Samsung Q80B TV is bright, reflecting Samsung's QLED technology, and is a smart choice for bright rooms. Quantum Processor 4K helps improve the overall image clarity, showing more detail in the image. Unfortunately, the Q80B has a low contrast ratio and cannot render deep blacks even with local dimming enabled. In some dark scenes, the image is gray and missing some small details. Halos are created around bright objects. The QN90B, on the other hand, is able to better control the light spots in dark scenes because of the Mini LED backlight.
Samsung QN90B vs Q80B: Design​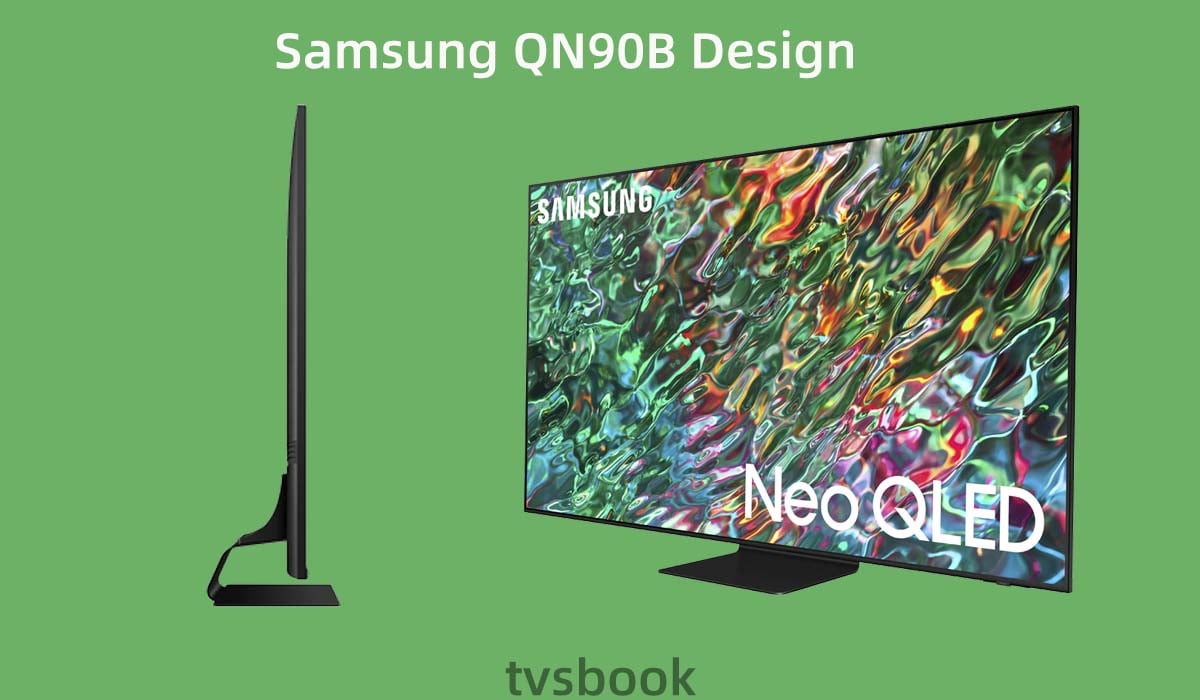 Samsung QN90B has a sleek design that showcases a modern TV aesthetic. The TV features a very slim black bezel with a slim black stand located right in the center. The metal stand has a small footprint and can easily fit on narrower furniture. It is heavy enough to support the TV well, but larger-sized models may wobble slightly.
The QN90B's panel with Mini LED is very thin, making it ideal for wall mounting. The back of the TV is plastic but well-made and provides easy access for cable management.
The Samsung QN90B is available in numerous size options, each version featuring a different number of local dimming zones.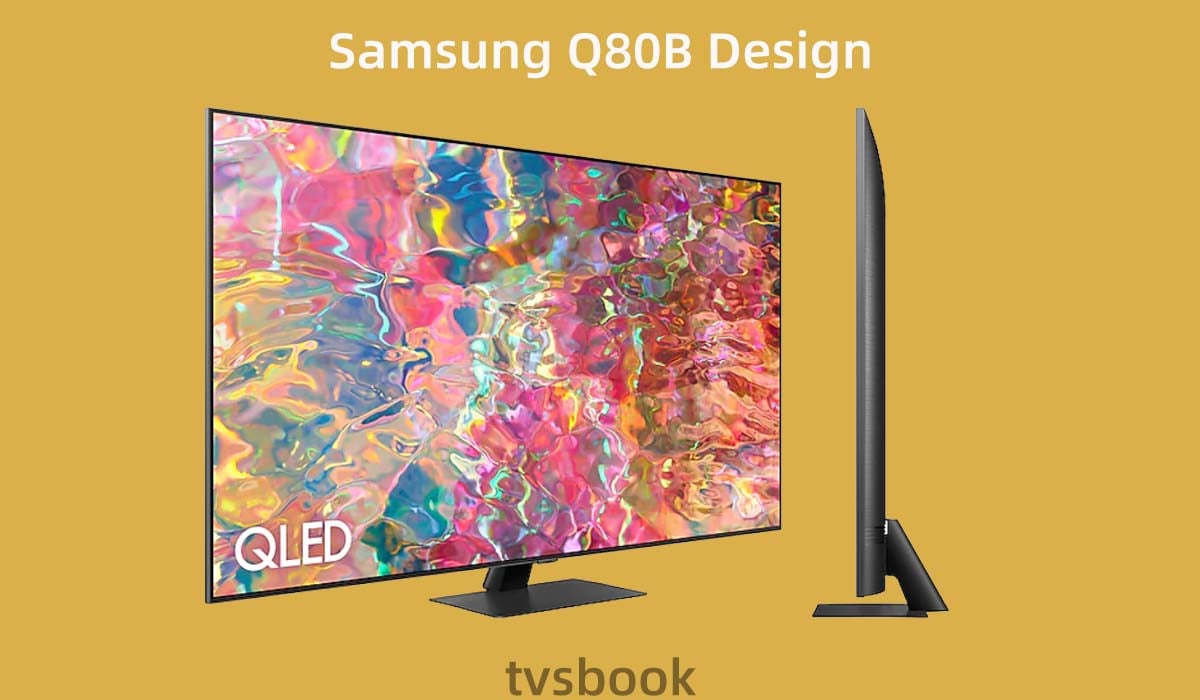 The Samsung Q80B has a simple design that meets my expectations for a mid-range TV. It features a very thin, dark gray bezel that doesn't distract you too much while you're watching a show. The middle of the screen features a square stand that doesn't take up too much space. But again, for larger models, like 65" and up, the TV will rock back and forth.
Unlike the QN90B with miniLED, the Q80B's panel is not too thin, but its back is flush, so it won't stick out when you hang it on the wall. The back of the TV is plastic, allowing cables to be run through the TV bracket for easy management.
Samsung QN90B vs Q80B: System & Smart Features​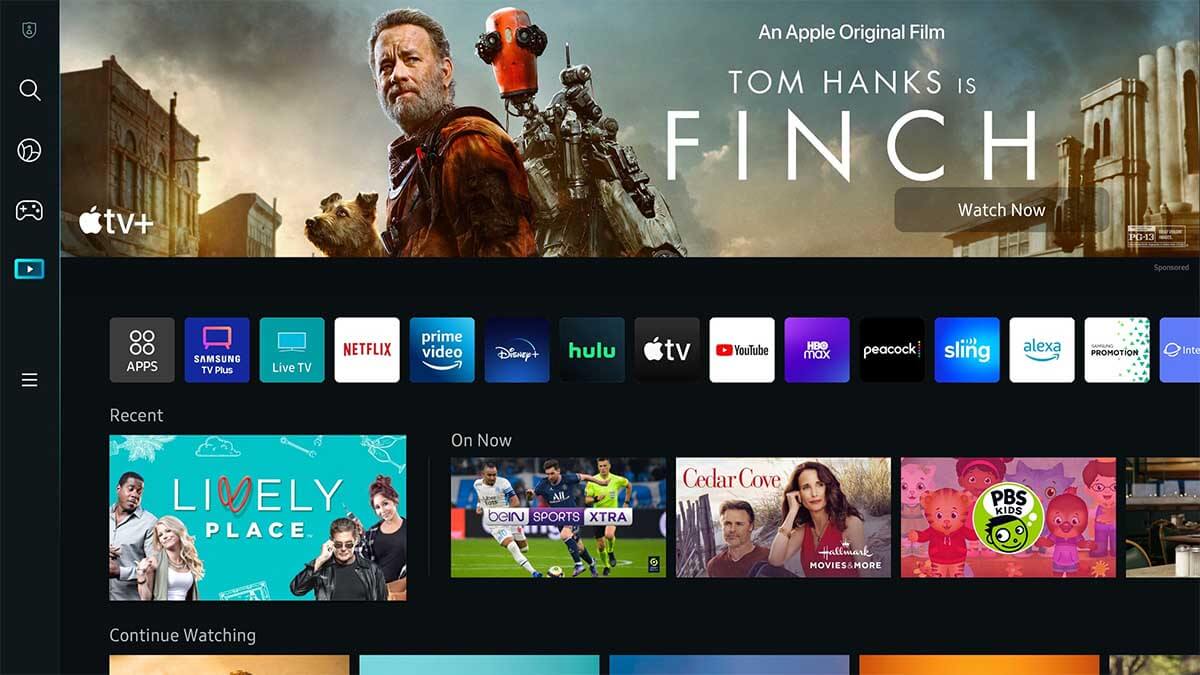 Both TVs are powered by 2022 Samsung's latest Tizen OS 6.5. The new version of the OS features a new interface design that is easy to use. The smart system offers a wide range of streaming services including Netflix, Disney+, Prime Video, and more, and you can also download a wide range of apps from Samsung's app store.
The TV integrates with Samsung's SmartThings app and also supports Google Duo for video calls using a compatible webcam. In addition, both TVs support Bixby, Amazon Alexa, and Google Assistant voice control, which you can access through the remote control.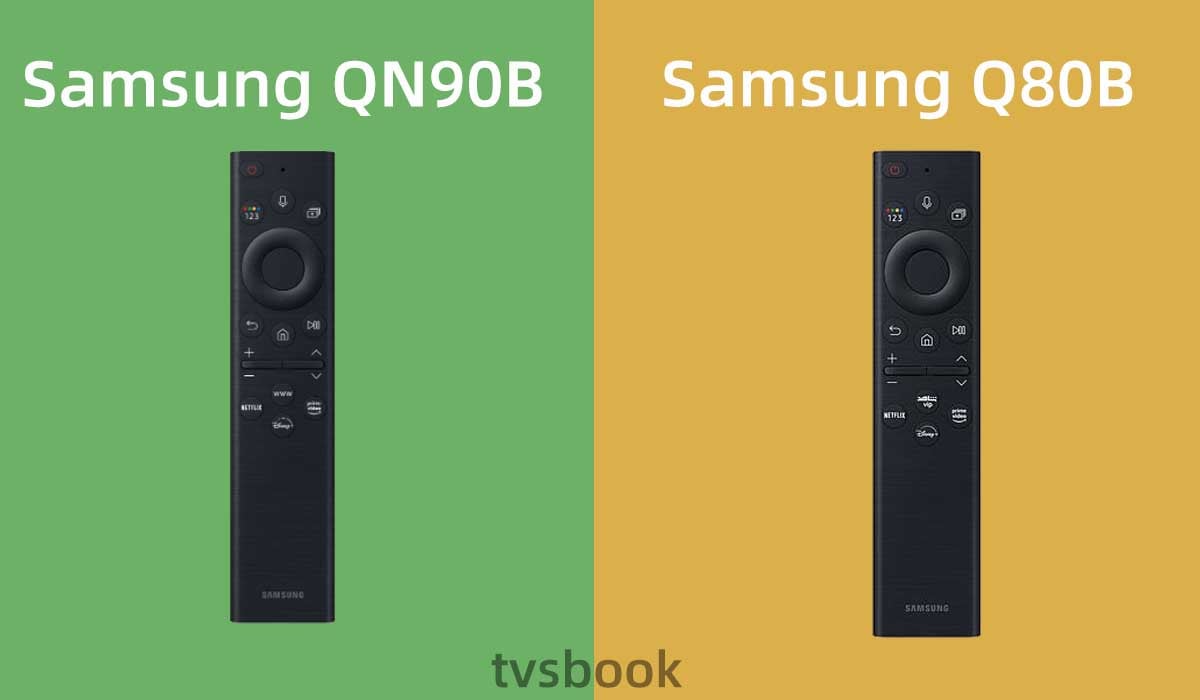 The remote control is smaller and offers streaming shortcut access buttons. The remote control included with the TV is solar powered and can be charged using light for the internal battery, or using regular USB-C charging.
Samsung QN90B vs Q80B: Inputs​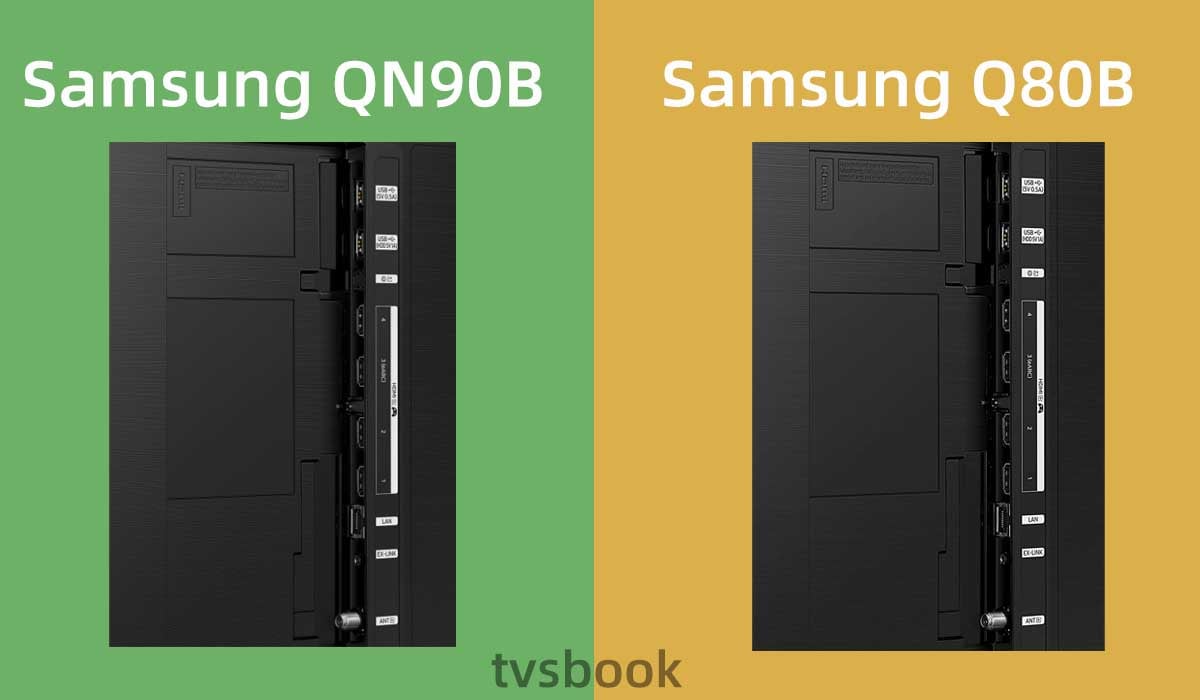 The Samsung QN90B supports all common resolutions including up to 4K 120Hz. It offers four HDMI 2.1 ports so you can use multiple high-bandwidth devices to your heart's content, and it also supports eARC. If you're a next-gen gamer, you'll be excited to find that it's fully compatible with PS5 and Xbox features, and also offers performance including VRR, FreeSync, G-Sync, and ALLM gaming.
Despite being cheaper than the QN90B, the Samsung Q80B's input configuration is unambiguous. The Samsung Q80B also offers four HDMI 2.1 ports with 4K 120Hz support and support for ALLM (Automatic Low Latency Mode), Nvidia G-Sync, and FreeSync Premium Pro gaming support.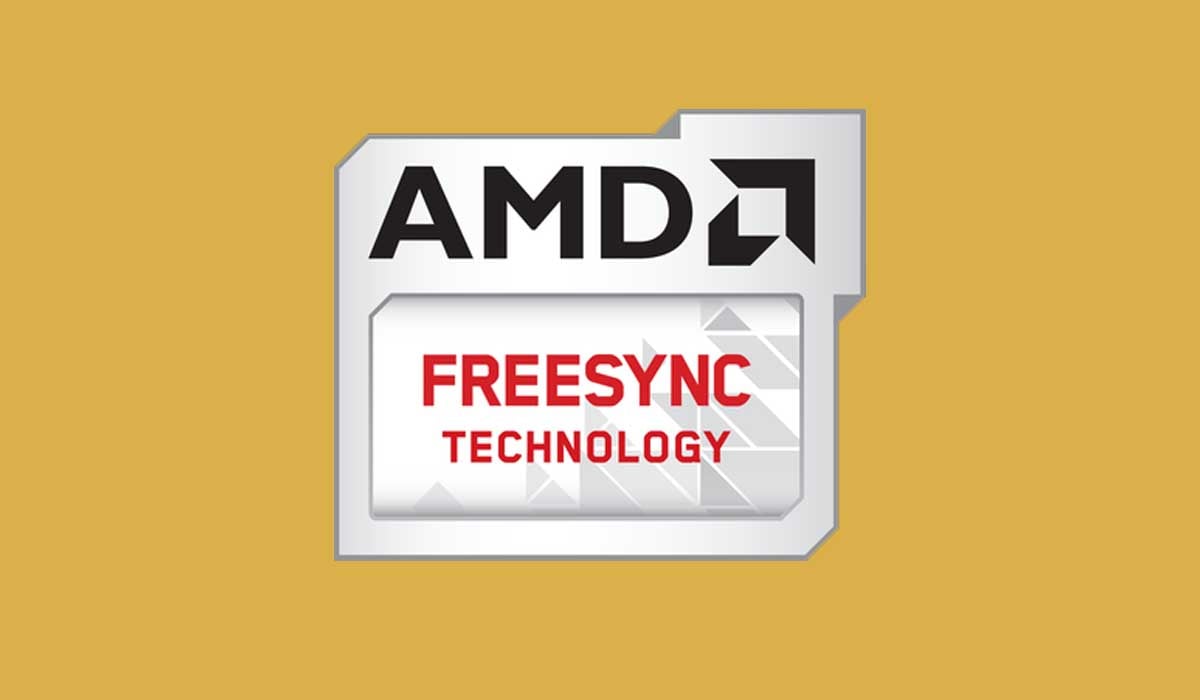 When you connect the console to play games, it automatically switches to gaming mode and is able to run well on PS5 and Xbox.
But unfortunately, neither TV supports Dolby Vision or DTS, they support HDR10+.
Summary​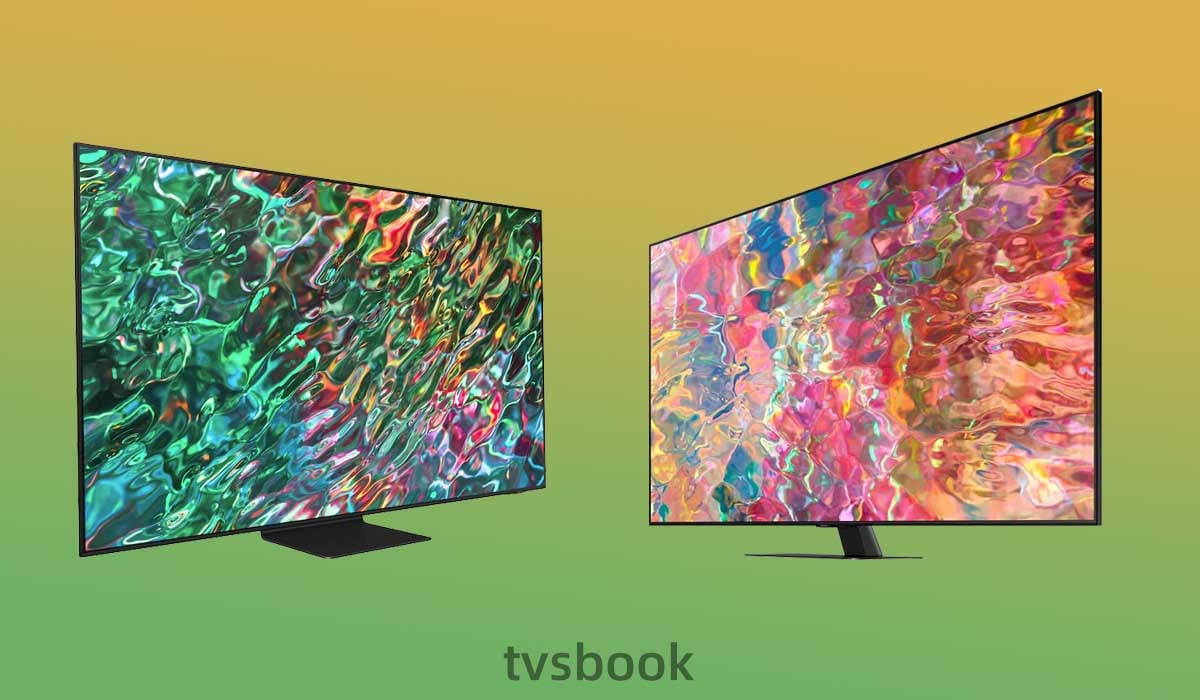 Overall, both TVs are suitable for most purposes, with the Samsung QN90B being far superior to the Samsung Q80B.
The Samsung QN90B combines Mini LED and Quantum Dots to deliver bright, vibrant colors while ensuring high contrast and excellent black levels with excellent local dimming.
Out of support for low input latency, fast response time, and variable refresh rate, it is also an excellent choice for gaming TVs.
Likewise, the Samsung Q80B supports similar gaming features as the QN90B and also offers four HDMI 2.1 ports. Its high peak brightness is enough to combat the glare of bright rooms. However, it has a low native contrast ratio, struggles to render deep blacks, and suffers from halos.
As LED screens, both TVs have good viewing angles, but not as good as the wide viewing angles of OLED. If you want to consider an excellent OLED screen, you can refer to the
2022 Black Friday OLED TV Buying Guide
. You can also see how the excellent OLED TV LG C2 compares to the Hisense U8H with Mini LED:
Hisense U8H vs LG C2
.
Related Reading:
Samsung QN90B vs Sony A80K
Samsung QN90B vs QN900B
Samsung QN90B vs Sony A80K
Last edited: